News | FIGHTING CORRUPTION | Publications | Article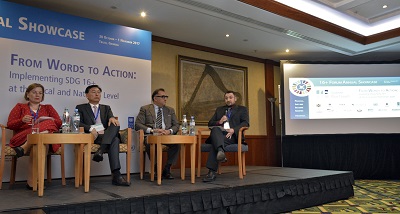 More than 150 representatives from 25 countries gathered in Tbilisi, Georgia, for an international forum titled - From Words to Action: Implementing SDG 16+ at the Local and National Level. From October 31 to November 2, 2017, the Forum discussed the best policy and practice in achieving Sustainable Development Goals (SDGs), with the focus on SDG 16 – Peaceful, Just and Inclusive Societies.
The event was opened with welcoming remarks from Vice-Prime Minister and the Minister of Foreign Affairs of Georgia Mikheil Janelidze, First Deputy Minister of Justice of Georgia Aleksandre Baramidze, Head of Administration of Government of Georgia Maia Tskitishvili, UN Resident Coordinator/UNDP Resident Representative in Georgia Niels Scott, Deputy Permanent Representative of the Permanent Mission of the Republic of Korea to the UN Choonghee Hahn, Director of Multilateral and Economic Affairs at the Ministry of Foreign Affairs Czech Republic Kateřina Fialková, Founding Member and Executive Director of the Institute for Development of Freedom of Information (IDFI) Giorgi Kldiashvili and Secretary-General of the World Federation of United Nations Associations (WFUNA) Bonian Golmohammadi.
"Georgia is honored with the opportunity to host this important international event. This year marks the 25th anniversary of Georgia's membership in the United Nations. Over this period, despite all difficulties, we managed to transform our country from a UN humanitarian aid recipient to a model state that assumed the Open Government Partnership (OGP) chairmanship this year. Throughout the past decade, Georgia has achieved tangible progress in building strong state institutions and ensuring: a free civil society; free media; free markets; social cohesion, and the rule of law The global sustainable development agenda provides us with the great prospect to consolidate our achievements, share success and learn from each other's experience", stated Mikheil Janelidze in his welcoming speech.
Head of the United Nations in Georgia, Niels Scott, stressed the role of international partnership and cooperation in achieving the Sustainable Development Goals. "The United Nations and UNDP globally lead in the support to states to strengthen democratic governance and sustain peace as part of reaching the Sustainable Development Goals. Our support helps build the capacity of governments to deliver, and provides them with essential tools for social engagement and effective delivery," Niels Scott said.
The 16+ Forum Annual Showcase in Tbilisi focused on a range of topics to ensure that the full breadth of Peaceful, Just and Inclusive Societies is featured during the discussions. Six plenary sessions, organized throughout the Forum days, demonstrated the successes and challenges faced by the countries as they, in partnership with civil society, strive to improve governance, ensure rule of law, combat corruption, introduce innovation to public services, resolve conflict, and work towards sustaining peace.
Special attention was directed at the Open Government Partnership (OGP) and to opening civic spaces for accelerating national development. The participants discussed the experience of Georgia, the current OGP chair country, highlighting how the sustainable development agenda comes together with Open Government priorities. Forum participants also visited the Ministry of Justice of Georgia, Public Service Hall and customs clearance zone, and met with representatives of the Georgian media and civil society.
Held in Tbilisi, this inaugural event was the first for the 16+ Forum, a multi-stakeholder platform, inclusive of Georgia, eight other member states, the g7+ and the World Federation of United Nations Associations (WFUNA) as its Secretariat.
"On behalf of the 16+ Forum, we are incredibly grateful to all our partners and particularly to Georgia, as our host and as a global leader in advancing SDG 16+", noted Bonian Golmohammadi, Secretary-General of WFUNA.
The official reception of 16+ Forum participants (hosted by AoG with the support from IDFI and UNDP under the financial support from the Swedish Government) also included an award ceremony for the winners of SDG Contests (photo, poster and essay) held by IDFI, UNDP and the Administration of the Georgian Government.
- Anastasia Kvashilava - Poster on SDG 12: Responsible Consumption and Production
- Levan Kashibadze - Photo on SDG 1: No Povert
- Edisher Baghaturia - 1st Place Essay on SDG 11: Sustainable Cities and Communities
- Ana Katamadze - 2nd Place Essay on SDG 4: Quality Education
- Tamar Chkhaidze - 3rd Place Essay on SDG 5: Gender Equality
The Showcase was hosted by the Government of Georgia (Administration of the Government, Ministry of Foreign Affairs and Ministry of Justice) in partnership with WFUNA and co-organizers and supporters: the Ministry of Foreign Affairs of the Republic of Korea, the Ministry of Foreign Affairs of the Czech Republic, Government of Sweden, the Ministry of Foreign Affairs of the State of Qatar, UNDP, USAID, GIZ, ADA, Tetra Tech ARD, IDFI and UNAG.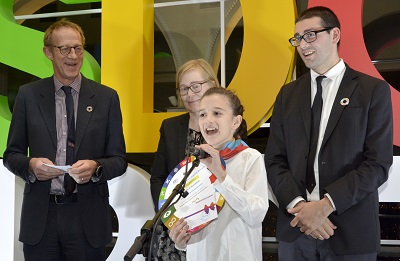 "IDFI is proud to be among the organizers of this event and would like to use this opportunity to thank WFUNA, the Government of Georgia, UNDP Georgia and all partners that have united to create a multi-stakeholder discussion related to peace, justice and effective institutions. I consider this Forum as a timely opportunity to reflect on the success that we had in OGP and to identify the importance of 2030 Agenda and its very similar transformative effect for countries like Georgia. I think that SDG 16 and OGP are naturally linked together, primarily because of their focus on the effectiveness of state institutions. Anticorruption, transparency, accountability and citizen engagement have very specific meaning in our everyday lives and I hope that this forum will give us a possibility to complement each other's work through exchange of experiences." – stated IDFI's Executive Director Giorgi Kldiashvili in his opening remarks of 16+ Forum.
The 16+ Forum was launched in New York, USA in 2016.
See the event photos here.
See the video on the Forum here.