News | Open Government | Article | LOCAL GOVERNMENT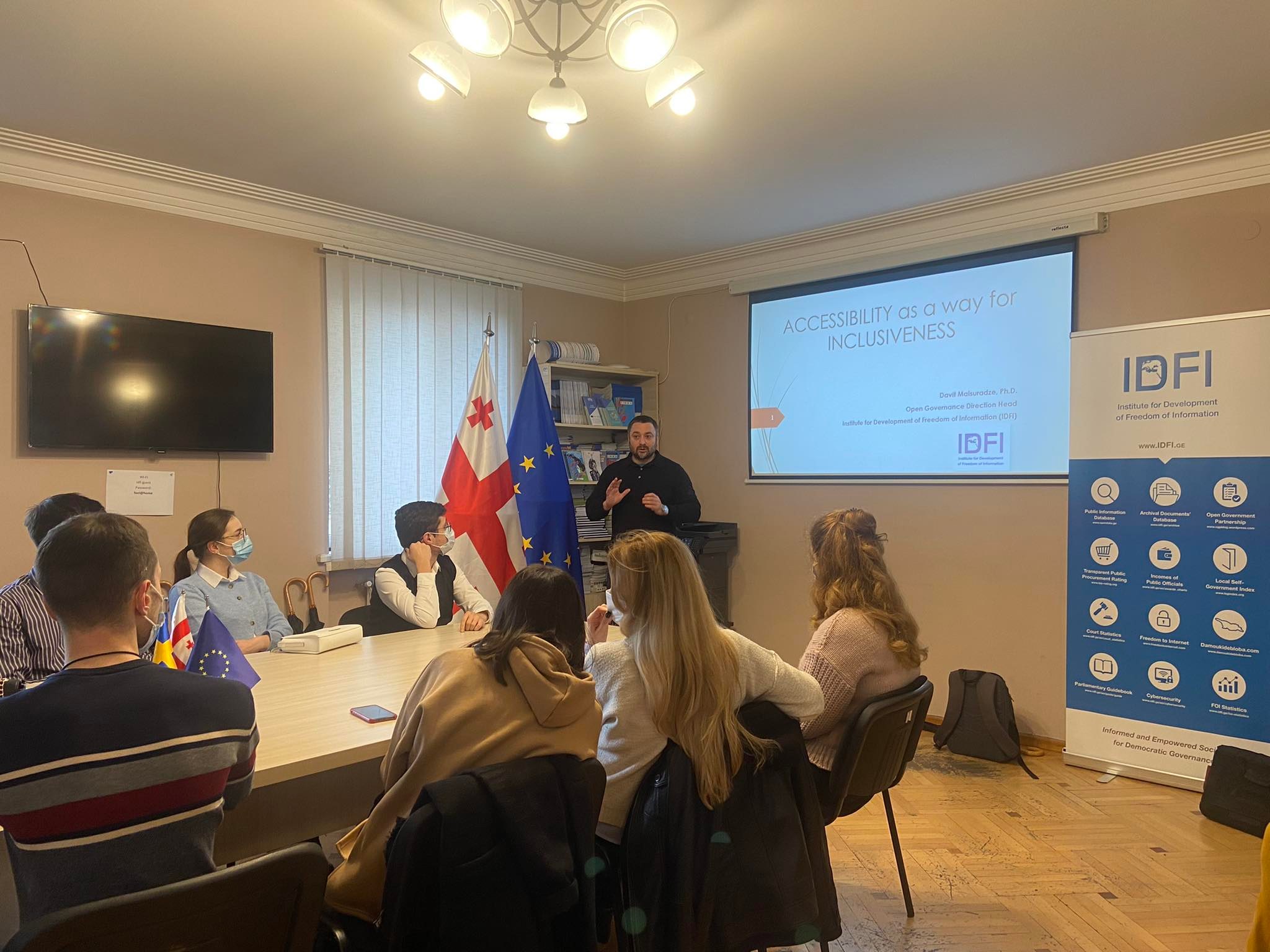 On November 26, the representatives of the administration of the political parties from the Eastern Partnership Countries visited IDFI. The participants of the meeting belonged to political organizations of Ukraine, Armenia, Moldova and Belarus, such as Batkivshchyna, European Solidarity, Party of Action and Solidarity, Movement for Freedom and United Civil Party.
The participants of the meeting were interested to receive the information regarding IDFI's activities and experience in supporting the involvement of persons with disabilities, ethnical minorities and residents of the municipalities in civil and political processes.
During the meeting, Executive Director of IDFI, Giorgi Kldiashvili, presented the information regarding the major directions of IDFI. Head of IDFI's direction on Open Governance, Davit Maisuradze, presented the information regarding the involvement of the persons with disabilities in legislative process according to the commitments of the Open Parliament Georgia Action Plans. Particularly, according to the 2015-2016, 2017 and 2018-2019 Open Parliament Action Plans the adaptation of the web-page and the Tbilisi Palace of the Parliament of Georgia was implemented. At the same time, Davit Maisuradze introduced to the members of the meeting the Open Governance Action Plan 2020-2021 of the Supreme Council of Ajara where two commitments on adaptation of the building of the Supreme Council and its web-page are indicated. It should be noted that both of these commitments are already implemented.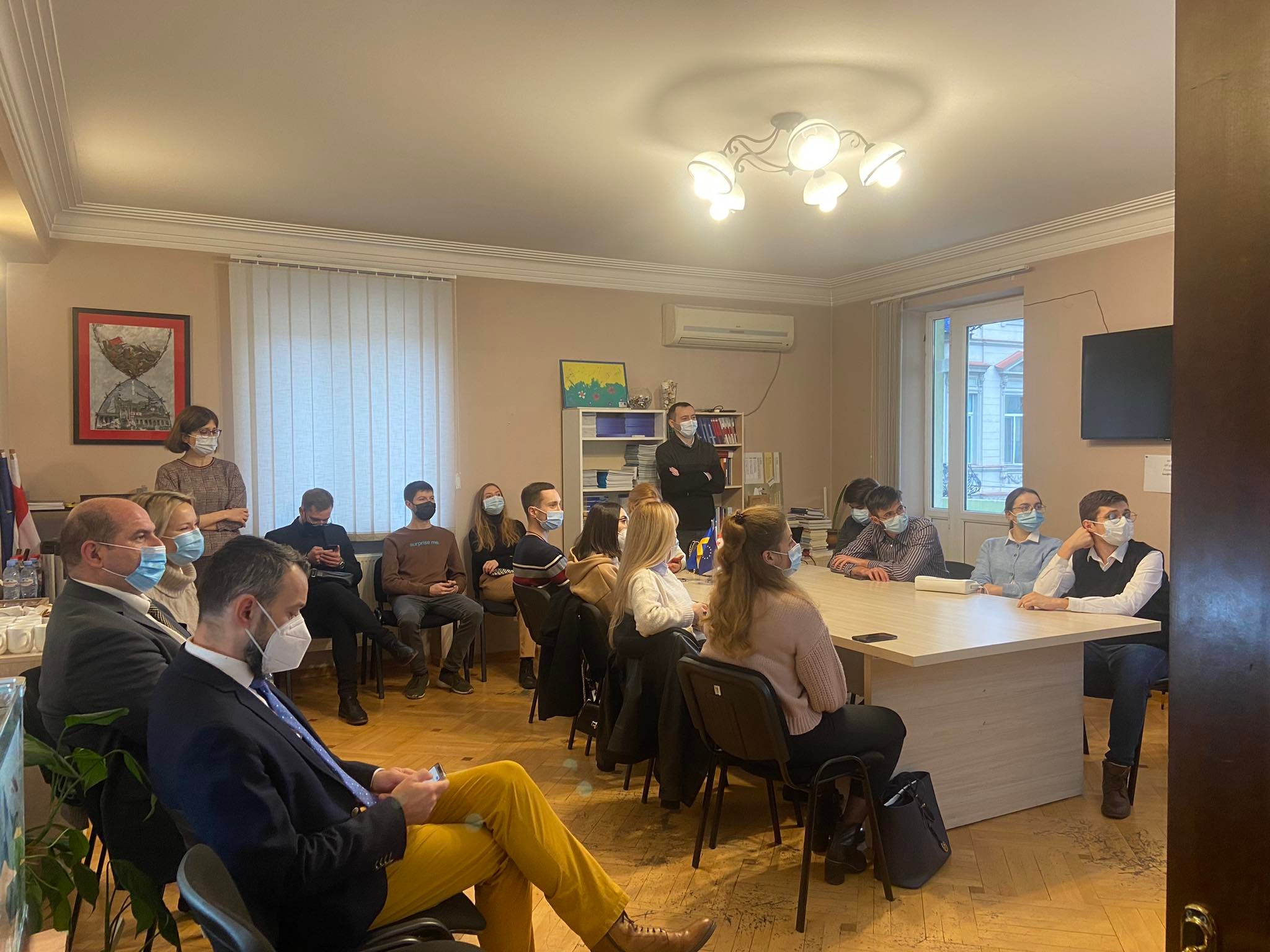 Teona Turashvili, Local Government, Internet and Innovations Directions Head of IDFI, presented to the participants of the meeting the projects of IDFI on local level which aim to promote the involvement of the citizens and interested parties in decision making process. Particularly, the participants got acquainted with the Local Governmental Index (LSG index) which assesses the transparency and accountability of the municipalities from 2017. During the presentation, Teona indicated the importance of the execution of the participation mechanisms and inclusive policy in the local public institutions. At the same time, the presentation covered the topics on involvement of local interested parties in IDFI's projects, in particular: public discussions to consider positions of general public when elaborating Building Transparency and Integrity Strategies and Action Plans, awareness-raising campaigns for local civil society, private sector and media regarding Sustainable Development Goals and other topics.
Institute for Development of Freedom of Information (IDFI) is ready to host interested parties in the future too and share the experience on supporting the involvement of the citizens.
The visit to the IDFI's office was carried out within the scopes of the project "Rule of Law Academy for Eastern Partnership Countries" which is implemented by the Robert Schuman Institute Budapest in cooperation with the Wilfried Martens Center for European Studies (WMCES), Robert Schuman Foundation Luxemburg (RSF), and the Konrad-Adenauer-Stiftung.