News | INTERNET AND INNOVATIONS | Publications | Analysis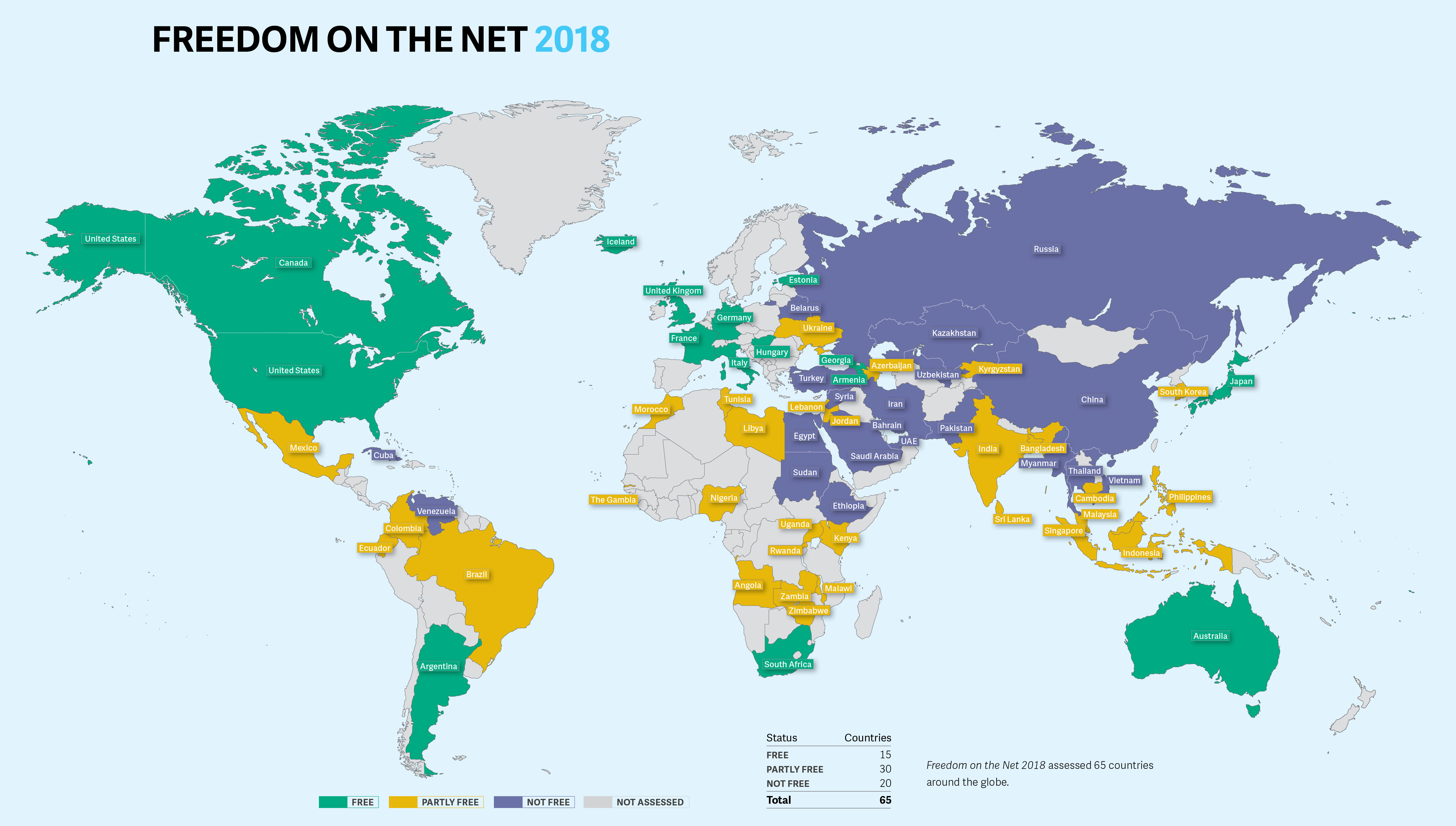 On November 1, 2018 Freedom House published an annual report on Internet freedom around the world. Georgia obtained a score of 25 out of 100 and was assessed as "Free" in terms of Internet freedom. The country's score worsened by 1 point compared to 2017.
The following facts are highlighted among key developments that happened between June, 2017 and May, 2018:
- Amendments made to the Constitution of Georgia, according to which, free access to and use of the Internet was recognized as a fundamental right. The report notes that these changes were submitted to the Constitutional Commission by a local organization, Institute for Development of Freedom of Information (IDFI).
- Establishment of an e-petition platform – www.ichange.gov.ge – by the government, through which citizens are able to create a petition and, in case a sufficient number of signatures is gathered, the Georgian government is obligated to provide responses to citizen petitions and make them publicly available on the platform.
- The case of the arrest of rapper duo "Birja Mafia" by the police on charges of illegal purchase and possession of excess amount of drugs. As the accused men and their supporters argued, the charges were fabricated, and the arrest could be connected to a video they posted on Youtube mocking the police. Following mass demonstration protesting the arrests, rappers were released on bail. Later, as the investigative media organization Studio Monitor reported, the police were not held responsible for allegedly falsifying evidence.
- The May 2018 Tbilisi City Court decision, which fined a condom producing company AIISA GEL 500 citing offending religious feelings and ordered to stop selling and marketing the products, including Facebook advertisements.
- The case of a May 2019 kidnapping of an Azerbaijani journalist Afgan Mukhtarli from Tbilisi. According to the report, despite official denials, there are suspicions that Georgia's security services were involved in the kidnapping.
With regard to the issues of accessibility and the state of Internet freedom, the report states that Internet penetration and its usage continues to grow in Georgia. Also, there are few indications of censorship or online content manipulation. Georgian activists freely use social media tools to disseminate information, organize themselves and hold online campaigns.
As far as online media content is concerned, according to the report, Georgian media landscape is becoming diverse, however, proliferation of unbiased and unreliable media content, especially anti-Western propaganda, was observed.
Freedom House focuses on the issue of surveillance and overviews the latest developments in this regard. In particular, the report discusses the functions of a newly established entity called the Operative Technical Agency (OTA) under the State Security Service. It also mentions public concerns about OTA's power to have direct access to telecommunications data, compel ISPs to cooperate with investigations and fine them for non-compliance.
Evaluation of each country includes a detailed narrative report and a numerical score based on three categories: obstacle to access, limits on content and violations of user rights. The 2018 report covers the period between June, 2017 and May, 2018.