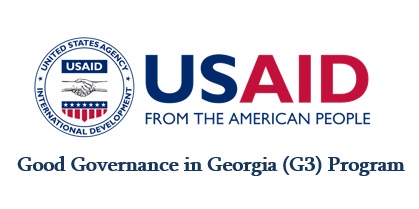 Project Name: Facilitate Open Government Partnership Initiative
Project dates: July 22 – November 1, 2014
Financial Support: USAID, Good Governance in Georgia (G-3) Program
Budget: 104,100.00 Georgian Lari (59 500,00 USD)
Project Description:
Open Government Partnership (OGP) is an international initiative to promote and seek commitments from participating governments to promote transparency, increase civic participation, fight corruption, and harness new technologies to make government more open, effective and accountable.

OGP was founded in 2011 upon the initiative of the presidents of the USA and Brazil and units 65 countries. As an OGP member state, Georgia dedicated itself to transparent and collaborative processes in public service, state procurement, public finances, and administration of justice, public participation and developing innovative technologies to achieve the above mentioned goals.

The OGP calls for country commitments in five (grand) challenges of: (1) improving public service delivery, (2) increasing public integrity, (3) more effectively managing public resources, (4) creating safer communities, and (5) increasing corporate accountability.

Among the 65 OGP member countries, at the onset of its membership, Georgia was scored among the highest (15 out of 16 maximum) on budget transparency, access to information and asset disclosure. Nonetheless, Georgia received one of the lowest scores on citizen engagement, which highlights the need to strengthen its capacity to communicate with citizens and civil society.

In 2014 Georgia created second National Action Plan 2014-2015 within the frame work of OGP. It comprises 27 commitments. The Government of Georgia's OGP commitments are coordinated by the OGP Forum and its secretariat, which is a national coordination mechanism as foreseen under the Articles of Governance, and which is functioning in a new format since January 15, 2014.
Project Objectives:
The aim of this assistance is to facilitate the work of the Government of Georgia, through support to the GoG's OGP Forum to advance the goals of the Open Government Partnership that include logistic and organizational support for the OGP Forum and manage OGP's external communications through an intensive public awareness campaign on the OGP that will ensure the continuity of organizational relationships with OGP's partners.

Project Activities:
• Plan and implement public awareness campaign on OGP at Central and Regional levels with various target groups
• In close consultations with Open Government Georgia Forum and its secretariat develop the design and content of the printed materials – Flayers and OGP Action Plan of Georgia 2014-2015 for domestic and international dissemination (in Georgian and English languages);
• Printed materials dissemination in Universities, libraries, Public Service Halls and USAID-funded Centers of Civic Engagement throughout Georgia
• Agree upon the theme, message and length of the videos with the Open Government Georgia Forum and its secretariat
• Produce the videos in different file formats suitable for television broadcast (local commercial and public television outlets), internet and social media platforms
Implemented Activites:
• 14 public awareness meetings were planned and conducted with students of various universities, media and NGO representatives, and librarians. Meetings were held in Tbilisi and in different regions – in Batumi, Kutaisi, Akhaltsikhe and Kvareli
• In close consultations with Open Government Georgia Forum and its secretariat develop the design and content of the printed materials
• In close consultations with Open Government Georgia Forum and its secretariat developed the design and content of flyers on OGP
• National Action Plan (2014-2015) in English/Georgian was printed. Design of was prepared and agreed with the Ministry of Justice of the Government.
• Shorthorn version National Action Plan (2014-2015) with illustration was printed in English and Georgian
• Printed Materials were delivered to universities, libraries, USAID Civic Engagement Centers. Part of these materials were delivered to the Ministry of Justice for dissemination to state agencies
• Three graphical videos on OGP were prepared according to the agreed content with the MoJ of Georgia. Videos were broadcasted by Public Broadcaster and privet TVs as well The first video describes the commitments taken by the government agencies. The second video describes the OGP in general.
Budget:

Open Government Partnership Action Plan Georgia 2014-2015
Open Government Parnership Action Plan Georgia 2014-2015 Brochure
Open Government Partnership (Video)
Workshop with Students of LibCenter about OGP
Bosnia and Herzegovina Joined OGP
OGP Celebrated Its Three-Year Anniversary
Discussion with students about OGP
Open Government Georgia Forum Holds its Next Meeting
Meetings with students for awareness raising on OGP continue
Civil Society Dialogue [VIDEO]
Seminars about OGP in different regions of Georgia
Workshops at University of Georgia and at GIPA
New Response Policy for OGP Countries
Another Monthly Meeting of OGG Forum Discussed Oversight Mechanism of the National Action Plan Implementation
Official website of Ministry of Internal Affairs has become adaptive for blind people