News | FIGHTING CORRUPTION | Publications | Article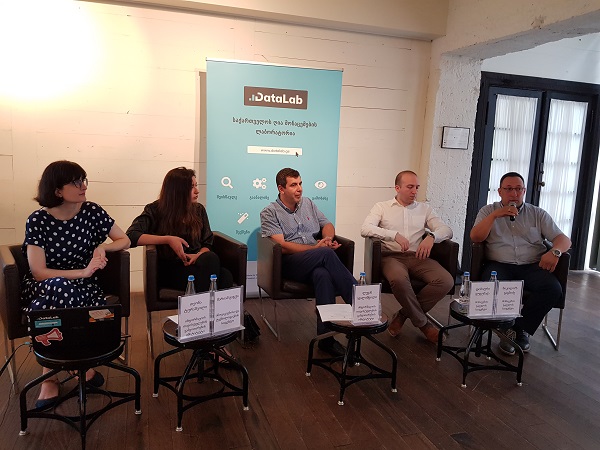 Today, on June 26, representatives of business, startups, civil society, and academic community discussed the Accessibility and Use of Open Government Data by Tech Community.
The event was organized by Institute for Development of Freedom of Information (IDFI) in partnership with Data Exchange Agency (DEA) and Georgian Innovations and Technologies Agency (GITA).
"Accessibility of Open Data will play a crucial role in the development of innovative applications and services in areas such as tourism. On the one hand, this will improve services, while, on the other hand, it will support the representatives of business and startups to create new, profitable products. Overall, open data accessibility will affect economic growth of the country. In order to achieve this goal, the government should consider Open Data as the main priority in the development process of digital economy", – said IDFI's Programs Director Levan Avalishvili in his welcome speech.
Chairman of the Data Exchange Agency of the Ministry of Justice, Nikoloz Gagnidze spoke about the importance of Open Data and noted that in the technological age we live now it is essential to use this kind of data effectively, for it can be hugely beneficial for society.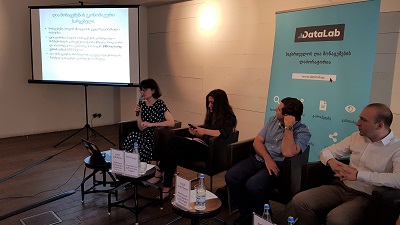 "One of the most important open data products is the open data portal, which was created by our agency and provides output of public institutions' open data in computable and easily accessible way. It allows citizens, representatives of business, media, non-governmental organizations and governmental agencies to use the abovementioned data without fail and get the necessary information without extra effort. I would like to point out the possibility of creating different mobile applications and e-services by using open data. With the help of open data, developers gets ready information in order to create various applications or e-services", - Nikoloz Gagnidze.
At the meeting, DEA's IT Project Manager Dimitri Gugunava spoke widely about DATA.GOV.GE and accessibility of open data in Georgia. Teona Turashvili, head of IDFI's Media, Internet and Telecommunication Direction, presented applications/services created with the help of open data and existing international experience.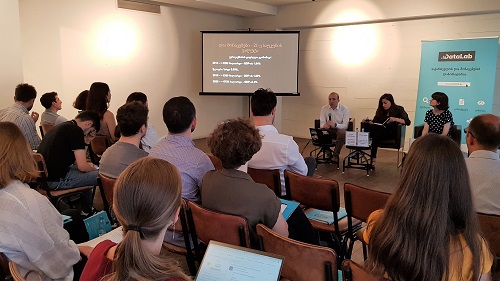 Mariam Gagua, Community Manager of Georgia's Innovation and Technology Agency (GITA), outlined the existing challenges and possibilities of using open data for businesses and startups.
The event was co-financed by the Governments of Czechia, Hungary, Poland and Slovakia through Visegrad Grants from International Visegrad Fund. The mission of the fund is to advance ideas for sustainable regional cooperation in Central Europe.