News | Publications | Open Government | Article
Irakli Gharibashvili the Prime Minister of Georgia will give a speech in New York on September 24, 2014 at OGP's third anniversary. Nine leaders of OGP steering committee member countries will also give speeches at the event. Among them are the USA president Barak Obama, presidents of Mexico, Indonesia and the heads of following countries: South Africa, Tanzania, Montenegro, Norway and Croatia.
The high level event titled "Open Government Partnership: Citizen Action, Responsive Government" will be held on the margins of the 69th United Nations General Assembly.
The purpose of this event is to recognize progress made by countries around the world in promoting civic participation.
On 24th of September, the winner of OGP Award for the best project for civil participation will be announced. The best three initiatives will get a prize for projects that have found bold and creative ways to engage citizens in designing and/or influencing the design and implementation of public policy and services with the ultimate goal of making government more open, responsive and accountable to citizens' needs.
In 64 countries, reformers from civil society and government are working together to address thorny challenges in making governments more responsive. Despite significant advances, there is a long way to go for citizens to regain trust in governance, for innovations in government transparency and public participation to scale, and policy-making to be more open and collaborative.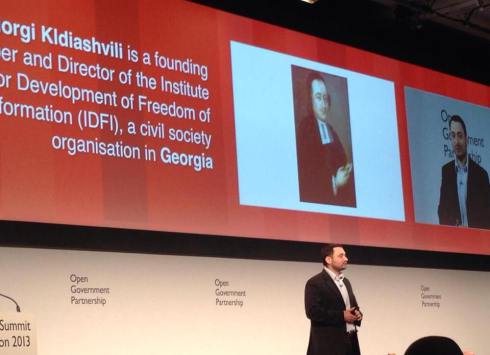 For discussing such topics, in the morning of September 24, OGP together with the Ford Foundation will organize a breakfast dialogue with Global Civil Society Leaders. Founding member and the director of the Institute for Development of Freedom of Information (IDFI) Giorgi Kldiashvili will give a speech at the meeting as a representative of civil society of Georgia.
The meeting is an opportunity to speak candidly, review the early successes and challenges of the OGP, and consider how we can use the OGP platform to advance progressive agendas. The participants of the event will discuss what activities work and what does not. Part of the new OGP four-year strategy is to strengthen the links with leading global civil society coalitions and networks and to join forces to get meaningful things done.
On the 25th, there will be an OGP meeting of the newly elected Steering Committee members. Two countries' action plans will be presented and OGP 2015 priorities will be discussed as well.
Minister of justice, Tea Tsulukiani, the First Vice-Minister Alexandre Baramidze and the Head of Analytical Department Rusudan Mikhelidze are representing the Government of Georgia during the event.