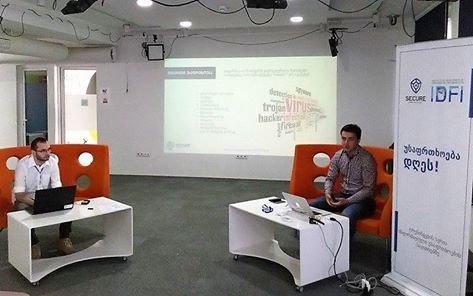 On May 5-6, the Institute for Development of Freedom of Information (IDFI) and the company SECURE held the first training course on information security for the representatives of Non-Governmental Organizations at the Multimedia Education Centre. The training series is titled Security Today!

The training course was aimed at discussing the issues related to information security, raising awareness on the topic and promoting the proactive use of security measures with people who require it the most.

The training was led by the founders of SECURE – Giorgi Gvasalia and Girshel Chokhonelidze, who discussed internet security, personal data and its protection, social engineering, anonymity, confidentiality, data archiving and surveillance.

The course was held in a discussion format, where participants were able to ask questions and receive competent answers and advice from the trainers. Upon completion of the training, participants received joint certificates from IDFI and SECURE.

The series of trainings continue. Future courses will be held for journalists, students and other interested persons. The topics for each of these courses will be planned and adjusted according to the needs, interests and professional background of the target group.
For additional information please contact us at: info@idfi.ge or info@secure.ge .