The new privacy policy of Google will take effect on 1st March and will affect the information gathered prior to 1st March, as well as the information gathered in the future. This policy will replace and combine separate policies for more than 60 different products of Google. Besides, creation of a single document will make it easier to integrate different products of Google and will adapt the provided services to the user. These changes affect those who have Google accounts. When you are signed in as a Google user in any of its services (e.g. Gmail), Google is able to combine the information collected about you in one program with the information gathered in another program, thus you will be recognized a single user in any programs. This affects such popular products, as: Gmail, Picasa, YouTube, Earth, Voice, Android, Chrome, Wallet etc.

With this change Google wants to achieve more intuitive experience of its products. For instance, the search engine will be able to offer search results based on your personal data. Despite the possible positive effects of this change it raised public concern about privacy of personal data. Google promises not to sell personal data of its users, to leave the users the right to move their information and not to release information about the users without their consent, except in limited cases such as request by law enforcement. However, there is threat that the information gathered about users may be used without consideration of their interests. This change is especially significant as the unified web-history will make possible to reveal such sensitive information as your location, interests, age, sexual orientation, religion, health concerns etc.

This potential threat can be decreased until 1st March by disabling web-history. This simple procedure will be explained below. It should be noted that, disabling web-history means that the information gathered about you will be anonymous. However, this does not mean that Google will stop collecting information for its internal use. Besides, the information gathered by Google may still be used in case of court orders. Furthermore, disabling this function will mean that you will no longer be able to use such features as customized search results.

A few easy steps are needed for stopping the web-history :

1. Go to the Google homepage and sign into your account.
2. Click the dropdown menu next to your name in the upper-right hand corner of your screen.
3. Click accounts settings
4. Find the "Services section"
5. Under "Services" there is a sub-section that reads "View, enable, disable web history." Click the link next to it that reads: "Go to Web History."
6. Click on "Remove all Web History"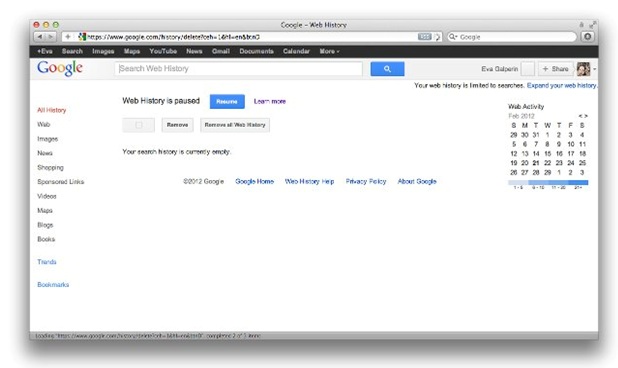 When you finish this procedure, a message will appear, saying that the web history is paused (see the picture). Thus, combining your personal information with different products of Google will be stopped until you choose to resume the web history. In case if you have several Google accounts, this change should be applied to each of them.

Tamar Iakobidze