News | Publications | Open Government | Article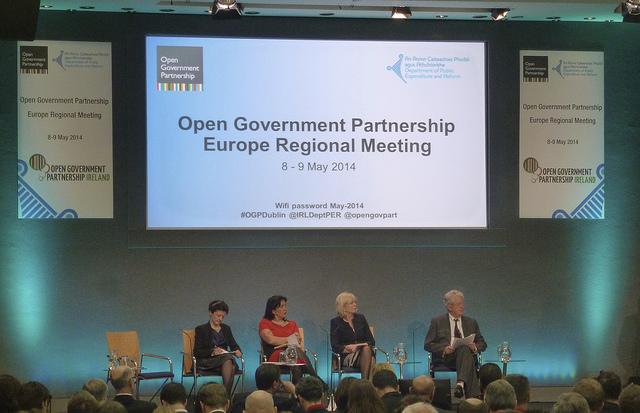 On June 3-4th 2015 Tbilisi, Georgia will host the European regional conference of "Open Government Partnership" (OGP). The European government representatives of the OGP will participate in the conference. The main purpose of the meeting is to share accomplished results and experience and further build the network of government reformers using OGP to advance ambitious open government reforms in their countries. During the conference participant countries will discuss the topics such as: Innovation and accountability in OGP, coordination within the government for open government partnership, enhancing open governance, importance of e-governance, e-resources and open data, public involvement, legislative transparency, access to information, OGP working groups, direct country support, etc.
European regional meeting will be opened on 3rd of June and take place at Expo Georgia, Tbilisi. Points of contact from civil society, international organizations, government institutions will take part in the conference. Prime Minister Irakli Gharibashvili will open plenary session, Chairman of the Parliament of Georgia, Davit Usupashvili, Chairperson of Supreme Court of Georgia, Nino Gvenetadze, Minister of Justice, Thea Tsulukiani and others will welcome participants. Representatives of foreign countries' governments will participate in the panel as well. Thierry Mandon, Secretary of State for Government Reform and Simplification, Office of the Prime Minister, France will speak about the self-government reforms at state secretary.
On June 4th at the closing of the conference Director of IDFI, Co-chair of the Open Government Georgia's Forum, Giorgi Kldiashvili will discuss effective and successful cooperation of Government and civil society in the framework of Open Government partnership. At the end of the conference representatives of OGP working groups, international organizations and the government will address the participants. Ms Kimberly D. Johns (World Bank), Mr Francesco Cecchi (UNDP), Mr Aleksandre Baramidze (First Deputy Minister of Justice of Georgia) and others will have final speeches on the forum.
Georgia is the first country in Eastern Europe which hosts such an important meeting. Georgia was chosen as a host during the regional meeting of OGP's committee, held in Mexico because of the successes achieved throughout the last years.
Georgia is the member of OGP since September, 2011 and it carried out first action plan in 2012-2013 in the framework of which country got commitment of providing a transparent and coordinated work of government, state purchases, public finances, the administration of justice and development of innovative technologies. "During the progress report of 2012-2013 years "Georgia got high grades in openness of budget, access of information and in the public disclosure of asset declarations. Currently, Government of Georgia in a process of implementation of 2014-2015 action plan. Simultaneously, Parliament of Georgia is working on preparing Openness Action Plan. On September, 2014 Georgia was selected as a member of OGP steering committee for two years.
/public/upload/IDFI/OGP/FINAL Agenda_Georgia_POC_conference.2.pdf