News | Research | FIGHTING CORRUPTION | Pressing Issues | Analysis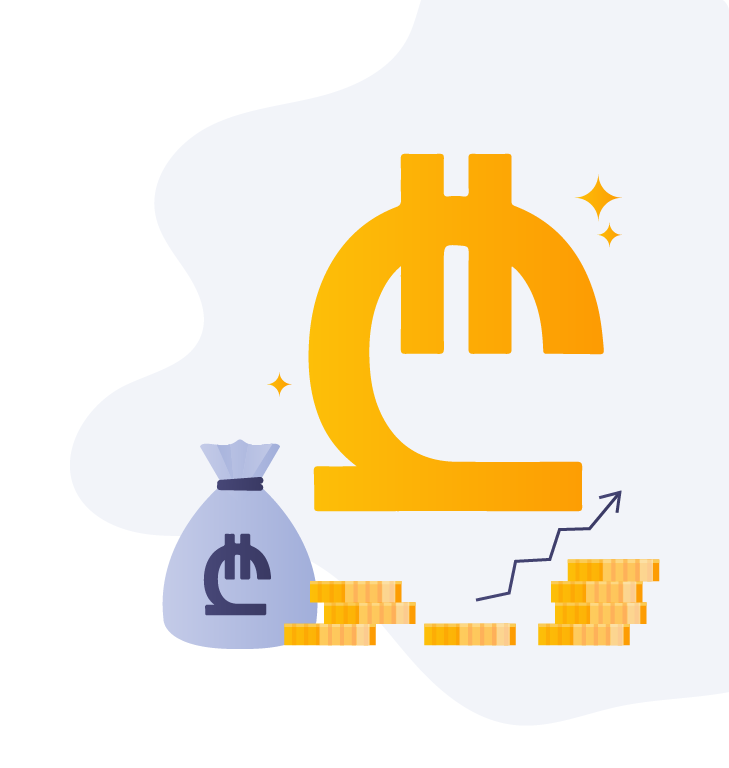 In 2020, Georgia will hold parliamentary elections, which are usually marked by a large volume of political donations. As of June 3, 2020, the ruling party has already received more than GEL 4.7 million in donations. Last year, in 2019, despite the fact that only by-elections were held, the Georgian Dream Party received more than GEL 7 million in donations.
Under Georgian law, donations received by a political party from a natural person must not exceed GEL 60,000, and from a legal entity - GEL 120,000within one year. Political donations often lead to corruption. Companies that fund the ruling party may be winning a large number of government tenders or enjoying other types of benefits or privileges, and in this way, they might be making a profit on their "investment". Additionally, companies often bypass the limits established by law and finance the ruling party far more than is allowed.
This article discusses the cases of political donations, that raised suspicions in regards to the integrity of the donors and the legality of their contributions in favor of the ruling party throughout 2019 and before June 3, 2020.
Political Donations in 2020
A total of 204 donations have been made in favor of the Georgian Dream Party by June 3, 2020, and all donors are naturalpersons. However, it is interesting to note, that often, the co-owners and directors of one company donate money within the same timeframes. In some cases, donors are employees of one company who do not hold managerial positions, making it very difficult to connect them with the organization. This practice may indicatethat,these donationsare not an expression of support or preference towards a political partyby natural persons,but rather a calculated move in the interest of the business.
For example, the donations made in early 2020 show a number of individuals who are likely to be affiliated with RMG Gold Ltd, although in many cases it is almost impossible to identify them as employees of the company.
In order to ascertain links between the donors listed below, we used materials from RMG Gold's website, information spread on online media[1], the social network "Facebook", and publicly available government resources.
Individuals who donated GEL 60,000 to the ruling party:
- RMG's Executive Director Tornike Lipartia;
- Production Director,Koba Menabdishvili;
- Corporate Director, Kakhaber Mchedlishvili;
- Vladimer Kakhetelidze, who was the Chief of Security according to data from 2018;
- Ex-Executive Director, JondoShubitidze,who is currently the owner of a company affiliated with RMG.
- Ex-Executive Director,Davit Balanchivadze;
- Director of Environmental Affairs, Mikheil Kvaratskhelia;
- RMG's Resource Geologist (based on sources from 2017), Malkhaz Matsvlishvili;
Donations below GEL 60,000:
- Kakhaber Kekelidze, who was the Director of RMG's Enrichment Plant (based on sources from 2014), donated - GEL 55,000;
- Deputy Director of the Department of Human Resources, GiorgiChkheidze - GEL 50,000;
- Deputy Corporate Director, Amirankartvelishvili - GEL 40,000
- Head of the Human Resource Development Department, Irakli Shatakishvili - GEL 15,000;
- Head of Human Resource Management, KesoChighunadze - GEL 30,000;
- Zaza Avalishvili, who according to online media, was RMG's Strategic Development Manager in 2014, donated - GEL 45,000;
- RMG's Public Relations Manager, NatoNozadze - GEL 7,000;
- Irodi(Irakli)Chezhia, who is RMG Copper's Procurement Manager, according to information indicated on "Facebook" - GEL 7,000;
- Head of Social Projects Management Department, DavitMenabdishvili - GEL 7,000;
- GEL 7,000 was donated by Zhiuli Beridze,who was the Head of RMG's Enrichment Plant's Repairs Department in 2014, according to news published on the company's website;
- Giorgi Mushkudiani, who worked in RMG Administration, according to data from 2015, donated GEL 10,000 to the Georgian Dream Party.
- Jemal Giorgadze, who was also employed within RMG Administration, according to data from 2015, also donated GEL 10,000.
- Maia Natsvlishvili donated GEL 50,000 to the ruling party. At first glance, she has no ties with RMG Gold or any other affiliated company, however, Alexander Kutateladze, who was the company's financial director from 2010-2012, is registered at Natsvlishvili's address. In the name of Maia Natsvlishvili herself, a request for an extract of real estate located in Kazreti, Quartzite Ltd (old name of RMG) can be found in the real estate registry.
According to the data provided in this list alone, individuals directly or indirectly connected with RMG donated more than GEL 800 thousand to the ruling party,as of June 3, 2020. The company's relatively high-ranking employees are donating large sums of money, while employees in the middle management donateGEL 15, 10, or 7 thousand. In addition, the list of donors includes dozens of other people who are registered in Bolnisi, Kazreti, or nearby villages, in most cases have no shares in the business and either do not own real estate at all, or only the house in which they are registered. However, the names and surnames of some of them can be found in various editions of the RMG online newspaper, which raises suspicions that they are also employees of the company, however since it is not possible to identify them with high certainty, they are not included in the study.
The fact that so many employees of one company donate money to the ruling party at roughly the same time, raises suspicions that the funds may have been mobilized by the company and that the company's top management may be using its employees to bypass the donationlimits established by law. Article 27, paragraph 7 of the Organic Law of Georgia on Political Unions stipulates, that "Performing a donation through another person shall reroute the donation towards the state budget of Georgia, and the offender shall be held liable under Georgian law." The Georgian Audit Office is responsible for monitoring and requesting relevant justification in such suspicious cases.
The founders of Lilo Mall Ltd, have been found to be engaged in similar activities, which has been covered by the media before. In particular, eight out of 15 shareholders of the company and the director of the company donated a total of GEL 455,000 to the ruling party on May 15, 2020. These persons have financed the ruling party with a total of more than GEL 1.2 million since 2017. However, in the case of Lilo Mall, only shareholders and executives are identified, therefore it is less likely that the donationsare channeled through third persons. Nevertheless, such cases raise suspicions that such donations do not reflect the political sympathies of individuals, but rather serve business interests and circumvent the funding limits established by law.
Political Donations in 2019
Donations made in 2019 are especially interesting, since only by-elections were held in Georgia. Usually, political parties in Georgia are actively funded only during important election years. However, the total donations for 2019, exceeds the amounts received throughout somePresidential,Local and even Parliamentary election years, for example, donations in 2012, 2013 and 2014[2].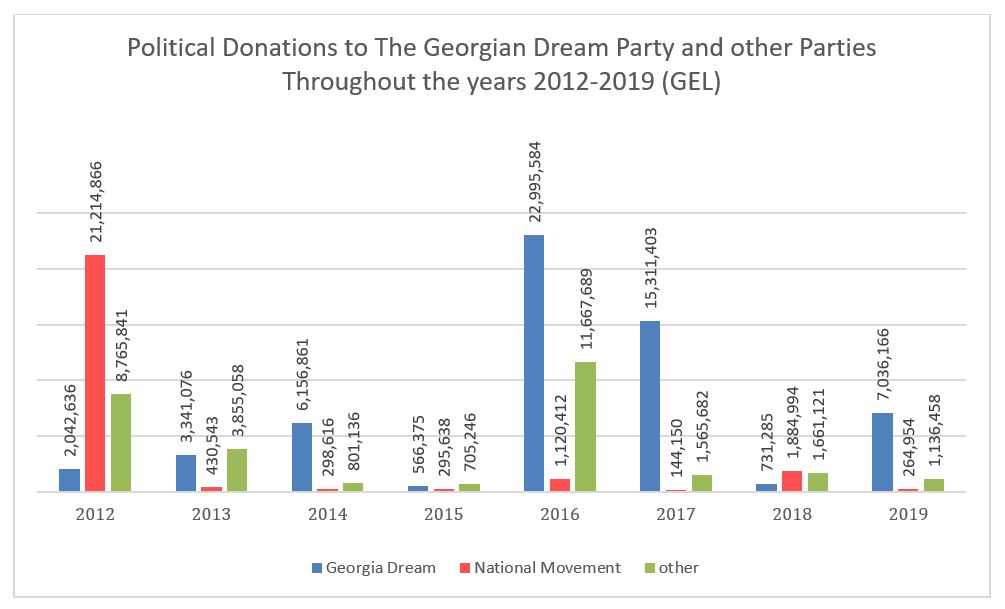 Donor Companies affiliated with JSC Akura
Public procurement carries corruption risks in terms of political donations. In particular, cases where companies or their founders win lucrative government tenders after having donated to the ruling party. The cases where government procurement contracts are awarded to such companies directly, without a tender, are especially noteworthy.
LLC Natural 7 donated GEL 100,000 to the ruling party, on 29th of November, 2019. No other donations have been performed by this company in previous years. LLC Natural 7 has two shareholders, Vazha Kuchukashvili and Merab Kuchukashvili. As for personal donations, Vazha kuchukashvili donated GEL 18,000 and Merab Kuchukashvili - GEL 15,000 towards Salome Zurabishvili's campaign in 2018. Additionally, Merab Kuchukashvili donated GEL 50,000 on 12th of December 2019, to the ruling party.
Along with LLC Natural, Vazha and Merab Kuchukashvili own several other companies, through which they have been awarded GEL 1,5 million worth of direct procurement contracts throughout the years from 2012 to 2019. Most of these contracts were signed with one procuring entity, JSC Akura, which is 99% owned by the State.
It is noteworthy that these companies were awarded direct public procurement contracts throughout 2012-2017, after which, no such contractscan be found until 2019. After the Kuchukashvilis donated funds to Salome Zurabishvili for the 2018 presidential election, one of their companies, Tempi + Ltd, received a direct contract worth GEL 110,000 from JSC Akura, in September 2019. After which, the Kuchukashvilis donated a total of GEL 150,000 to the ruling party, in November and December 2019.
Kvareli Cellar Ltd donated GEL 100,000 to the Georgian Dream on September 6, 2019. The company produces alcoholic beverages and since 2015 has received more than half a million GEL worth of direct procurement contracts. However, from October 2017 to 2019, Kvareli Cellar Ltd had not been awarded any direct purchase contracts. On September 20th, 2019, 14 days after the donation was made, the company received a contract worth GEL 164,000. After the 2019 donation, Kvareli Cellarhas been awarded contracts worth up to GEL 200,000 in total. In all cases, the purchaser was JSC Akura. It is interesting to note that from 2007 to April 2015, Davit Topuridze was a shareholder of Kvareli Cellar Ltd, who simultaneously held the position of the director of JSC Akura By the decree of the Agricultural Projects Management Agency, from 26th of September through 25th of December 2014. Topuridze also held the position of director of Gruzvinprom Ltd (now privatized),from 2013 to December 2014, another state-owned enterprise under the Agricultural Project Management Agency.
Also in 2019, Tiflis Ltd donated GEL 100,000 to the Georgian Dream Party. The founder and director of this company is Davit Topuridze mentioned above and this company also produces alcoholic beverages. Tiflis Ltd Does not seem to have any state procurement contracts under its name. As for Topuridze,he donated GEL 50,000 to Salome Zurabishvili's campaign.
LTD TIFLISI DISTILLERY has made a GEL 100,000 donation for the Georgian Dream Party in 2019 and a 100,000 GEL donation for Salome Zurabishvili in 2018. The company also produces alcoholic beverages, one of its shareholders is Davit Topuridze. This company is not registered as a supplier on the procurement website, however, Davit Topuridze's other company, Baracon Ltd, has received a direct procurement contract worth more than GEL 70,000, the procuring entity is JSC Akura once again.
In 2019, ABC Ltd also donated GEL 100,000 to the ruling party, and in 2018, the same amount was donated to Salome Zurabishvili. Its shareholder is Amiran Jibuti, and its director is Solomon Gvajaia. Jibuti is a business partner of Davit Topuridze in LTD TIFLISI DISTILLERY and Gvajaia is its director.
Interestingly, all of the listed companies are directly or indirectly (through other companies owned by the founders) connected with the state-owned enterprise JSC Akura, which produces wine and spirits.
According to the Forbes 2019 ranking of state-owned enterprises, the company ranks 15th and its turnover exceeds GEL 30 million. As mentioned above, 99% of Akura's shares are owned by the state, which have been transferred to the Agricultural Project Management Agency with the right to manage them.
JSC Akura is actively involved in the vintage process and almost every year, based on the government's decree, it is responsible for taking the necessary measures to receive and process grapes during the vintage period. This implies the purchase, processing, and storage of grapes left on the market by private companies in both Kakheti and Racha-Lechkhumi regions. To carry out these activities, JSC Akura has been requesting permissionfrom the State Procurement Agency since 2016, to grant them the right to purchase various services without a tender, within a limited time, in order to conduct activities of public interest. The inability to calculate in advance the amount of grapes to be purchased,is cited as substantiation for this request in the submitted applications. From 2016 to 2019, the Procurement Agency approved all of the 14 requests for simplified procurement submitted by Ltd Akura, which allowed them to directly purchase more than GEL 133 million worth of services.
Other Donor Companies
Ltd International Transport Management Companydonated GEL 100,000 to the ruling party on 27th of December, 2019.
This company has participated in only two public procuremente-tenders. Both contracts together were valued at more thanGEL 900,000 and both were awarded without competition. In both cases, the buyer was GR Logistics and Terminals Ltd, a state-owned company.
Zimo Ltd donated to the ruling party for the first time in September 2019, the amount of GEL 100,000. The company is known for carrying out tree transplanting works for Bidzina Ivanishvili's Dendrological Park. The company has won up to GEL 100 million worth of tenders. The founders of the company were also donating to the previous government and were winning large numbers of tenders during that period as well. Zimo Ltd stands out due to the high-value direct contracts. Also, the company was placed in the blacklist in 2017, for failing to complete a project.
Throughout 2016-2019, Citadeli Ltd has donated a total of GEL 240,000 to the Georgian Dream. One of the founders of the company is Bidzina Ivanishvili's brother, Alexander Ivanishvili, who has donated a total of GEL 180,000 to the party and Salome Zurabishvili, and the director of the company, Badri Butkhuzi donated GEL 35,000. Additionally, Alexander Ivanishvili owns other companies, including "Tornado" with a donation of + GEL 85,000. One of the shareholders of this company is Tamaz Kharaidze, who also donated GEL 20,000 to the Georgian Dream Party in 2019.
As for public procurement, in 2018 Citadeli Ltd was awardeda 450,000 GEL e-tender by JSC Oil and Gas Corporation, without competition. Another company of Alexander Ivanishvili, Dugladze Wine Company Ltd, has received a government contract worth more than GEL 227,000. It should be noted that two other founders of this company have donated a total of GEL 225,000 to the Georgian Dream Party and Salome Zurabishvili.
In 2019, there were 15 donor companies that donated $ 100,000 to the ruling party. Of these, 9 companies and other companies related to their owners are actively participating in state tenders, mostly through simplifiedprocurement.
In addition, IDFI's analysis revealed that five of these companies operate in the wine-making industry, andin terms of government contracts, they are all dependent on a single procuring entity – JSC Akura. It is important to note that in many cases, shareholders of donor companies, also make donations individually, which obviously increases their contributions towards the ruling party.
The fact that in most cases, donations and simplifiedprocurementcontracts coincide over time, raises suspicions that the Governmentmay be using direct procurement as a tool to attract donations to the ruling party. Additionally, the use of simplified procurement process by JSC Akura, even outside the vintage season, makes it possible for these funds to be directed towards companies that have vested State interests or connections.
Conclusion
The analysis by IDFI revealed that the most prominent problem in terms of political funding, is the fact that most apparent violations have to do with bypassing requirements established by the law. In other words, the action may be formally in line with the requirements, but may in fact contradict the purposes of the law.
For this reason, we believe that it is necessary for the Audit Office to strengthen monitoring efforts, timely identify possible violations, request appropriate justifications, and impose fines on violating entities.
In addition, based on the findings of this study, we believe it is important for the Audit Office to inquireabout the efficiency of JSC Akura's procurements and the legality of donations made by employees of "RMG Gold".
____
[1] The information obtained from online media and RMG Gold print edition sometimes reflects events of past years, therefore position of the employees may not be in line with the current situation.
[2]Source:www.politicaldonations.ge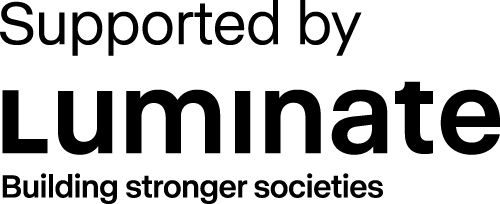 The study was prepared within the grant for Good Governance for Georgia (3G) project from the global philanthropic organization, Luminate. The Institute for Development of Freedom of Information (IDFI) is responsible for the content of this analysis. Views expressed in therein do not reflect the position of Luminate.