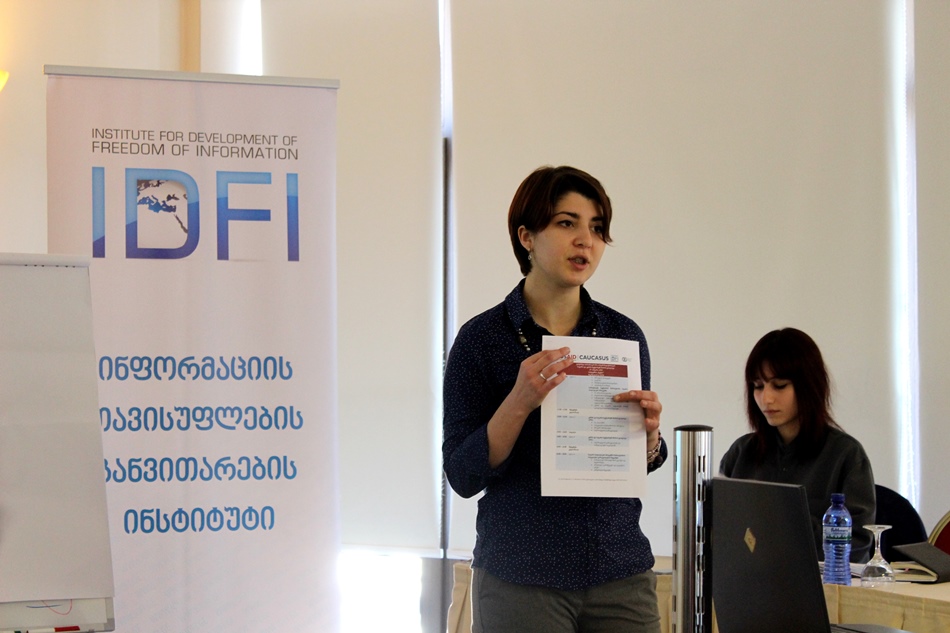 On Wednesday, January 27th 2016 IDFI held a training within the project "Public-Private Dialogue (PPD) Quality Tracking in Georgia". The participants of the training were representatives of NGOs, working on economic issues.

The project is implemented with financial support of USAID's program Governing for Growth (G4G). The main goal of the project is to develop and implement a "PPD Quality Tracking Mechanism" for which each major law or regulation proposed by selected key Ministries will be evaluated upon the extent and quality of inclusive consultation and assigned a rating in terms of four PPD quality parameters. With the support from G4G IDFI will strengthen capacity of both, public and private sectors, to effectively cooperate on identified reforms through an inclusive consultative process.

Participants were introduced to the project objectives, civil engagement mechanisms for dialogue between the private and public sectors and its importance and essence by Tamar Iakobidze, IDFI Analyst. Ms. Iakobidze spoke about the necessity of the government's involvement in the process as well as strengthening of advocacy.

During the training the director of IDFI, Giorgi Kldiashvili mentioned the active involment of non-governmental organizations in legislative matters, and discussion of draft bills contributes to consolidating the public sector and underlying the issues of high priority for the government. During the training the representatives of NGO'-s shared their experiences among each other, discussed solutions to the problems and future cooperation.

The exact meaning of "Public-Private Dialogue (PPD)" was introduced to participants of training by researcher Mr. Khmaladze who was invited by IDFI. He has extensive experience as an expert in public finance management and institutional development, consults the central and local government. He presented the best international practices, main principles and Georgia's experience in this field.

At the conclusive session of the training the final stages and mechanisms of citizen participation, as well as existing challenges and solutions were reviewed. During the seminar the participants used received information in simulation activity which demonstrated intensity of the issue and the importance of information dissemination.

Other activities scheduled during the project will also promote establishment of a culture of dialogue between the private and the public sector and its importance.