News | FIGHTING CORRUPTION | Publications | Article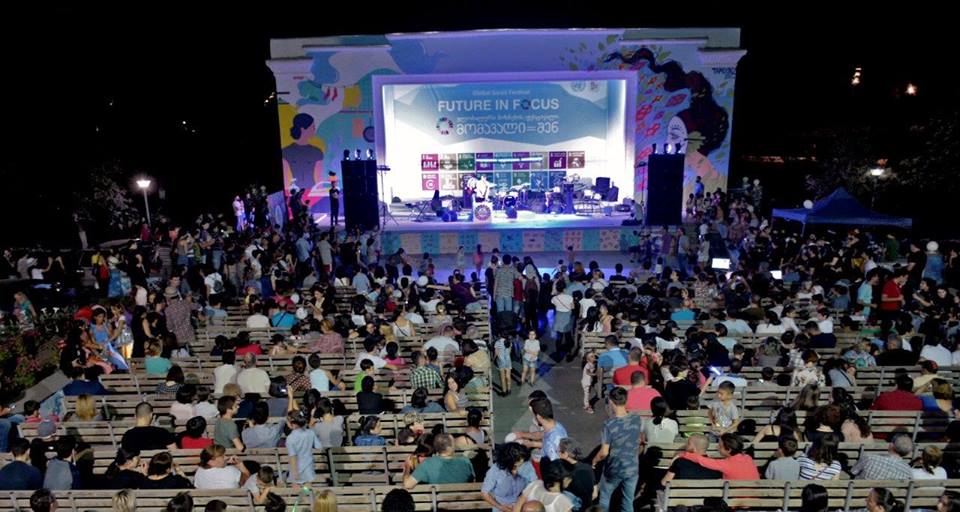 Hundreds of people gathered in Rustavi on September 24, 2017 to attend the Global Goals Festival titled Future = You. One of the main components of the festival was the Straight Art Day, which was organized by UNDP, IDFI and Rustavi City Hall. The event was supported by the Swedish Government, United Nations Volunteers (UNV) and international organizations Edgeriders and Futuremakers.
Two days prior to the festival, well-known Georgian graffiti artists - LAMB, WPC, Dr. Love, Jokonda, Musia Keburia, TAmOonz, Slow Pulse, Gamez, Chilone, and others - created graffiti murals on the walls of the Rustavi Summer Theater. Their works reflect key issues of sustainable development, such as: eradicating poverty, human rights, gender equality, education, environmental protection and health.
Musia Keburia: "My drawing reflects Goal 5, which involves gender equality. I call the piece Woman in the Kitchen, which in my opinion clearly expresses the situation in most Georgian households. What would I wish were the case? I guess the opposite of what I have drawn. I want more women to be employed and economically active in the future. I want to see more women in the Parliament and on decision-making positions in our country."
LAMB: "I chose Goal 16, which I chose to illustrate by depicting two lambs - the next generation that looks to the future with hope. In their hands they hold a bird like a symbol of peace."
Festival attendees had the opportunity to attend street art and graffiti master classes, and take part in an amateur graffiti contest. The festival also included skateboarding and free style dance competitions, both of which attracted many spectators.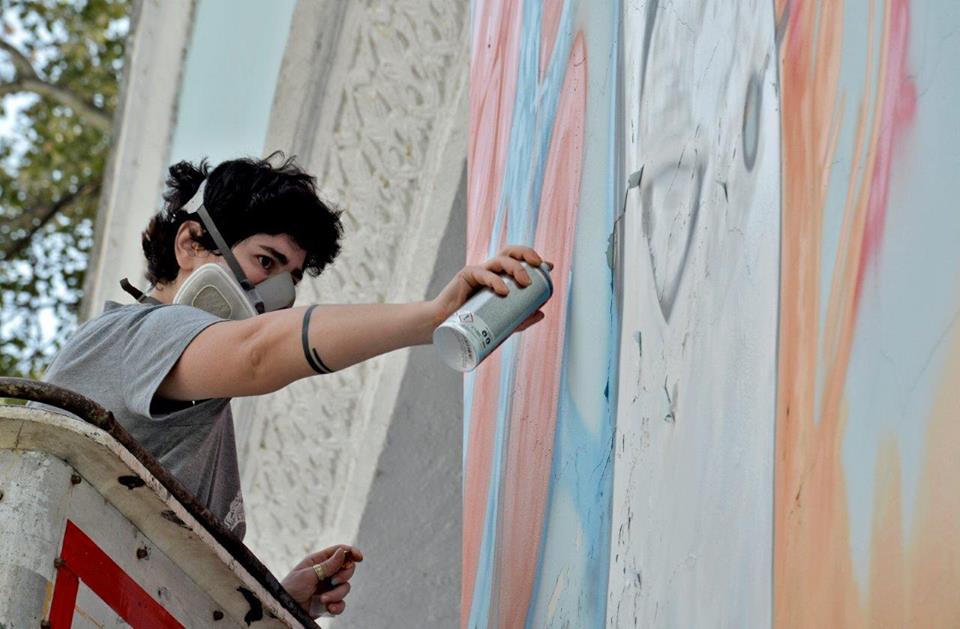 At the end of the day, Niels Scott, UN Resident Coordinator in Georgia, presented UN Goodwill Ambassadors in Sustainable Development Goals: Gela Charkviani - writer and publicist, Nino Sukhishvili - head of Georgian National Ballet, and Irma Khetsuriani - world champion in wheelchair fencing.
Niels Scott: "The Sustainable Development Goals are our last chance to save our planet and create a sustainable future for us and our children. In order to achieve these global goals, we are uniting with the people of Georgia and UN partners in the government, civil society, private sector and international organizations. Through this festival, we call for immediate action from everyone."
Governor of Kvemo Kartli Giga Nemsadze and Rustavi Mayor Davit Jikia also addressed attendees. The festival concluded with a concert featuring Niaz Diasamidze, 33a, Ioane Arabuli and Sukhishvili Studio.
The festival coincided with the Global Goals Week - Future in Focus.