News | FIGHTING CORRUPTION | Publications | Analysis
On 18th of May 2015, IDFI published statistical data, received from Georgia's Interior Ministry concerning the detention of 116 Georgian citizens for allegedly crossing the Abkhazian- and 23 citizens for crossing the South Ossetian occupation line between the time period of January and April 2015. According to the media, the number of illegal detentions of Georgian citizen increased towards the end of the year for the alleged violation of rules for crossing the occupation line (Ex. 29.12.2015 – Up to 20 Georgians detained by the occupation line at Nabakevi village, 04.12.2015 – Detention of David Kudukhashvili in his own yard in Gori region, 25.11.2015– Abduction at village Akhalubani – Russian Occupants kidnapped another Georgian, 19.11.2015 – Abduction of father and child in village Kere, Gori region, 18.11.2015 – Russian Occupants detained Georgian citizen at village Knolevi).
Therefore on January 6th 2016, IDFI has requested the complete information regarding 2015 from the Interior Ministry. The ministry forwarded the request to the State Security Agency, which has immediately responded to IDFI's request and provided data according to which 341 Georgian citizens were illegally detained for crossing of the Abkhazian Occupational lines and 162 Georgian citizens were illegally detained for crossing the South Ossetian Occupational line in 2015 (Accordingly, after April 2015, in a 9 month period 225 people were detained in Abkhazia and 139 people in South Ossetia).
According to the information received from the State Security Agency, in the years 2009-2015 the occupational forces have detained a total number of 2481 Georgian citizens for the so-called "illegal border crossing" of which 1 641 were detained by occupational forces in Abkhazia and 840 people were detained in Occupational forces in Tskhinvali Region (so called 'South Ossetia').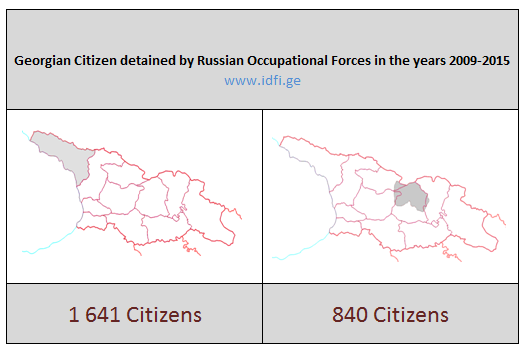 From the statistics above, one may observe that the detention of Georgian citizen by the Russian occupational forces significantly increases since 2013. Compared to 2012, the number of detentions in 2013 almost doubled. The total number of detained citizens was 553 in 2013, 512 in 2014 and 503 in 2015.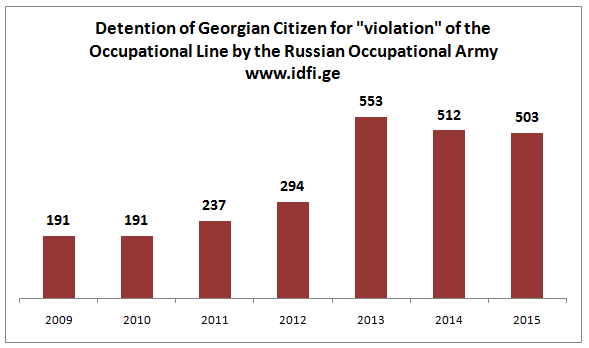 In the years 2009-2015 the number of people detained in Abkhazia was almost double compared to the people detained in Tskhinvali Region. The highest number of detentions for crossing the so called Abkhazian border was in 2013 when 411 Georgian citizens were detained.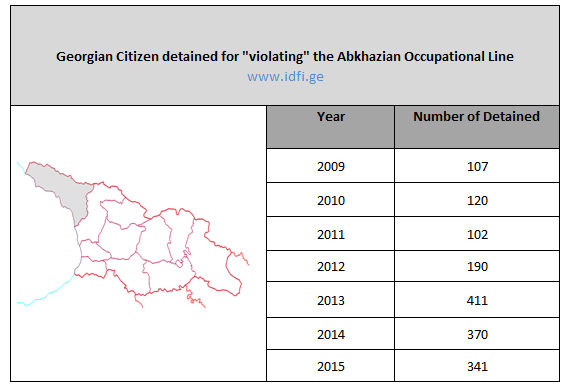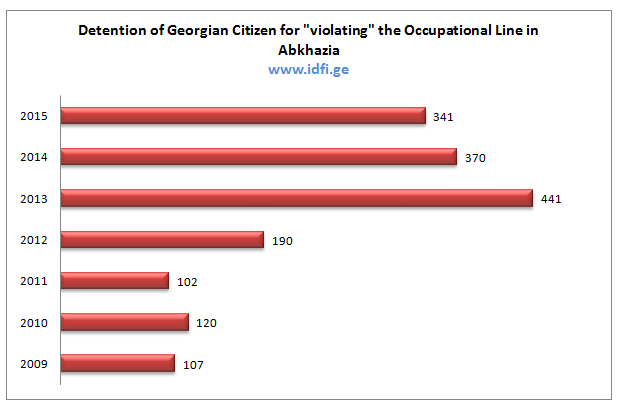 It has to be noted that different from the situation in Abkhazia, the number of Georgian citizen detained for crossing the so called South Ossetian border is annually increasing and the largest number of people detained was in 2015 when a total of 162 Georgian citizens were detained.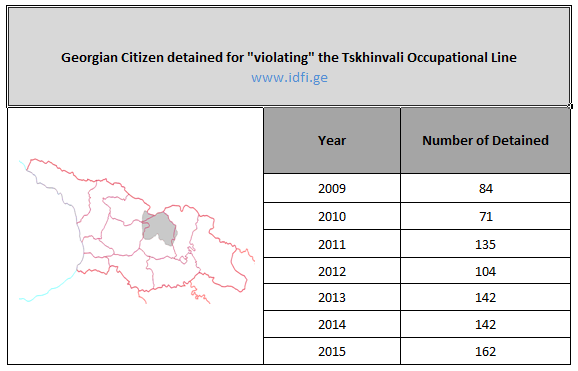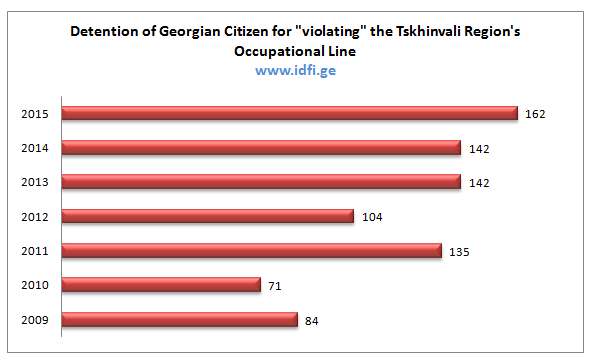 The official statistics above points out that the Occupational Forces of the Russian Federation continue to intensively abduct, blackmail and arrest of Georgian citizen along the occupational lines in Abkhazia as well as Tskhinvali region. At the same time, together with the increase and growth in border infrastructure, one may observe a parallel increase in illegal detentions and abductions.