News | Research | FIGHTING CORRUPTION | Publications
On the 1st of May, 2015 IDFI received official information from the Ministry of Internal Affairs of Georgia, about the Georgian citizens detained by Occupational Troops of the Russian Federation for crossing the occupation line. In 2013 the Institute has received similar information, including data of 2009-2012. From the received document we learn, that a total of 2 117 Georgian citizens have been illegally detained by the occupational forces in the period between 2009 – March of 2015. From the total amount, 1 416 have been detained near Abkhazia, and 701 at Tskhinvali occupational line.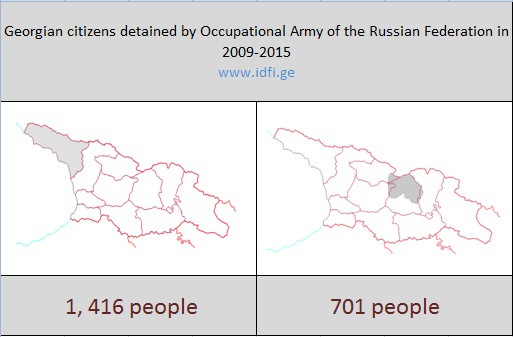 Based on the received information we find out, that the number of detained Georgian citizens has been increasing vastly since 2013. Comparing to 2012, in 2013 the number has almost doubled. In 2013 there were 553 people detained, in 2014 – 512 people and only in the first quarter of 2015 – 139 people.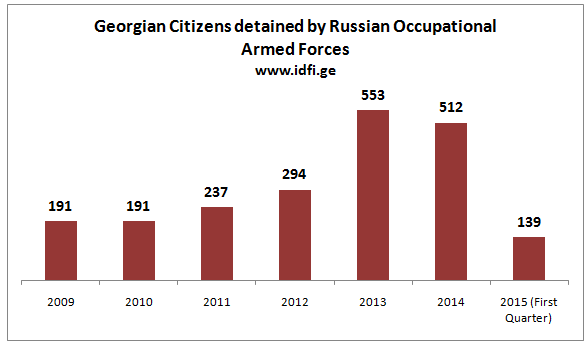 As mentioned above, during 2009-2015 years almost a doubled number of people have been detained by Russian troops for crossing occupational line near Abkhazia than in Tskhinvali region. The highest number of Georgian citizens for crossing Abkhazian occupational line was detained in 2013 – 411 people. The interesting fact is also that in the first quarter of 2015 (until 4th of April,2015) already 116 have been detained illegally for crossing the occupational line near Abkhazia.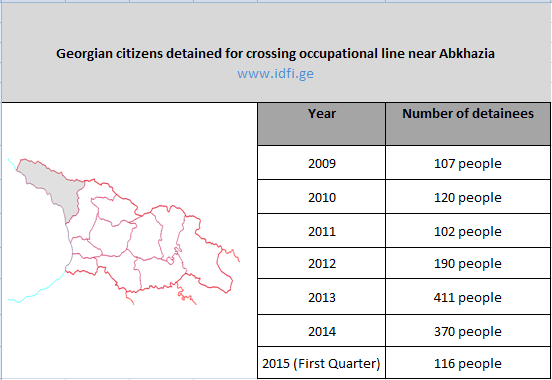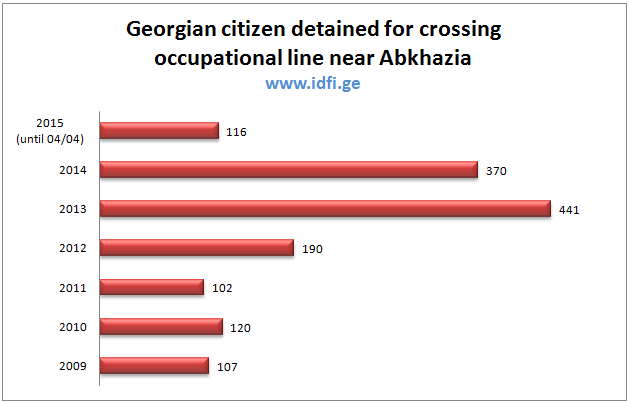 Similar to Abkhazia, the highest number for crossing the occupational line was also detained in Tskhinvali region in 2013-2014 years. According to the information from the Ministry in 2013 as well as in 2014 the Russian troops detained 142 people. According to the data of the first quarter of 2015, 23 Georgian citizens were detained for crossing the occupational line in Tskhinvali region.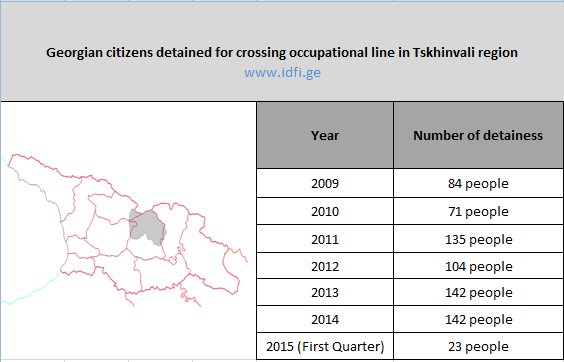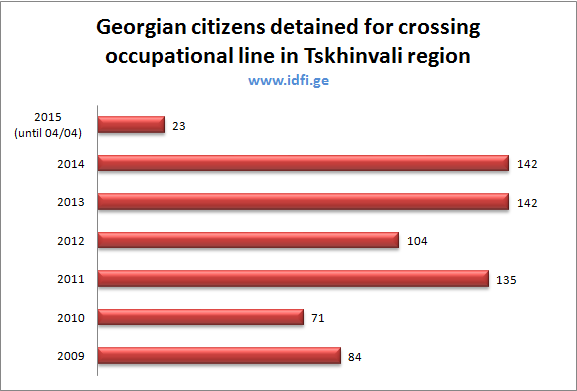 The statistical data from the Ministry of Internal Affairs of Georgia highlights the fact that the number of illegally detained Georgian citizens at the so called "administrative borders" of Abkhazia and Tskhinvali region has been increasing intensively over the past few years.

/public/upload/IDFI/Shss_Part1.pdf