News | Publications | Open Government | Article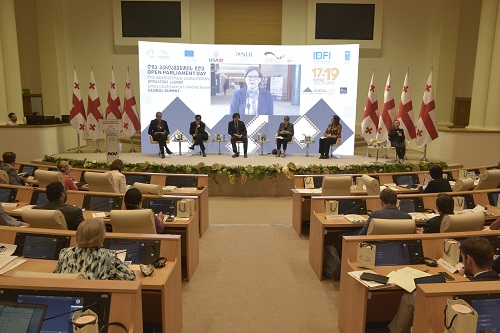 World parliaments are seeking new ways in achieving openness, transparency and accountability. A day ahead of the Global Open Government Partnership (OGP) Summit in Georgia, the Parliament of Georgia hosted a high level international discussion on legislative openness.
Bringing together over 200 participants from 12 parliaments and 24 countries, the Open Parliament Day focused on the reforms needed to achieve legislative openness and the role of technology and innovation.
The Chairperson of the Georgian Parliament, Irakli Kobakhidze, kicked off a debate stressing the critical importance of legislative openness in democracy and highlighting Georgia's achievements on the way to Open Parliament.
This was followed by a video message of Heidi Hautala, Vice-President of the European Parliament, and welcome remarks from Senator Blanca Ovelar, President of the ParlAmericas Open Parliament Network, and Sanjay Pradhan, Chief Executive Officer of the Open Government Partnership (OGP).
Helen Clark, formerly the Prime Minister of New Zealand (1999 – 2008) and Administrator of the United Nations Development Programme (2009 – 2017), joined the event in her capacity of the OGP Ambassador.
The panel discussions were moderated by Niels Scott, UNDP Head in Georgia; Mukelani Dimba, OGP Steering Committee Co-Chair from Civil Society; and Laura Thornton, Senior Resident Director/Global Associate of the National Democratic Institute (NDI) Georgia. Katarina Mathernova, Deputy Director General at the European Commission, joined the last part of the event.
The Open Parliament Day tackled a range of issues related to the legislative transparency and accountability. The participants considered different ways of engaging citizens in parliamentary work, including participatory law-making (crowdlaw) and innovative technological solutions. Levan Avalishvili, Programs Director of the Institute for Development of Freedom of Information (IDFI) spoke about the e-services the Parliament of Georgia has introduced with the support from the international and local civil society partners.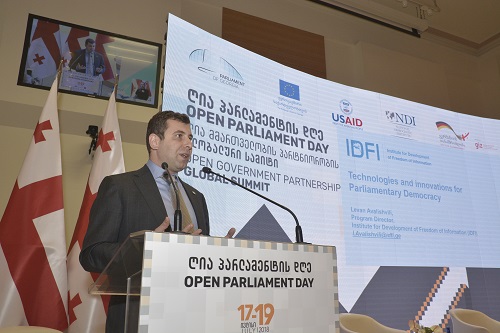 Parliament representatives from different countries informed about their national experiences and practices in the areas of legislative openness. They also discussed the legislative engagement policy adopted by the OGP Steering Committee in September 2016.
Fasinating doodles from ImageThink Graphic Recorder preserved the key points of senior parliamentarians and experts from various country contexts on↔ good practices and challenges of legislative engagement as well as national experiences and practices in parliamentary openness. The graphic recording was made possible with the support from European Union in Georgia, UNDP Georgia & IDFI - specially for the Open Parliament Day.
The day closed with a summary session facilitated by Scott Hubli, NDI Director of Governance Programs, and Devin O'Shaughnessy, Director of Programmes at the Westminster Foundation for Democracy. The participants discussed the Open Parliament eNetwork (OPeN) and future steps to achieving legislative openness.
The Open Parliament Day was initiated and organised by the Parliament of Georgia, in cooperation with the Open Government Partnership (OGP) Support Unit, with the assistance from partners and donors – the European Union (EU), UNDP, USAID/Good Governance Initiative (GGI), GIZ, NDI and Institute for Development of Freedom o0f Information (IDFI).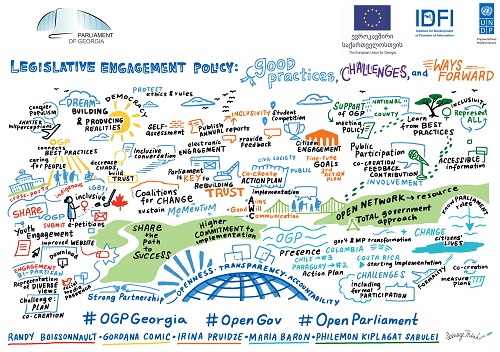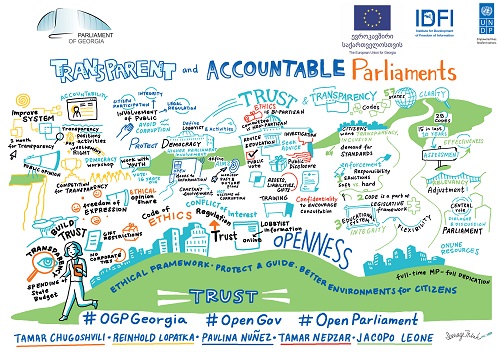 Event Photo Album.