News | Publications | Open Government | Article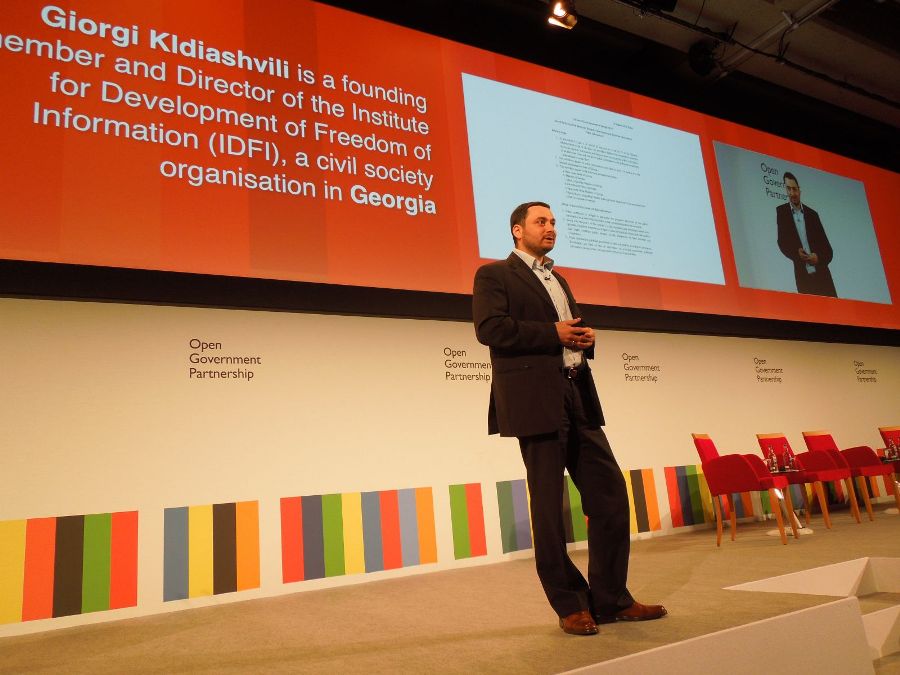 The above presented interview was published on OGP blog.
In this section of the OGP newsletter, we feature individuals from government and civil society, and ask them about their experiences. Here is what Giorgi Kldiashvili from Georgia had to say:
a. How does open government make a difference in peoples lives?
Open government is something that was unrealistic even to imagine in Georgia 15-20 years ago, not speaking about Soviet times, when everything was classified and secrecy was in every corner of the government and society. Democracy is possible to achieve only with the open government. Without open government people cannot see development, prosperity; in closed societies people cannot feel themselves free and equal, they cannot deliver concerns, their priorities, raise their voices to those who are elected by them and thus should be representing and carrying out their interests.
Open government enables development of citizen participation in decision making processes and therefore promotes engagement of public in oversight of government activities. It is a tool for governments to proactively show their accountability and transparency towards the public and maintain and enhance citizens' trust. Open government is something that government and civil society in Georgia can be proud of, because we developed it together since 2011, after Georgia joined the OGP. Open government is not just lovely words for us - it is the opportunity and reality already, as we have initiated many positive changes in various fields of government in Georgia. We work together on developing of open government to make our lives better, to improve future for our children and the next generations. This was impossible for our parents time as they lived in the Soviet totalitarian regime and everything was decided without consulting with the public. It has to be noted that it was not an easy path to achieve the goals – opening the government in Georgia coincided with the different external and internal obstacles, but we still made it! Georgia, which was just an ordinary member state in OGP, became one of the best examples of government and CSO dialogue, Georgia was selected as the OGP Bright Spots Award finalist and finally Georgia is the elected member of OGP Steering Committee! Georgia was recognized as the Regional leader in the recently published first Open Government Index. And now we are at the next stage – opening the Parliament of Georgia. Civil society and the Parliament work together to draft the Action Plan for Open Parliament Georgia.
b. How have you benefited from exchanging ideas with your government?
OGP cannot be taken seriously without dialogue between governments and civil society. OGP is the platform that enables governments and citizens to interact and to discuss priorities. In Georgia it gave us the opportunity to provide ideas, recommendations to the government on how to be more open, transparent and accountable, how to engage citizens in the decision-making process and how to develop innovations, technologies and government services. In Georgia we work together with our partner institutions – Ministry of Justice of Georgia, Anti-corruption Council member government organizations, international organizations and CSOs on projects that aim at fighting and preventing corruption, establishing high standards of integrity in public sector and development of safer community. We advocate and deliver those priorities to the government that we believe are important for public and we support the government to implement them as well. All of this was done in the framework of the Open Government Georgia's Forum which is the national coordination mechanism in Georgia, where the government and civil society work together on equal basis to develop OGP related processes – such as drafting the Action Plan, organizing the public consultations and then implementation of commitments.
c. Describe one OGP commitment from your country that you are proud of.
One of the most important commitments that my organization, IDFI, advocated for in the framework of OGP was the public petitions platform – Ichange. This commitment was one of very few of those that were not implemented from Georgia's 1st Action Plan (2012-2013). We strongly advocated that this commitment was included in the 2nd Action Plan, which government agreed on. The importance of Ichange is that it is not just an ordinary citizens' petitions web-site; the platform that we recommended includes a three level platform – petitions, consultations and discussion. Ichange is two-way: citizens-government and government-citizens electronic engagement and communication platform. The government agreed to create the e-petitions platform at the first stage, but there is a commitment from the government to further develop the consultation and discussion platforms in Ichange. We see a sincere interest in implementing this OGP commitment from all stakeholders - civil society, the government and international society. The Government of Georgia works with the USAID to implement this project. We are sure that Ichange will attract international interest and will become the best and inspirational practice of electronic public engagement that we can share with other countries.
d. How are you working to overcome challenges in opening up government in your country.
One of the best ways to open government is constantly monitoring, providing professional assessment, advocating with inspirational international practices, also providing recommendations with good examples on how open government was successful in fighting corruption, improving government services and increasing trust to state institutions in other countries. Open Government Georgia's Forum is the platform where we discuss all the results and challenges in the framework of OGP. Not all government institutions in Georgia are equally committed to openness and transparency, some have less competence in this, some of them do not fully understand the importance of openness. So we monitor, we advocate and we work with them by providing trainings and presentations and sharing international practice with them. We have goals of initiating new topics in the framework of OGP in Georgia – such as EITI (Extractive Industries Transparency Initiative), whistleblowers' protection, initiatives related to innovations and technologies. We really hope on cooperation with the government in this.