News | FIGHTING CORRUPTION | Pressing Issues | Open Government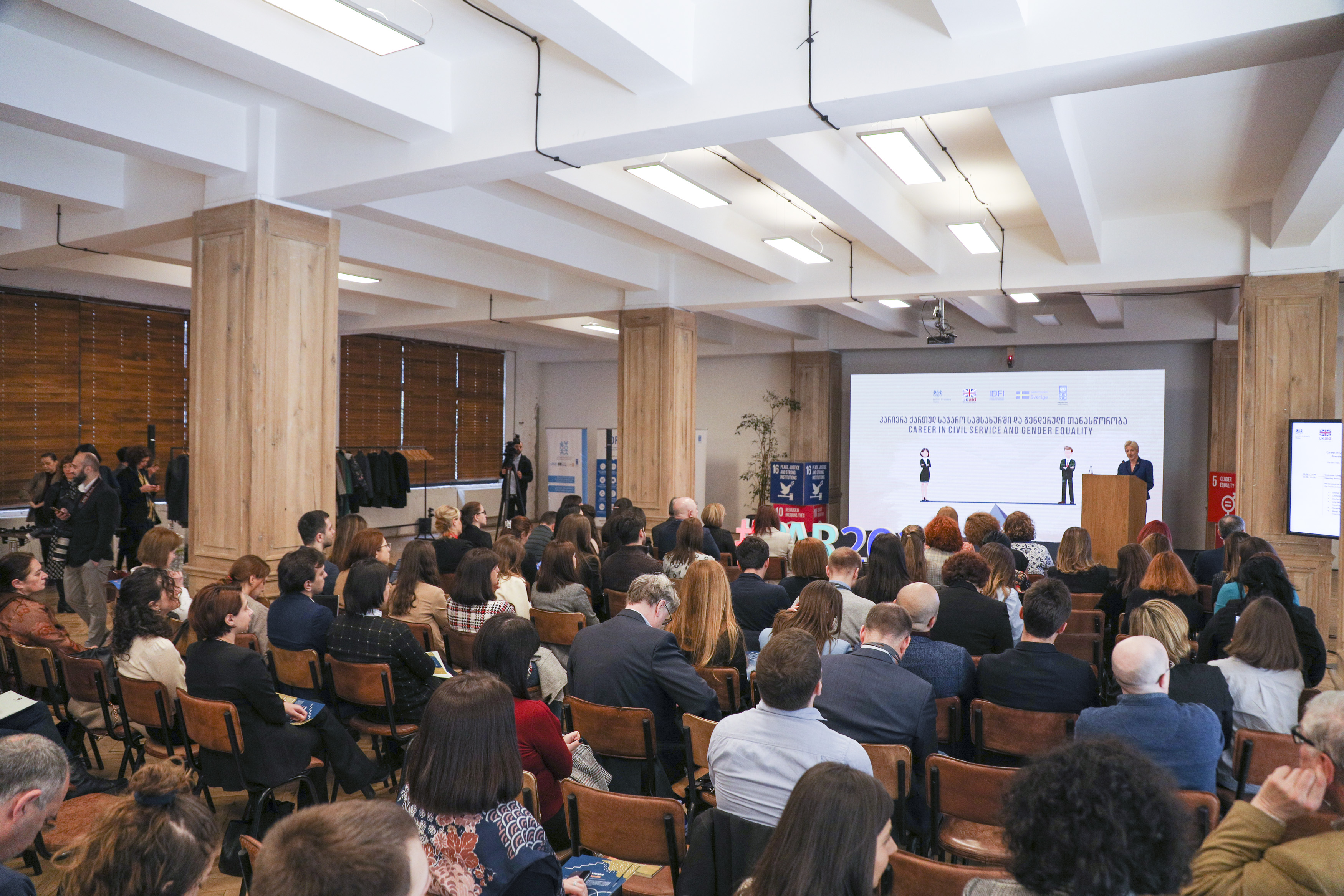 On March 10, the Institute for Development of Freedom of Information (IDFI) with the support of the United Nations Development Programme (UNDP), presented the findings of the first systemic survey that assessed the working environment, career development and professional growth of women versus men in Georgian public sector.
The Institute for Development of Freedom of Information (IDFI) studied the perceptions towards different career paths and professional success of women and men in civil service.
Event participants were welcomed by Giorgi KLDIASHVILI – Executive Director of IDFI; Louisa Vinton, UNDP Head in Georgia; Catherine Kardava, Head of the Civil Service Bureau; Gocha Lordkipanidze, Deputy Minister of Justice of Georgia; Lela Akiashvilli, Prime Minister's Advisor for Human Rights and Gender Equality; Alexandra Cole, Deputy Head of Mission at the UK Embassy
"The goal of the study is to improve gender inequality at civil service. Accordingly, the main objective of the research was to study career paths of female and male managers from the starting points of their employment at civil service and identify those differences which cause gender inequality at civil service."- mentioned Giorgi Kldiashvili
During the presentation, the key findings of the study were discussed in detail by the co-author Giorgi Urchukhishvili.
Both quantitative and qualitative sociological research methods were used in the course of the study. In all 1010 civil servants (676 women and 334 men) participated in the quantitative online survey, 26 in-depth interviews were conducted with civil servants of the first and second rank (15 women and 11 men) and 13 civil servants participated in focus group discussions (7 women and 6 men).
Quantitative and qualitative data analysis proves that female and male managers at civil service have contrasting career paths. The differences are reflected in various cultural practices, which determine gender inequality at civil service.
Key findings:
- 86% - think that men enjoy more power and influence in the workplace than women.
- 69% - believe that men receive more rewards for their work than women.
- 85% of men believe that equally skilled men and women have equal opportunities at civil service, while only 58% of women share the opinion.
- Equal ratio of men and female respondents (79%) believe that civil service in Georgia is more male-centered than female-centered.
- 71% of civil servants believe that men are able to advance their careers faster than women.
- Women demonstrate better academic achievements at different levels of education, however, they are "held back" after joining civil service.
- Women's career development is not proportional to their academic performance.
The study was commissioned by the United Nations Development Programme (UNDP) as a part of a UK-funded program supporting Public Administration Reform in Georgia. It was conducted by the Institute for Development of Freedom of Information (IDFI). The presentation of the findings marked the ongoing Gender Equality Week in Georgia.
You can find the photos of the event here.
Key Findings of the Study
/public/upload/Gender/Gender_Onepager-ENG-PRINT2.pdf
the Study - Career in Civil Service and Gender Equality
/public/upload/Gender/Gender_ENG PRINT1.pdf