News | Rule of Law and Human Rights | Publications | Analysis
Institute for Development of Freedom of Information (IDFI) has been monitoring access to public information in Georgia since 2010. Over the years the monitoring activities of IDFI have played significant role in development of freedom of information in Georgia, in identifying main trends and challenges in terms of access to information, in developing effective mechanisms of civic control, as well as in development of accountability of public sector and open governance.
Within the framework of monitoring conducted by IDFI in 2010-2017 a total of45 310Freedom of Information (FOI) requests were sent to public institutions, and 37 511 replies were received.
Overall, during monitoring conducted in 2010-2017 the highest rate of received information (90%) was in 2013. In 2017 the number of received replies was 88%.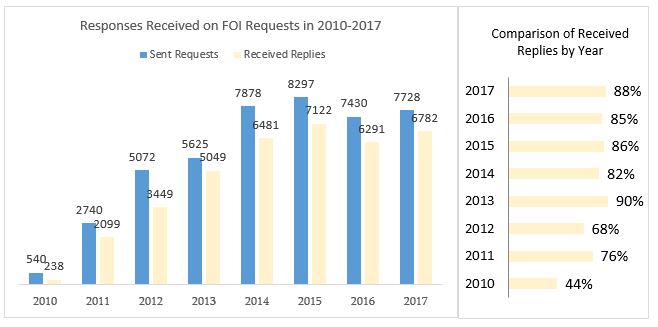 On 7 728 requests sent to 289 public institutions in 2017, IDFI received 4 604 complete responses, 483 incomplete responses, and 51 refusals. 946 requests were left unanswered and in other cases, the institutions stated that they had not conducted specific activities, or did not have requested information.
In 2017, 39 public institutions scored 100% in access to public information. Among there are the following Ministries: Ministry of Environment and Natural Resources Protection of Georgia, Ministry of Corrections of Georgia, Ministry of Energy of Georgia, Ministry of Sport and Youth Affairs.
The most closed public institution in 2017 was named LEPL Revenue Service. The Revenue Service was sent 29 FOI requests, and none of these were provided with a response. The ranking of Revenue Service has been considerably decreasing every year since 2013, and reached 0% in 2016. In 2017, in addition to Revenue Service, there were 13 other public institutions out of a total of 289 administrative bodies, which neglected the legal obligation to disclose public information, and left all FOI requests of IDFI without a response.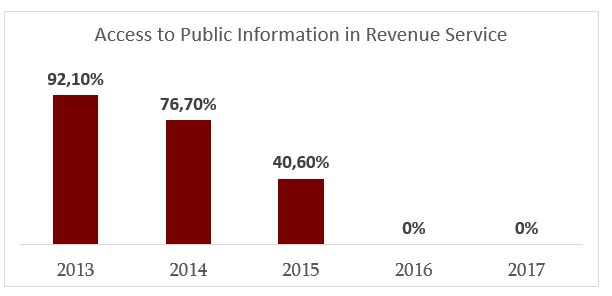 Among the Central Public Institutions, Ministry of Finance should be noted in terms of regress in providing public information. 81,9%* indicator in 2016 was worsened by 69,8% and amounted to 12,1% in 2017. In case of Ministry of Economy and Sustainable Development the indicator was worsened by 35,7%.
In 2017 there was some progress in case of Ministry of Justice, which was named as the most closed public institution in 2016. The 0% indicator in 2016 was improved by 74,9% in 2017. The Ministry of Internal Affairs also had + 46,2% progress in 2017.
For detailed information about assessment and trends of access to public information in 2017, as well as strategic litigation of IDFI on access to information cases, please see the full report.
ACCESS TO PUBLIC INFORMATION IN GEORGIA