News | Soviet Studies | Visualization | Publications
On 24th of April, 2015 IDFI received public information from the Ministry of Defense of Georgia on the total number of Georgian soldiers killed and wounded while serving at the ISAF (International Security Assistance Force) mission in Afghanistan during 2013-2015, alongside with the information about the financial aids for the soldiers and their families.
According to the received information, the huge volume of loss in Georgia's Afghanistan death toll occurred in 2013 when 10 soldiers have been killed and 137 were wounded. According to the MOD, only 7 soldiers were wounded in 2014.

The total number of financial aid to the families of 10 dead Georgian soldiers, who have been killed in 2013 amounted 1 075 677 GEL. In 2015, the additional financial assistance of 677 GEL has been provided to the family of one of the Georgian servicemen killed in 2013 during the ISAF mission in Afghanistan.

Among 137 wounded servicemen, 25 (respectively to the proportion of injuries) received the financial aid that totaled to 260 187 GEL. Besides, in 2015, 10 000 GEL have been transferred to one of the soldiers serving in 2013 mission. Among those 7, who were wounded during 2014 mission in Afghanistan, only one received the financial aid of 2 960 GEL.
Georgia joined ISAF mission in November 2009 with deployment of about 170 soldiers in Kabul.
Based on the above-mentioned statistics as well as by the official information via press and Ministry of Defense of Georgia, it is possible to illustrate the total sum of Georgian soldiers killed and wounded from 2010 till April, 2015 while serving in the NATO - ISAF mission. During the ISAF mission in Afghanistan, Georgia lost 29 servicemen while 274 were wounded.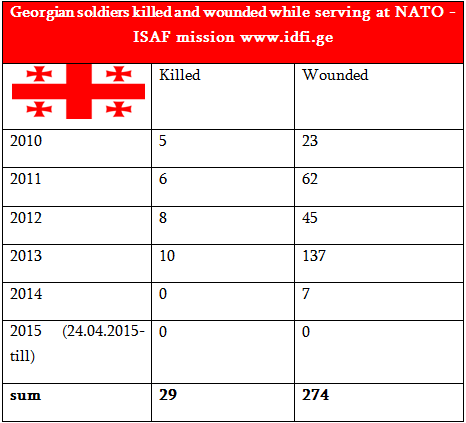 Although, IDFI has requested the information to the MOD about the soldiers who have been killed, wounded or injured during the 2014-2015 Ukraine's military operations alongside with the provided financial aids to their families, the Ministry of Defense of Georgia ignored our request.