Project Title: Supporting the Reform of the Supreme Court of Georgia
Donor Organization: East West Management Institute (EWMI)/Promoting Rule of Law in Georgia (PROLoG)
Partner Organization: Georgian Young Lawyers' Association (GYLA)
Project Number: G-1584-18-211-3024-20
Project Budget: 25, 852USD
Project Duration: 15 December, 2018 – 31 January, 2020
Project Summary
The project is about the institutional organization, authority and functions of the Supreme Court of Georgia, appointment, accountability, removal of Supreme Court Judges, as well as specialization and case distribution.
According to the new redaction of the Constitution of Georgia, Supreme Court Judges are elected permanently (without specific term) by the Parliament of Georgia. Candidates are presented to the Parliament by the High Council of Justice instead of the President of Georgia. The same rule applies to the election of the Chairperson of Supreme Court that is elected for 10 years. The project intends to present recommendations for the legislative changes on appointment of Supreme Court Judges. Moreover, final report will be prepared based on existing legislative framework and international standards.
Project aim
The main aim of the project is to support institutional reform of the Supreme Court of Georgia and to advocate legislative changes/amendments.
Main goals of the project
- Preparing comprehensive analysis of the current legislation and policy documents connected to the Supreme Court of Georgia and identifying existing challenges and gaps;
- Presenting recommendations on legislative changes taking into account international standards and best practices;
- Advocating recommendations to the suitable bodies.
Activity Plan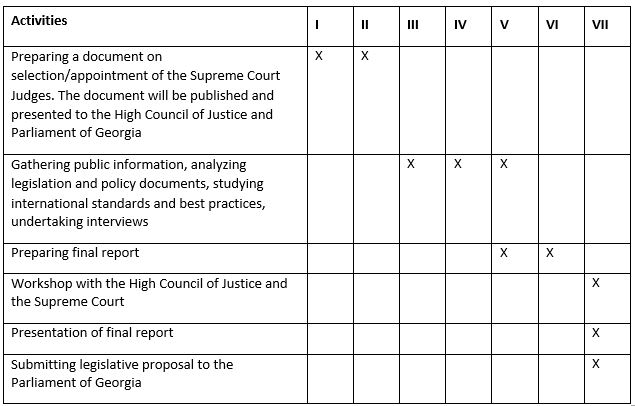 Budget