News | Economics and Social Policy | Publications | Article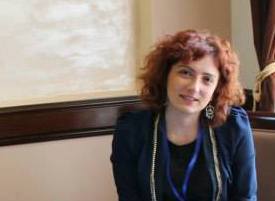 Institute for Development of Freedom of Information (IDFI) with the collaboration of Bremen University and with the financial assistance of the Federal Foreign Office of Germany are implementing the project: Strategic Plan Georgia 2020 – Strengthening Public Involvement (ZigB).The project aims to give rise the interest of various groups of civil society and extension of knowledge about Socio-Economic Development Strategy of Georgia "Georgia-2020" approved by the government, in order the civil society to be more involved in the discussions for the future. One of the components of the project is involvement of the active users of social-media.

Manon Bokuchava was one of the participant of this project.

Manon prepared in depth journalistic work through this project. One of the first works was about main challenge - unemployment in the country. Representatives of large industrial enterprises and small business spoke about difficulties they face in the process of working and therefore, this hinders them to employ more people.

It was outlined that while the government has established a strategy "Georgia 2020" to help citizens, including businessmen – ltds and sole proprietor entities claim that they do not trust the government. Government is not a trustworthy partner for them yet, whom they can tell what hinders them and it would be certain that the government will not abuse their tax lever as a response to the critique.

Materials about transportation corridors and the declared policy of the Government for 2020 were prepared within the project.

While it is hard to find encouraging facts about business in the present – there are some current good news in this field. Particularly, it is all about creating new land based corridor by building Baku – Tbilisi - Kars railway and also building Anaklia port as a form of a sea corridor. Selection of a designer company is started. Most important are workers and their qualification.

Manon prepared materials about driving force challenges of all areas important for development of country, specifically she prepared materials specialized on vocational education.

We can hear different opinions on development of vocational education including the views of the government about "Georgia 2020" and also existing difficulties based on an example of the vocational college in Kvemo Kartli.

In materials several major obstacles were revealed about development of sphere. One of the named factors are society's unhealthy attitude towards the topic and still existing stereotype towards professional education. This and all other materials prepared within the project aim to introduce "Strategy 2020" to readers and also to show all the challenges in the field, where some changes are planned by 2020. With this approach was covered the situation in the agriculture system and the country's politics. Two materials, "Georgia 2020 and Future of Agriculture" and "Georgia 2020's Policy towards Agriculture" were prepared as a result of exceptional interest in this field and this is natural as 50% of employed citizens are engaged in agriculture. Existing problems faced by agricultural cooperatives were outlined and also lack of readiness of producers was revealed – especially in terms of exporting the production. Nonetheless of existing difficulties, activities planned through Georgia 2020 received positive feedback. One of them was subsidy of agro insurance.

Materials were prepared about persons with disabilities and who are receiving improper attention from citizens and government, also painful stereotypes, human stories, experts and 2020's attitude towards them, because establishing a correct policy toward human rights is much more important than economic benefits that is a consequence of country's proper development. Materials prepared within the project was published on Georgian and English in regional media "Trialeti Express". Also, Georgia 2020's views about agriculture were published in Azerbaijani issue "Region Press". This newspaper is accessible in Kvemo Kartli region. At the same time this is the only print edition covering socio-economic and political issues.

Materials about persons with disabilities was published in English and Georgian, also all the materials prepared through project "Human Rights Center" were published on a blog "Gardabani Matsne".