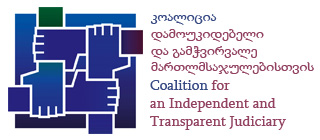 Coalition for an Independent and Transparent Judiciary is making a statement with respect to the arrest of Giorgi Kldiashvili, Director of the Coalition member organization - Institute for Development of Freedom of Information (IDFI). It has come to Coalition's attention that the court has found his arrest illegal and held that the representatives of the Ministry of Internal Affairs had carried it out in violation of the requirements envisioned in law.
According to Giorgi Kldiashvili's statement, representatives of the Ministry of Internal Affairs referred to his activities and participation in the ongoing campaign against secret eavesdropping in the conversation following the arrest. They also discussed IDFI's work the mission of which is to promote openness and transparency of the government, raise public awareness and support strengthening of democratic values by means of increased access to public information.
Coalition finds it unacceptable that a civil activist's professional work is somehow linked to the legal procedure, its outcomes or/and degree of his responsibility. Such an approach undermines independence and impartiality of the entire process of investigation and prosecution.
Coalition calls for the investigation of violations that took place during and after Giorgi Kldiashvili's arrest and asks respective bodies to provide timely and effective response to these facts. An adequate reaction to these violations is necessary in order to avoid similar cases in the future and prevent further deepening of public mistrust in law enforcement agencies. From the first days of its existence, Coalition has been promoting rule of law and human rights. Coalition member organizations hope that all branches of the government will act in accordance with the Constitution and apply existing mechanisms to ensure protection of human rights and rule of law. We are ready to actively engage with respective state bodies in order to overcome problems described above.