News | FIGHTING CORRUPTION | Publications | Article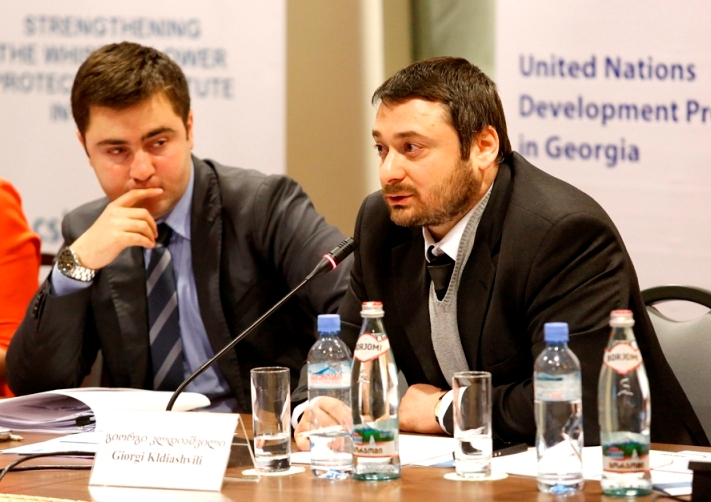 On April 6th, 2015 a round table - "Strengthening the Institute of Whistleblower Protection in Georgia" was held. The event was organized by Civil Service Bureau, with the support of United Nations Development Programme (UNDP) and Kingdom of Sweden.


The head of Civil Service Bureau, Ekaterine Kardava spoke about the importance of whistleblower protection in Georgia. Zurab Sanikidze, Chief of Head of Analytical Department at The Ministry of Justice discussed the topic of whistleblower legislation in Georgia and the amendments made to the law in 2014.
The recommendations of civil society on how to address existing gaps and challenges in Georgian legislation was presented to the audience by the Director of IDFI, Giorgi Kldiashvili. Giorgi Kldiashvili also highlighted the importance of whistleblower protection in a democratic society and discussed the steps to be taken regarding the issue of whistleblower protection in Georgia within the auspices of Open Government Georgia (OGP).
"The institute of whistleblower protection is an important achievement of democracy. It is crucial to strengthen the institutional mechanisms of whistleblower protection, to ensure their complete implementation and rise awareness of public servants" stated Kldiashvili.
IDFI will also be actively involved in the process of training public servants on the issues of whistleblower protection. Nino Merebashvili, legal specialist of IDFI completed the special course of ToT on whistleblower protection institute in Georgia. The training was completed by 11 other representatives of administrative bodies, nongovernmental and international organizations.

Photo Album