News | Publications | Open Government Partnership | Article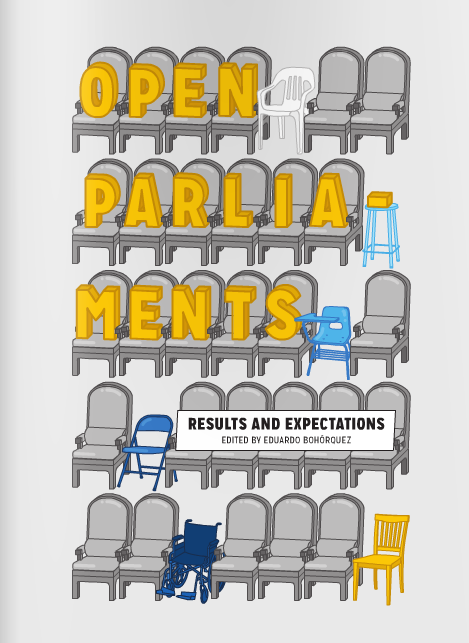 At the OGP Civil Society Day, Transparency International - Mexico presented a book titled 'Open Parliaments, Results and Expectations' and edited by Eduardo Bohorquez. Giorgi Kldiashvili, Director of IDFI and Co-chairman of the Open Government Georgia's Forum is a co-author of the book.
Giorgi under the chapter of - Open Parliament in Georgia's OGP Action Plan - provides a brief overview of Georgia's recent history for better comprehending of a platform the country had to take off from and what challenges it faced. Giorgi claims: ''Georgia went through a long and painful process of civil war, internal political, and socio-economic problems at the end of the 20th Century. The heritage of secrecy and political influence in the government sector had significant influence and was a barrier to the creation of civil society in Georgia in those years." He adds that "Georgia, as part of the totalitarian Soviet Union, did not have the culture of western democracy at its independence. Development of human rights and open government started in Georgia from the dissolution of the Soviet State.' Thus, he explains that "the development of open government and anti-corruption policy in Georgia was a long process of creating various tools and measures, both legal and practical."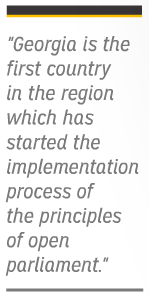 Giorgi Kldiashvili underlines the importance of the Open Government Partnership initiative for Georgia by noting that OGP became "a very important platform for developing government integrity, transparency and accountability, public participation, public services, and innovations and technologies in the government sector."
In "Open Parliaments, Results and Expectations", Kldiashvili also analyses Open Parliament Georgia Action Plan (2015-2016) developed by the Inter-Factional Group of the Parliament of Georgia and the Open Parliament Georgia Working Group - comprising the representatives of international and non-governmental organizations.
Giorgi concludes the chapter by mentioning that "the successful process of legislative openness in Georgia was much dependent on the good will and support of the Parliament of Georgia. The Chairperson of the Parliament of Georgia was directly involved in the process."
The book also includes chapters such as: 'Citizen participation in legislative power: an argument to strengthen representation', 'A true partnership involves two,' 'Open Parliament and the challenge of evaluating legislative bodies', etc.
Follow the link to read the book.