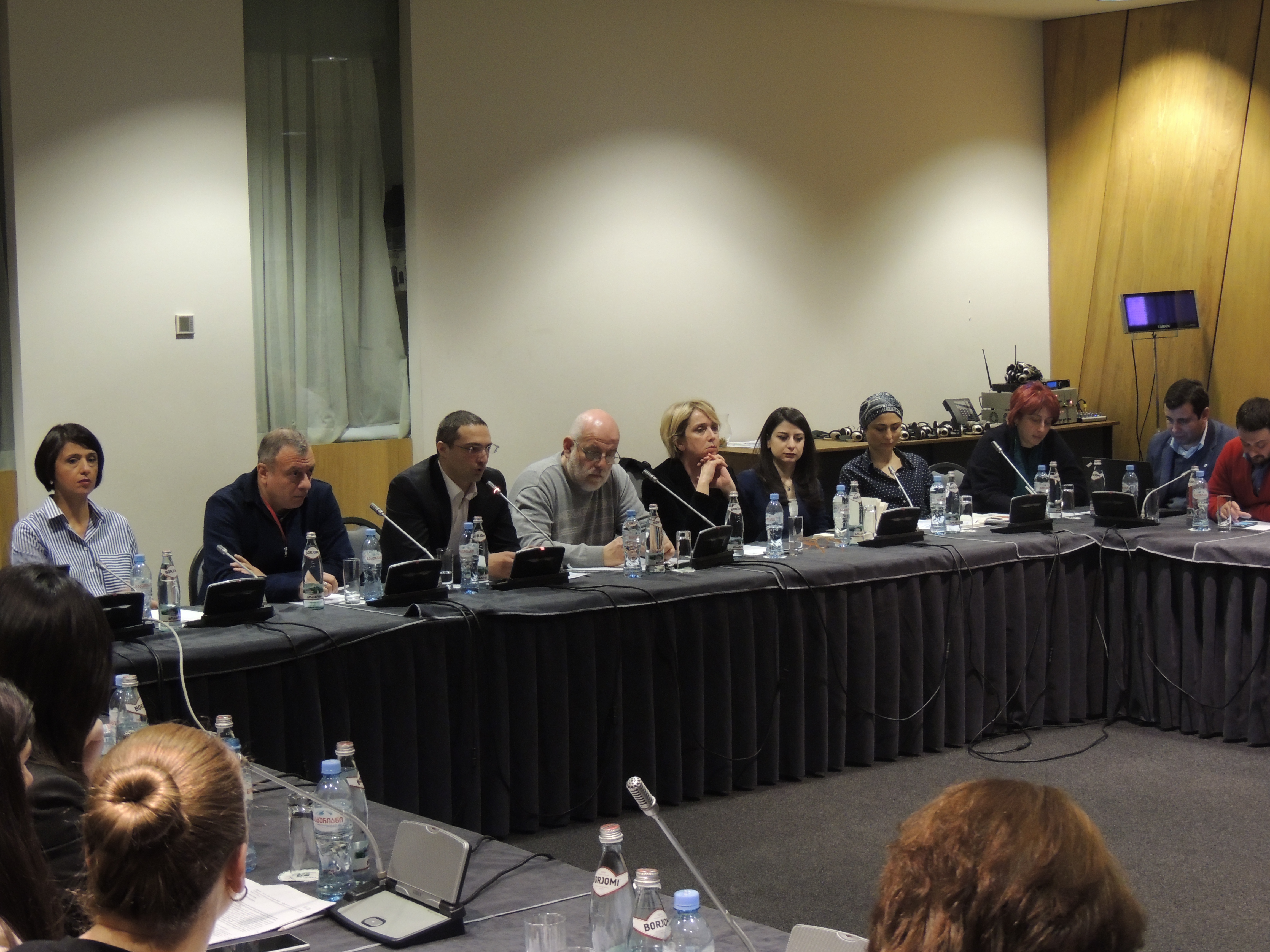 On March 10, the Media Advocacy Coalition in partnership with the Open Society Georgia Foundation (OSGF) and the Institute for Development of Freedom of Information (IDFI) held a media conference.

At the conference, representatives of various media and other organizations assessed the media environment ahead of parliamentary elections, and discussed the following topics: financial situation and transparency of the media, Russia's influence on public opinion in Georgia, reform of the Georgian Public Broadcaster (GPB), internet freedom, and tendencies of online space regulation. The conference concluded with participants summarizing the digital broadcasting reform.

In the first panel, Maia Mikashavidze (GIPA) talked about Georgia's media environment during the pre-election period, and Levan Avalishvili (IDFI board chairman) drew attention to the anti-western narrative and Russia's influence on public opinion in Georgia. Heated discussion was sparked by a slide in Levan Avalishvili's presentation, which presented historian Davit Gogishvili's opinion about alleged recruitment of the Ukrainian pilot Nadia Savchenko by the Russian Federal Security Service. This information was originally reported by an internet newspaper mpress.ge (http://mpress.ge/2016/03/). The presentation slide created the impression that the information was reported by Channel 2 of the GPB, which is not true. A full version of the presentation is attached below. Conference participants noted that a large segment of the Georgian society regularly watches Russian entertainment programs, which are the main carriers of anti-western messages. After the presentation, conference participants also recalled the case of sanctioning of a company that had broadcasted programs of a Russian channel ORT.

Other important issued discussed during the 5 panels of the conference were: disputes around the Rustavi 2 and Maestro television companies, GPB reform, contraction of the advertising market, and problems related to the existence of two TV ad counting services.

According to Natia Kuprashvili, having two ad counting services on the market is a huge problem. Kuprashvili also noted that this problem has been largely solved for regional broadcasters.

Zurab Gumberidze (representing Intermedia Plus) stated that the advertising market contracted by 20% in the first three quarters of 2015, which is linked to the introduction of new advertising regulations for television companies.
GPB representative Tinatin Berdzenishvili presented the changes planned within the GPB reform. Conference participants had a number of questions for the speaker, including the reasons behind journalist Eka Mishveladze receiving her salary months after dismissal, failure of GPB to fulfill its obligation of running an investigative television program, and so forth.

Finally, the director of the Charter of Journalistic Ethics Nata Dzvelishvili, media expert Ucha Seturi, and head of the Association of Regional Broadcasters (GARB) Natia Kuprashvili summarized the digital broadcasting reform, presented an analysis of reform implementation, and discussed the state of regional broadcasters during the digital switchover.