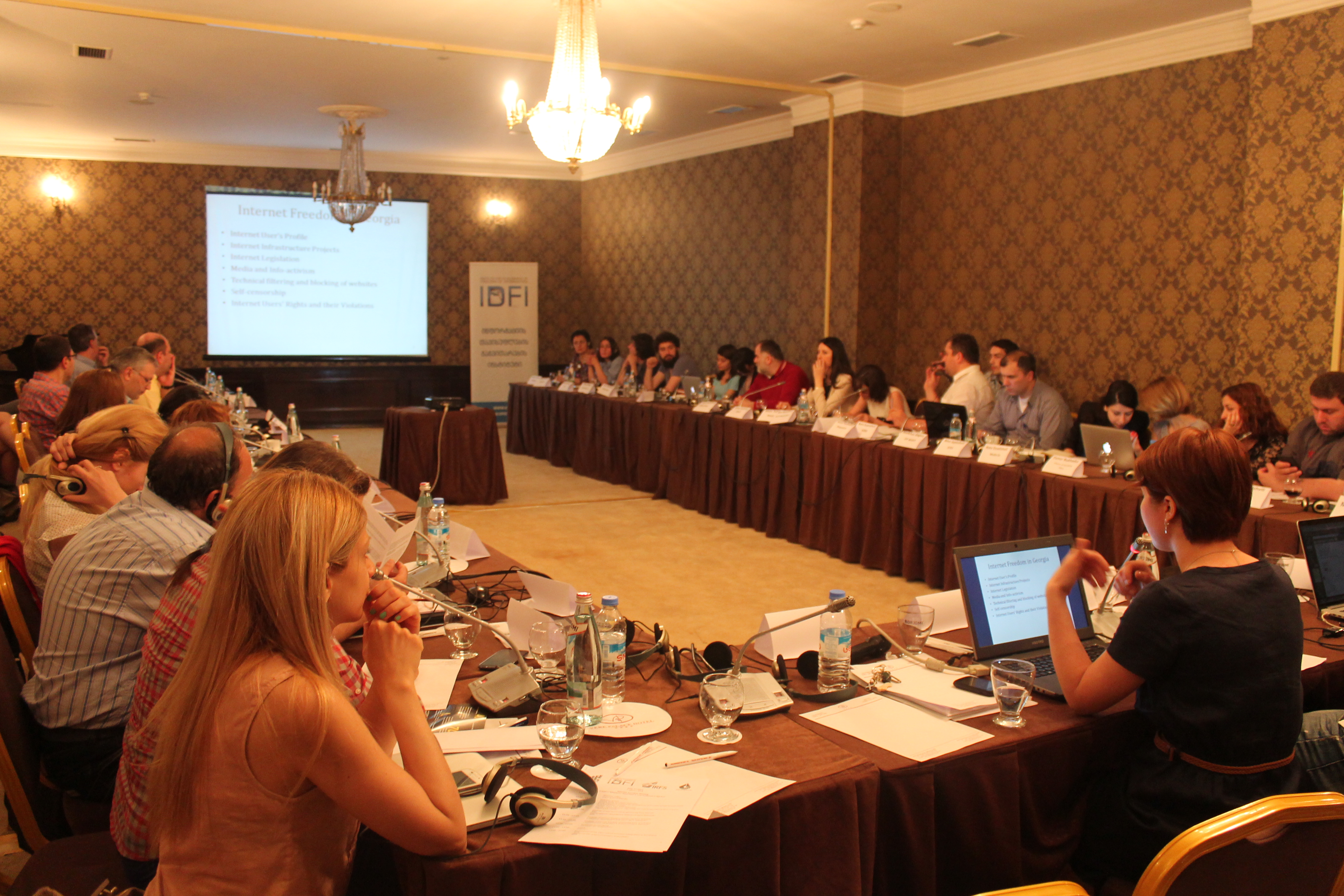 On June 7th, 2014, Institute for Development of Freedom of Information (IDFI) and Free Press Unlimited held Internet Freedom Meeting.

The Meeting has presented the main findings of the monitoring in the three countries during 2013 – 2014 and gave perspectives on further development. It was centered on the following topics:
Presentation of findings of the monitoring from Armenia, Azerbaijan and Georgia regarding Internet Freedom in the three countries. During the presentations representatives of all three countries covered such issues as: profile of internet users and peculiarities of using internet, internet service providers, infrastructure, government strategy for internet development, legislation, online media and info-activism. The presenters also touched upon the aspects of internet censorship such as: blocking and filtering of web-pages, self-censorship, violations of internet users' rights, specific cases etc.
Besides general presentation, the representatives from Azerbaijan discussed about cases of activists in Azerbaijan detained and imprisoned because of internet activities.
By the end of the meeting IDFI presented newly launched Internet Freedom Platform (www.freedomtointernet.com). The platform is an interactive map of South Caucasus which will enable all interested people to report about cases of violations of Internet Users' Rights (censorship / surveillance / privacy / cases of repercussions for on-line activity / filtering and blocking of websites etc.), with indication of place, time and small description of the case.

The meeting was attended by the Defender of Consumer Rights under GNCC, representatives of online and traditional media, CSOs, bloggers, journalists and other specialists working on these issues.

Internet Freedom Meeting was held within the framework of the project "Promoting Internet freedom in South Caucasus" implemented by Free Press Unlimited and regional partners Institute for Reporters' Freedom and Safety (IRFS), Yerevan Press Club (YPC) and Institute for Development of Freedom of Information (IDFI) with the financial support of Embassy of the Kingdom of The Netherlands In Georgia and Armenia.

The project aims to promote Internet freedom in Azerbaijan, Armenia and Georgia through research, monitoring, advocacy and training. It aims to expand and consolidate freedom of speech through establishing of a regional platform where democratic changes are stimulated and promoted through campaigns and story sharing.