On November 5th Institute for Development of Freedom of Information (IDFI) hosted Ukraine's delegation – Young Reformers' Club. The meeting was organized by Club's partner organization - Georgian Institute for Strategic Studies (GISS). Delegation visited Georgia for second time and aimed to introduce with current and already implemented reforms in the country.
Representatives of IDFI – analyst Tamar Iakobidze and legal assistant Nino Merebashvili spoke about organization's activities – civil control, advocacy, transparent archives, etc.
Delegates were interested in IDFI's achieved success, especially regarding availability and accessibility of public information. Hosts presented them the project "Public Information Data Base -www.opendata.ge"and shared the experience, gained while implementing it. Nino Merebashvili and Tamar Iakobidze spoke about concrete cases, for instance the availability of public information about the costs of Lazika's constructions, current and finalized court trials regarding freedom of information, discussed the methods that organization follows to help citizens solve various problems regarding public information availability.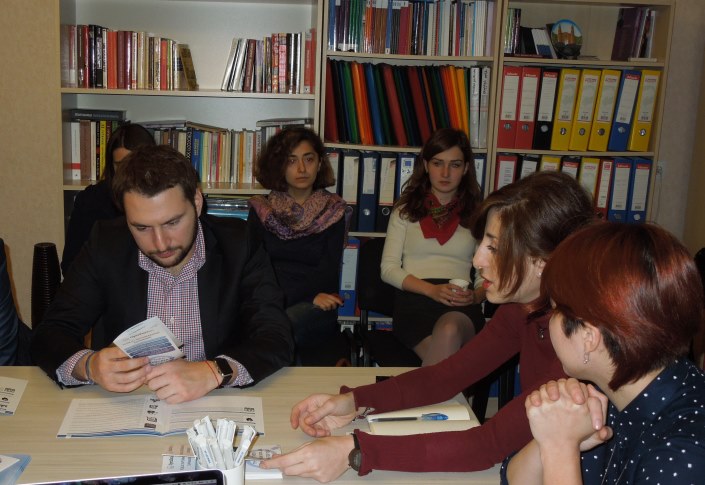 Hosts also spoke about Stalin's lists, organization's unique archive of repressed people's photos and other material, illegal arrest of IDFI's director, Giorgi Kldiashvili, Georgia's and IDFI's success regarding OGP, OGP Government Champions Awards that inter-fractional group of Georgian parliament has recently won and other relevant topics.
Guests also asked questions about funding, target groups, coalitions that IDFI has ever joined, partner and other organizations, which work on freedom of information.

Delegates expressed will to share Georgia's and IDFI's practice and use it in their civil activities in Ukraine. At the end of the meeting IDFI gifted guests with symbolic presents.