News | Trainings | Media, Internet and Innovations | Publications | Article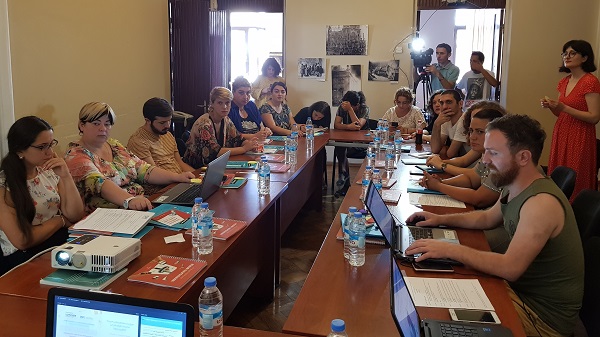 The Institute for Development of Freedom of Information (IDFI) continues to hold trainings for journalists and activists. On August 2, 2019, IDFI team visited Batumi and conducted a training for 22 journalists and activists from the Autonomous Republic of Adjara. The training course covered the techniques of processing open data, as well as:
- How to identify suspicious public tenders;
- How to control state budget execution;
- How to request and obtain public information.
Participants were also provided with practical advice about how to use data visualizations for better communication with the public.
"I am sure that our training course will help participants to effectively oversee government activities," – Teona Turashvili, IDFI's head of media, internet and telecommunications direction.
"The training was really excellent. It helped me learn how to request public information properly. It was also useful to learn how to examine existing information, how to process data, etc. State budget was also an interesting topic for me," – training participant.
"The training was very useful. I found out that as a journalist I have access to a lot of data. We have also learned how to easily find specific information about individuals or companies and, most importantly, how I can effectively control government agencies. For the future, I would add more practical exercises to this training. The time for internalizing the information we received during this training was not enough for me. It would be better to split up the training to a couple of days, in order to make even more productive," – Khatia Gogratchadze, TV 25.
The training was conducted by Teona Turashvili, Head of Media, Internet and Telecommunications Direction at IDFI; Mariam Gogiashvili, IDFI Analyst; and Goga Tushurashvili, Head of Economic and Social Policy Direction at IDFI.
The training was held as part of the project on "Empowering Watchdog Community for Government Accountability". The meeting was funded by Visegrad International Foundation, Visegrad Grants Program, co-financed by the Czech, Hungarian, Polish and Slovak governments. The mission of the foundation is to encourage sustainable regional ideas in Central Europe.