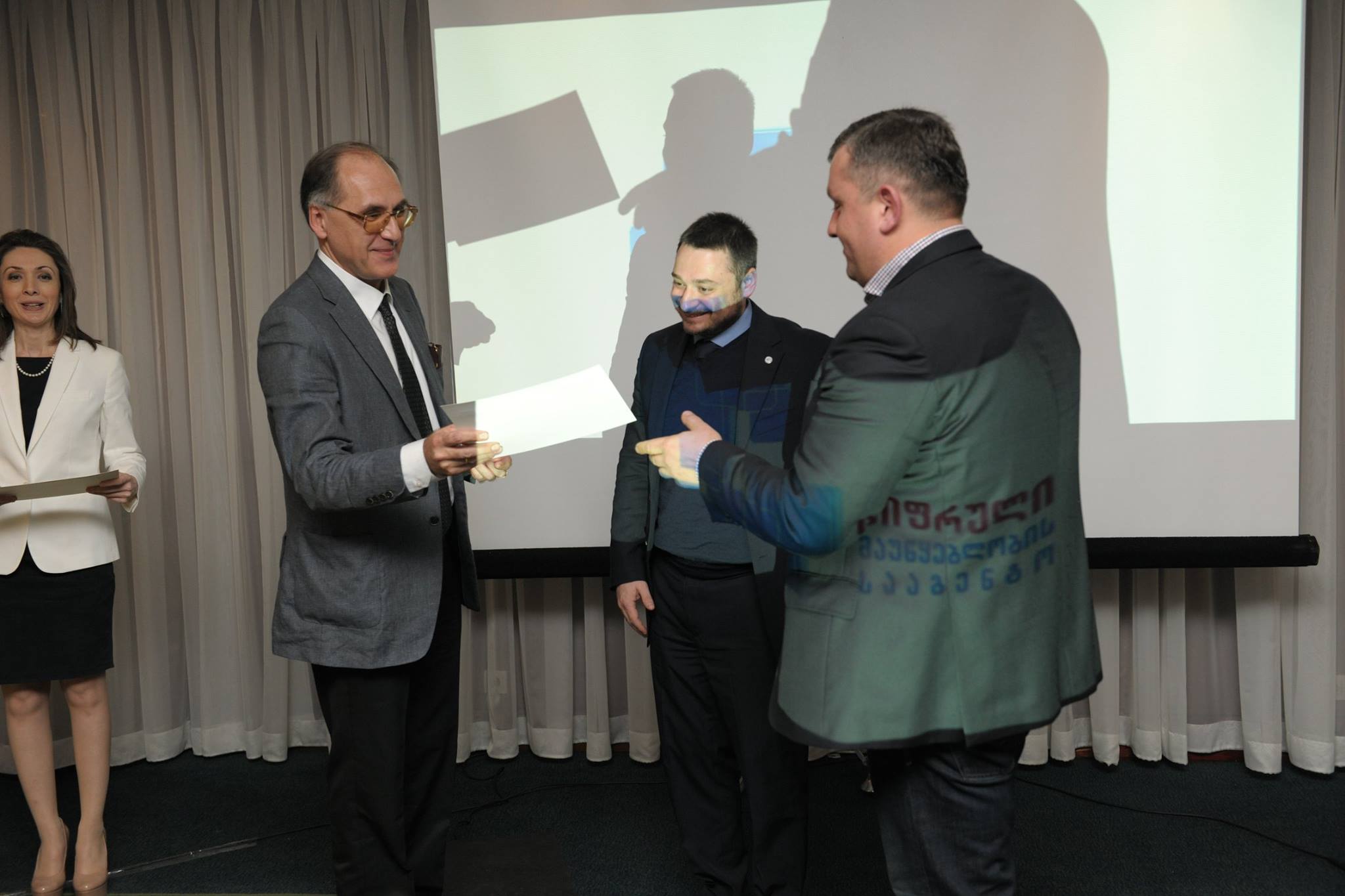 The Digital Broadcasting Agency has awarded the Institute for Freedom of Information (IDFI) for encouraging and supporting the smooth transition towards digital broadcasting in Georgia. The Agency lead by Nino Kubinidze hosted a sum-up ceremony where she awarded certifications, as a sign of gratitude, to staff members of IDFI who were directly involved in the transition process namely the director of media and communications, Ucha Seturi and analyst Nata Dzvelishvili. Another certification was awarded to the director of the "Association for Regional Broadcast", Natia Kuprashvili, who cooperated within the framework of IDFI's project as a media expert.
Ucha Seturi addressed the guests of the event, starting from Vice Prime Minister, Minister of Economy, Chairmen of the Digital Broadcasting Agency and the National Commission for Communications. His speech centered on the benefits that the Georgian media-networks gained from the digitalization of broadcasts. All speakers noted the role of the civil society in successfully completing the reform-process and gave special thanks to IDFI for its great contribution to this endeavor.
In 2012, with the financial support of the Open Society Foundation of Georgia, IDFI began to actively implement its project on supporting the digital transition process. IDFI became a board member of the transition to digital broadcasting commission and it worked on numerous studies, research and recommendations for decision-makers on this topic. Subsequently IDFI was actively involved in creating and implementing the National Strategy for transition to digital broadcasting and throughout every phase such as creating the law on regulation of this process, supporting the information campaign and spreading information on where and how to receive, install and use the 'Set Top Boxes' required for receiving the digital broadcast. In addition, IDFI representatives were involved in testing the functionality and sustainability of the digital network, the physical and financial availability of these devices as well as the ease of usage for the wider public.

IDFI will soon release the results for the last 4 months regarding the monitoring and analysis of the transition process.