News | Memory and Disinformation Studies | Publications | Article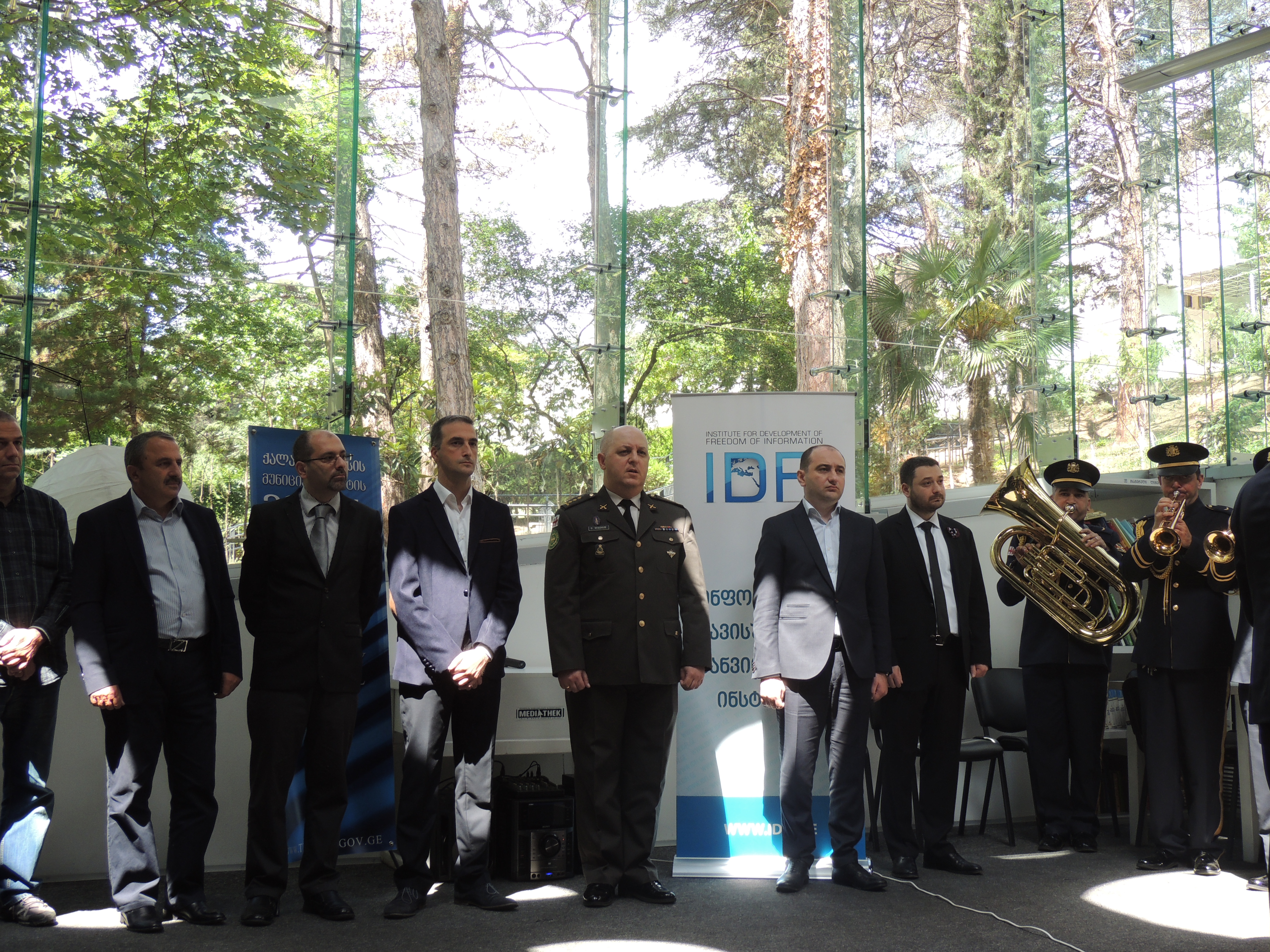 On May 20, IDFI in cooperation with Tbilisi City Hall, Ministry of Defense and Archive of Ministry of Internal Affairs organized an event in honor of Georgian officers executed by Russian Bolsheviks in 1923.

The event was opened with the Georgian anthem performed by the Defense Ministry's military orchestra. This was followed by a welcoming speech by IDFI Director Giorgi Kldiashvili, who spoke about the contribution of the repressive officers to their homeland and their importance of both the past and the future of Georgia.

Deputy Mayor of Tbilisi Irakli Lekvinadze also spoke about the heroism of executed officers and stated that "such examples give all the more value to our country's 25 years of independence". The Deputy Mayor emphasized IDFI's role in studying the history of the repressed officers and organizing an events in their honor. Tbilisi City Hall plans to place a memorial in Vake Park, at the location where Georgian officers were executed 93 years ago.

Also among the speakers was the Deputy Head of the Archive of the Ministry of Internal Affairs Vladimer Luarsabishvili, who thanked IDFI for its work and for remembering the heroes.

IDFI used the data held by the Archive of the Ministry of Internal Affairs to locate the addresses of the executed officers and requested Tbilisi City Hall to put up memorial plaques in these locations.

Tbilisi City Hall liked IDFI's initiative and put up memorial plaques at the following addresses:

- 117 Davit Aghmashenebeli Str. (Major General Varden Tsulukidze);

- 12 Chonkadze Str., Tbilisi (Colonel Giorgi Khimshiashvili);

- Alley #3 Davit Toradze Str., Tbilisi (Rotmeister Simon Bagration-Mukhraneli);

- 33 Javakhishvili Str., Tbilisi (Rotmeister Parnaoz Karalashvili);

- 7 M. Laghidze Str., Tbilisi (Iason and Leo Kereselidzes);

- 39 Chovelidze Str., Tbilisi (Officer Ivane Kutateladze);

- 6 G. Lortkipanidze Str., Tbilisi (Dimitri Chrdileli);
- 34 Barnovi Str., Tbilisi (Levan Klimiashvili).

Memorial plaques had already been put up at the addresses of three Georgian officers:

• General Konstantine Apkhazi (46 L. Asatiani Str.)
• Colonel Rostom Muskhelishvili (4 Kojori Str.)
• Colonel Elizbar Gulisashvili (15 Dzmebi Kakabadze Str)

Towards the end of the ceremony, Omar Begoidze, First Deputy Chief of General Staff of the Ministry of Defense stated that "even though Russian Bolsheviks executed Georgian officers on May 20, 1923, they were unable to destroy the idea of Georgia's independence and statehood". He also emphasized the importance of remembering such events for the young soldiers, Junkers and Cadets, who were also attending the ceremony.
For more photos on the event please, visit the following websites: IDFI, Ministry of Defence of Georgia, Tbilisi City Hall For more information on this issue also see IDFI's research - Georgian Military Officials Executed in 1923.