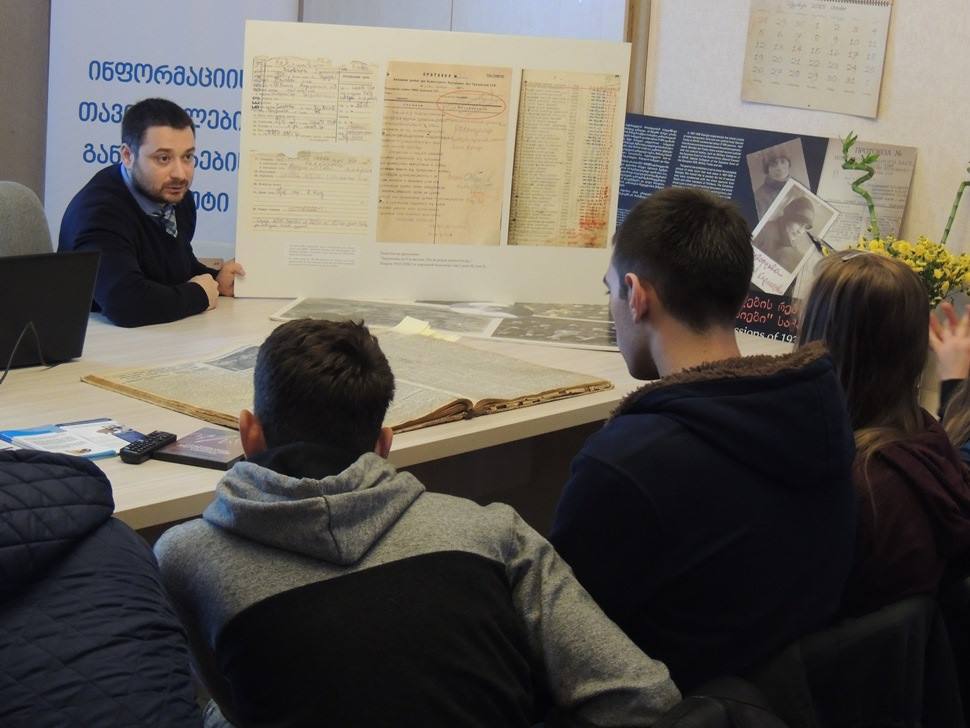 Giorgi Kldiashvili, the Director of Institute for Development of Freedom of Information (IDFI) and Tamar Iakobidze, an Analyst at IDFI held a lecture for Georgian and Polish school students at the office of the Institute.
The aim of the lecture was to introduce guests with the work and activities of the IDFI. Tamar Iakobidze underlined the importance of freedom of information and spoke about organization's experience in this field. She highlighted that accessibility on public information has a considerable impact on the processes that ensure openness of public entities. Tamar spoke in detail about the Public Information Database – Opendata.ge
Giorgi Kldiashvili's speech concerned one of the projects of IDFI – Transparent Archives, that provides various types of documents, supports the transparency of governmental archives, studies archival documents and gathers documentary material, published analyzes and holds exhibitions.
Mr. Kldiashvili presented an unique documents and photo material of tragic events occurred in Georgia. IDFI collected these material from archives of MIA (Ministry of Internal Affairs), its analytical department, society Memorial. In addition, IDFI gathered documents from the families of repressed people, who provided further information and stories about their relatives, convicted by Stalin and politburo.
It was a good opportunity for raising awareness among the students about repressed people and tragic events occurred in Georgia in the years of 1937-38.