News | Publications | Open Government | Article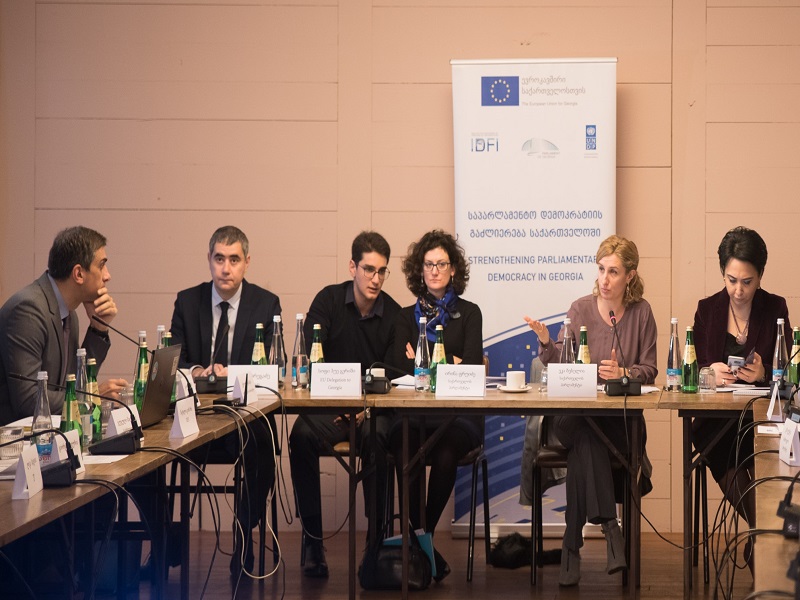 Georgian Parliament fully implemented 13 and partially 11 out of 24 commitments described in the Open Parliament Action Plan 2017, and will continue this successful work in 2018. Among other achievements, the Parliament has initiated the Code of Ethics of MPs and provided opportunities for citizens to submit e-petitions and e-legislative initiatives.
The implementation of the Open Parliament Action Plan was discussed at a specially convened meeting on 5 February 2018, organized by the Parliament of Georgia with support from the European Union (EU) and United Nations Development Programme (UNDP), in cooperation with the Institute for Development of Freedom of Information (IDFI).
The meeting brought together Members of Parliament and representatives of the Government of Georgia, civil society and international organizations.
Irina Pruidze, Chairperson of the Permanent Parliamentary Council on Open and Transparent Governance; Sophie Huet Guerriche, Governance Sector Coordinator at the Delegation of the European Union to Georgia; and Gigi Bregadze, UNDP Democratic Governance Team leader in Georgia, addressed the meeting participants.
The report of the Open Parliament activities in 2017 was presented by Irina Pruidze. She stressed that accountability and citizen engagement will become key priorities of the Open Parliament work in 2018.
"We made significant progress last year to ensure that parliamentary work in Georgia is transparent and open. In 2018, we will focus on citizens' engagement and access to information. The new website of the Georgian Parliament, which will be launched later this year, will provide innovative opportunities for all, including to easily access information and take part in the legislative process," Pruidze said.
Sophie Huet Guerriche, Governance Sector Coordinator at the Delegation of the European Union to Georgia, underlined the monitoring and oversight role of civil society in achieving legislative openness.
"Open Parliament strengthens accountability and transparency of the authorities and presents additional opportunities for their cooperation with civil society, private sector and citizens," Sophie Huet Guerriche said.
Open Parliament is part of Georgia's efforts under the Open Government Partnership (OGP), international platform that unites over 70 countries to help their governments become more open, accountable, and responsive to citizens. Georgia is chairing the OGP this year and will be hosting the 5th annual OGP summit in July 2018.
Ketevan Tsanava, representative of the Ministry of Justice and Georgia's National OGP Coordinator, updated the meeting participants about the country's progress in fulfilling the OGP commitments and informed about the ongoing preparations for the global summit.
Permanent Parliamentary Council on Open and Transparent Governance Annual Activity Report for 2017
/public/upload/IDFI_Photos_2017/ogp/ANNEX-XI-Annual-Report-of-the-OGP-Council-2017_ENG.pdf