News | Economics and Social Policy | FIGHTING CORRUPTION | Publications | Report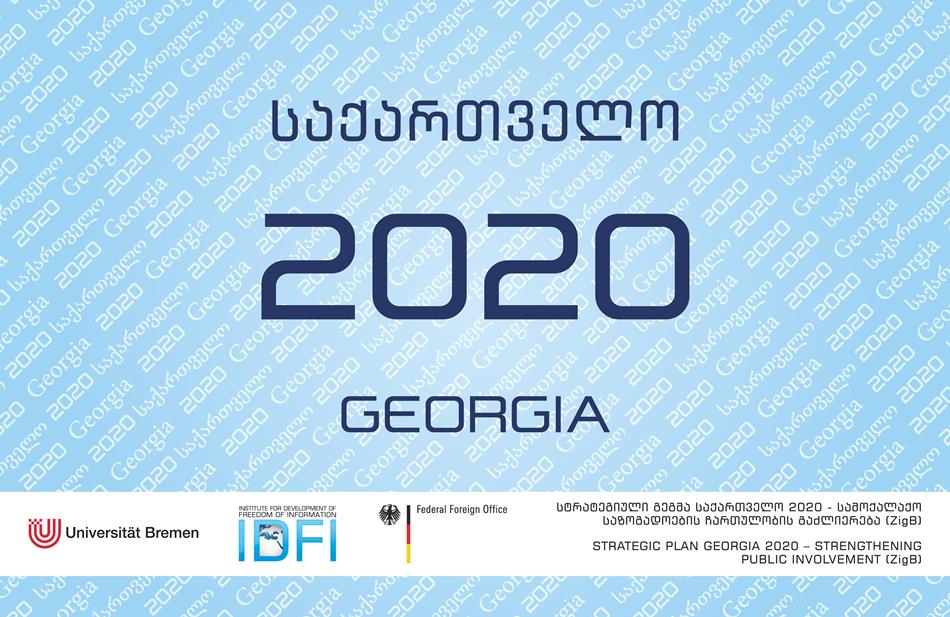 The Institute for Development of Freedom of Information (IDFI), in partnership with the University of Bremen and with the financial support of the Federal Foreign Office of Germany implemented the project "Strategic Plan Georgia 2020 – Strengthening Public Involvement" between July 10, 2015 and February 10, 2016. The goal of the project was to raise the awareness among civil society groups and to strengthen the understanding of Georgia's socio-economic development strategy "Georgia 2020", to identify problems and to formulate relevant recommendations, existing challenges and the implementation process of the strategy.

"Strategic Plan Georgia 2020 – Strengthening Public Involvement" is the continuation of the project successfully implemented in 2014-2015. Like in the previous project, analysts, civil society activists, Georgian scientists and students, and other groups interested in the implementation process of the strategic plan, participated in the project of 2015-2016.

Various events and activities were held within the scopes of the project, which included supporting activities for analysts; holding five series of lectures in various universities across Georgia (Batumi, Kutaisi, Telavi, Akhaltsikhe, Tbilisi); discussion series about the topics mentioned in the strategic plan Georgia 2020; and a concluding event of the project – International Forum "The Prospects of Georgia's Democratic and Economic Development". The blogpost "Georgia 2020" was created specifically for the project, which was constantly updated in Georgian and English languages. The articles of the analysts participating in the competition for analysts, the reports of various events held within the framework of the project, photo and video album and the media coverage were published on the blog.