News | Research | FIGHTING CORRUPTION | Pressing Issues
Within the scope of the study, IDFI requested data from the Parliament of Georgia regarding the fuel consumption and mileage of vehicles used by Georgian parliamentarians in 2018-2020. The research period coincides with the change of the location of the Parliament from Kutaisi to Tbilisi, and the state of emergency, declared in the country as a result of the Coronavirus pandemic, through which a curfew was imposed and movement was significantly restricted.
Key Findings
- Out of 98 vehicles owned by the Parliament, 50 are individually assigned to Members of Parliament, among which predominate the TOYOTA CAMRY model vehicles purchased in 2015.

- In 2019 (after the Parliament was relocated from Kutaisi to Tbilisi), the fuel consumed by MPs only decreased by 14%, compared to the previous year.

- In 2019, Ilia Nakashidze (7,791 liters), Irakli Kovzanadze (7,197 liters), Akaki Zoidze (7,071 liters), Mamuka Mdinaradze (7,015 liters) and Zaza Gabunia (6,771 liters) consumed the highest amounts of fuel. Their consumption levels exceeded or were approximately the same as consumption levels in 2018, when the parliament was still operating from Kutaisi.
- 15 MPs covered a distance exceeding 50 thousand kilometers in 2019. The longest distances were covered by - Dimitri Khundadze - 59,946 km, Giorgi Begadze - 57,415 km, Zaza Gabunia - 56,420 km, Ilia Nakashidze - 55,966 km.

- In 2019, the vehicles personally assigned to parliamentarians covered an average of 41,775 kilometers, and in 2018 - 48,544 kilometers.

- The fuel consumption levels of parliamentarians often remains unchanged, even throughout the months when they are on business trips abroad for a week or longer.

- Throughout April and May 2020 (period of state of emergency), the amount of fuel consumed by parliamentarians decreased by approximately 30% (14 thousand liters), compared to the same months of the previous year.

- Dimitri Khundadze (1,128 liters), Giorgi Tsereteli (1,119 liters), Irakli Kovzanadze (1,073 liters), Mariam Jashi (1,024 liters) and Rati Ionatamishvili (955 liters) had the highest fuel consumption levels throughout the state of emergency (April-May 2020).
- Despite the restrictions imposed during the state of emergency, vehicles assigned to various MPs (e.g. Dimitri Khundadze, Giorgi Tsereteli, Gocha Enukidze, Irma Inashvili, Rati Ionatamishvili) consumed more fuel during the state of emergency than in the same months of the previous year.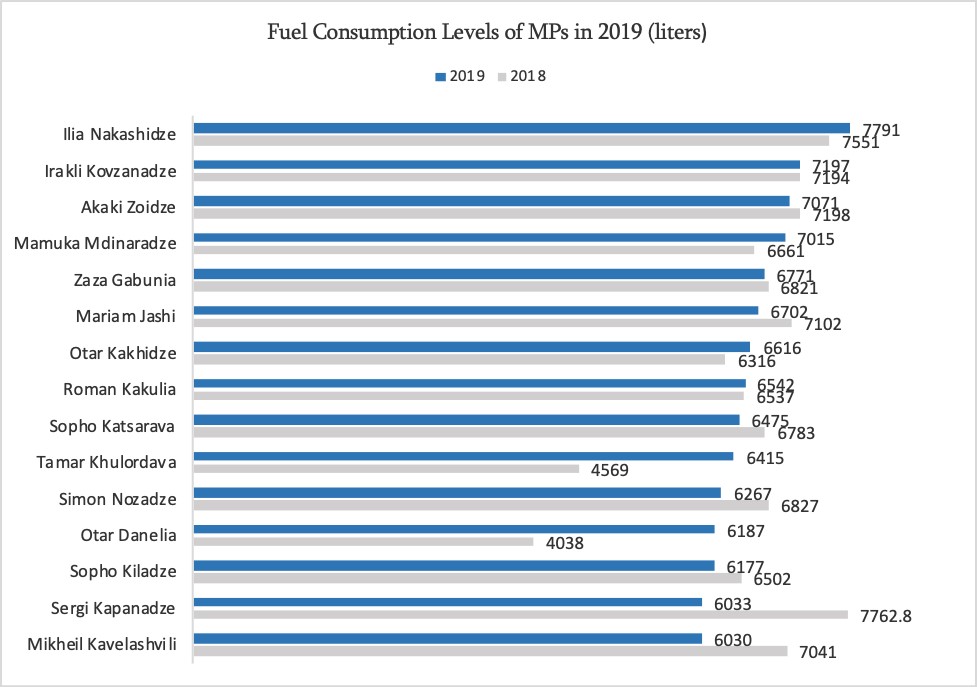 Recommendations:
IDFI calls on the Parliament of Georgia to exercise parliamentary control over the systemic shortcomings identified in the Institute's study on the management of the state vehicle fleet, and to improve the current legislative framework in order to implement the existing recommendations.
Fuel Expenses of Members of Parliament: 2018-2020
/public/upload/Article/02_Fuel Expenses of Members of Parliament_ONEPAGER_ENG-compressed.pdf