News | Publications | Open Government | Article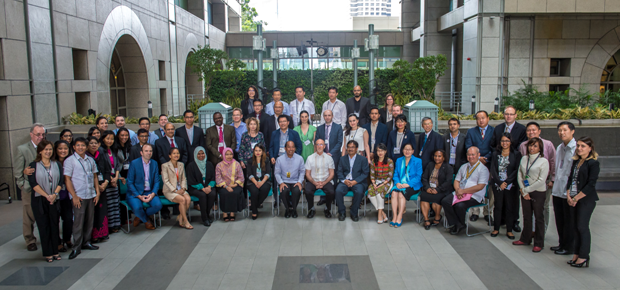 Open Government Partnership (OGP) Asia Pacific Regional Meeting was held on 7-8 September, 2015 at ADB (Asian Development Bank) Headquarters in Manila, Philippines. The regional meeting brought together approximately 50 delegates from the governments, civil societies, international organizations and foundations with the goal of sharing progress on open government reforms and exchanging ideas on expanding OGP initiatives. Director of the Institute for Development of Freedom of Information (IDFI), Giorgi Kldiashvili with Ketevan Tsanava and Mariam Tutberidze from the Analytical Department of the Ministry of Justice were invited to participate in the meeting. Thus, Georgia was well represented at the Meeting by both government and civil society.

Participants presented and obtained feedback on ADB's draft Action Plan on OGP engagement and also, assisted participating countries in preparing for the October Global OGP Summit in Mexico. On Day 1, representative of Georgia: Giorgi Kldiashvili, Ketevan Tsanava and Mariam Tutberidze discussed the topic - Building Partnerships: Improving Civil Society and Government Collaboration. The objective of the session was to introduce the participants to Permanent Consultation Forums (using Georgia as the main case) and to understand the challenges and opportunities in the different countries for creating something similar.

Asia Pacific Regional meetings aim to be the platform for countries and communities within the region to connect, share and learn from each other. Even as the membership base of the Open Government Partnership continues to grow year by year, 65 countries have joined the OGP since its inception in 2011. Asia Pacific, as a region continues to remain underrepresented in OGP. Asia Pacific Regional meeting focuses on outreach to new countries with a set of strong civil society keynotes defining open government as being responsive and creating civic space.

For a region with more than 60% of the world's population, increasing membership and ensuring that the OGP platform delivers on its reform potential in member countries is in many ways fundamental to success of the initiative in overall. Important steps must be taken for Broadening the base, Deepening engagement between governments and civil society, securing more ambitious commitments and increasing accountability and creating more platforms for lesson-sharing.

Bhutan, India, Japan, Nepal, the Kyrgyz Republic, Pakistan, Papua New Guinea and Thailand are among those countries, which still are not involved in OGP. Sharing experiences from other countries at Asia-Pacific regional meeting gives them additional motivation to become part of OGP. On the meeting participants discussed how to engage non-participating eligible countries, how to support initiatives in countries that are yet to meet eligibility requirements and how to tap into existing resources and networks. OGP working group hopes that at least 2 countries will join the Open Government Partnership Program at global summit in Mexico.

Parallel to the discussions of the OGP expansion, other problems are considered. One of them is absence of a link between government and civil society. In many countries, for example, Azerbaijan, India and Cambodia, civil society does not have enough information on the laws and regulations; this hinders successful implementation of the reform process. Asia-Pacific regional meeting will enable them to get the experience from several countries from the same region, for example, New Zealand, the Philippines, which had the same problems. On the meeting participants talked about broadening and deepening open government: Institutionalizing reforms at the national and sub-national level, supporting national reformers by strengthening national reformer's capability to implement open government reforms.

OGP's role within the Asia-Pacific region is huge. Practice shows that many of the innovative ideas have emerged from this region. For example, In the Philippines, social audits are being piloted for important public works and service delivery projects, in Mongolia, the government has established 24-hour communication channels for citizens to gain immediate and direct access to policy makers. Participants overviewed the national action plans (NAPs) in Asia Pacific and discussed how to get more complex topics into the NAPs so the citizens can see benefits.

Asia-Pacific regional conference was a preparatory meeting for the global summit in Mexico City, which will be held in October 2015.