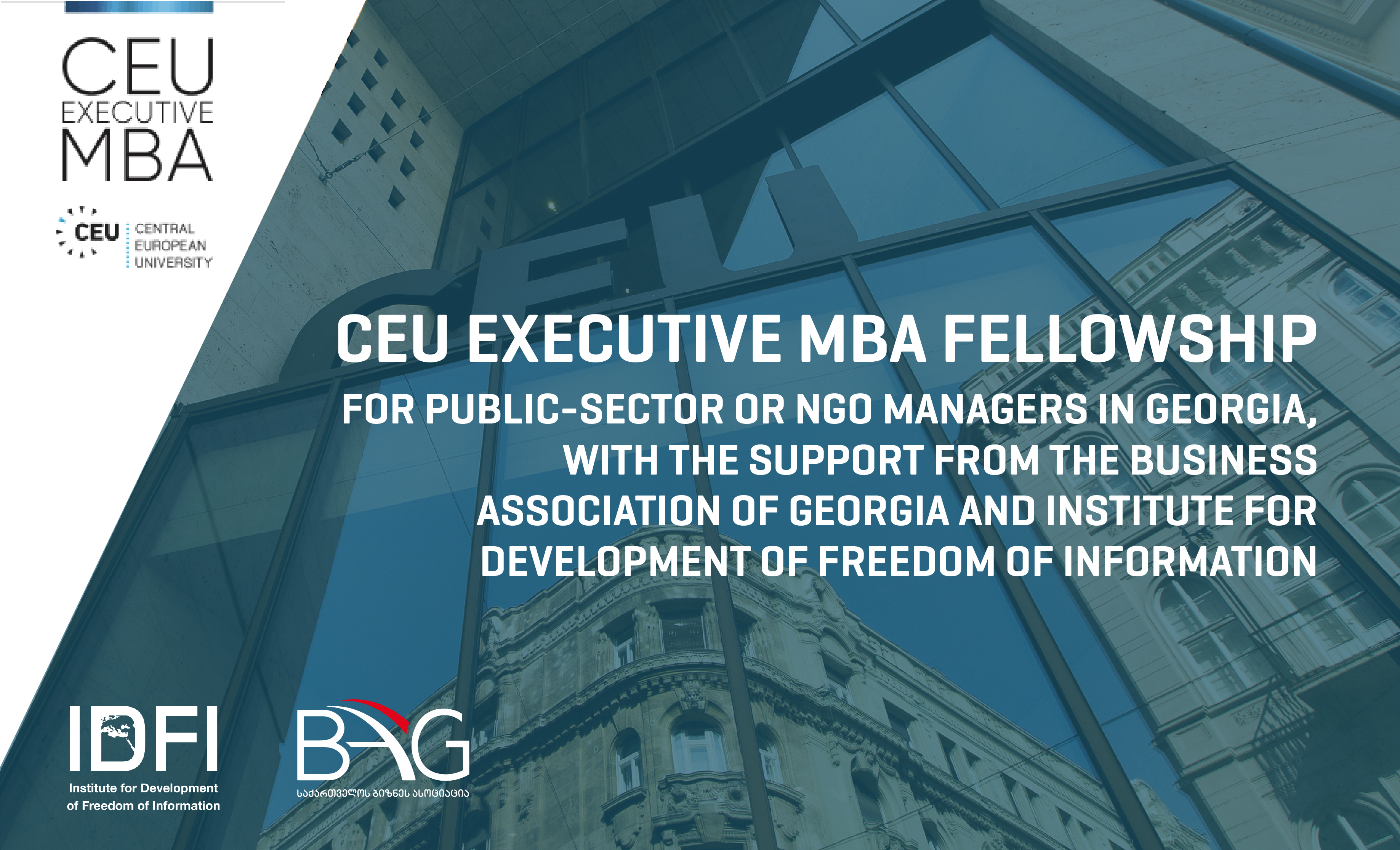 CEU Executive MBA Program, with the support of the Institute for Development of Freedom of Information and Business Association of Georgia, offers a highly competitive, merit-based fellowship for an innovative public- or nonprofit-sector manager in Georgia.
The fellowship will be awarded to manager working in the public or nonprofit sector of the Republic of Georgia (including central and local/municipal government, administration of justice, public schools and universities, hospitals or cultural institutions), who has a distinguished record of positive impact through public-sector innovation and/or entrepreneurial spirit, who enjoys high levels of professional esteem among citizen and business stakeholders and who has an unblemished record of personal honesty and respect to democratic values.
Applicant for the Fellowship for Public-Sector or NGO Managers in Georgia should have at least 8 years of professional experience, including at least 3 years of documented leadership/managerial experience, an undergraduate degree or equivalent qualification.
The Fellowship for Public-Sector or NGO Managers in Georgia will be awarded, on competitive basis, by the unanimous decision of the following selection committee:
From IDFI:
-Giorgi Kldiashvili — Executive Director
From Business Association of Georgia:
Aleksi Aleksishvili — Member, Business Association of Georgia Advisory Board; Chairman, Policy and Management Consulting Group
Levan Vepkhvadze — Chief Executive Officer, Business Association of Georgia
From Central European University's Executive MBA Program:
Prof. Maciej Kisilowski, JSD PHD MBA MPA LLM — Faculty Director, CEU Executive MBA
Lika Nozadze (MBA '11) — Managing Partner, Talent Flow; CEU Executive MBA Alumna
For more information on the Fellowship please follow the link.