News | Economics and Social Policy | Publications | Article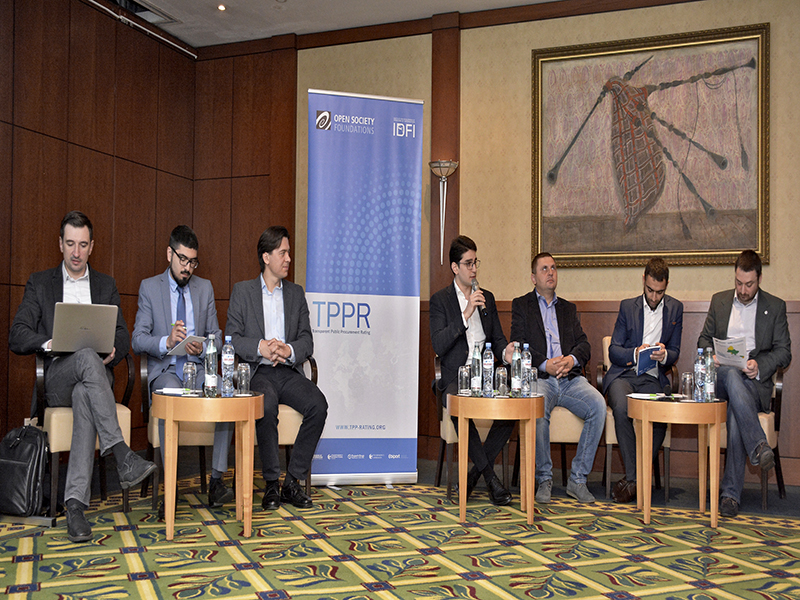 On May 13, IDFI and Open Society Institute Budapest Foundation (OSI) hosted a conference: Assessing Public Procurement Legislation and Practice in Eastern Partnership Countries.
Participants of the conference: international experts working on public procurement, representatives of government institutions and NGOs from 6 Eastern Partnership Countries (Ukraine, Moldova, Belarus, Armenia, Azerbaijan, and Georgia) presented the results of evaluation of each country's legislation and practice on public procurement, and discuss existing problems and solutions.
The Conference had versatile audience – state institutions (State Audit Office, State Competition Agency, Public Procurement Agency, Min. of Infrastructure, CSOs from Georgia and other countries, representatives of the Public Procurement Agencies of Ukraine and Moldova, international experts of public procurement from EBRD and the WB). Additionally, guests from civil society from Hungary (K-monitor), Kyrgyzstan (Форум по официальной помощи развитию) and Albania (Albanian Institute of Science) were attending the event with the aim of introducing the project.
In addition, a new website on public procurement rating - www.tpp-rating.org - was also presented. This bilingual (English-Russian) website presents assessments and a rating of public procurement legislations of Eastern Partnership countries. The website allows users to compare country results through simple interactive visualizations. It also contains full assessment documents and recommendations issued by procurement experts for each country.
Opening remarks were delivered by Giorgi Kldiashvili, Executive Director of IDFI, who highlighted the importance of the Project on Transparent Public Procurement Rating in the sphere of research related to public procurement. According to Giorgi Kldiashvili, the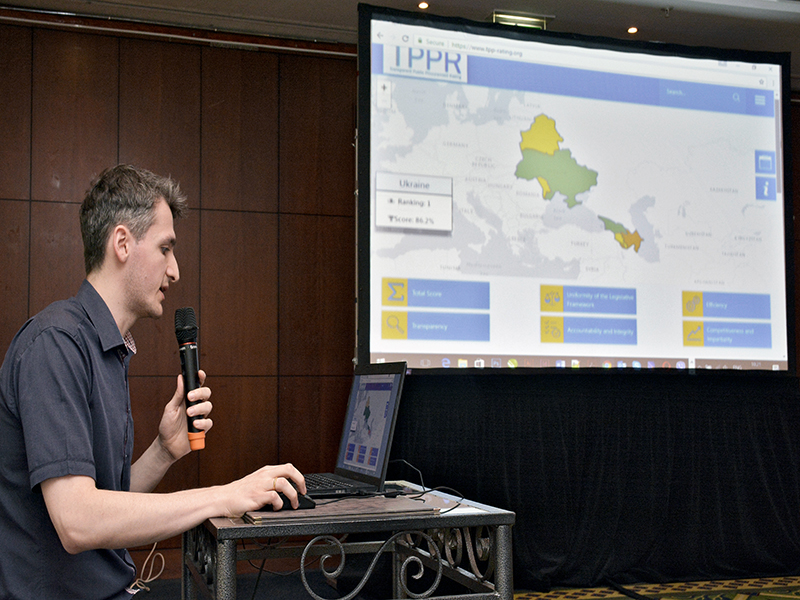 project is one of the first attempts of creating a joint product regarding public procurement by CSOs operating in different countries. He also pointed out that the project is collaborative as besides organizations, public procurement international experts, as well as public authorities responsible for public procurement were involved in the process of creating the methodology of the project.
The conference was divided into 3 sessions. The first session was dedicated to the assessments of public procurement legislations and practice. Organizations (Freedom of Information Center of Armenia, Transparency International - Azerbaijan, BIPART - Belarus, Expert-Grup - Moldova and Transparency International - Ukraine) from the Eastern Partnership region discussed the commonalities between the different public procurement systems, presented their strengths and flaws. During the second session, international expert in public procurement David Marghania, as well as representatives of State Procurement Agencies of Moldova and Ukraine discussed EU directives and obligations of Moldova, Georgia and Ukraine, undertaken within the framework of the Association Agreement. According to David Marghania, the process of harmonizing Georgian legislation with the EU procurement directives is a complex and arduous task, which requires individual approach in case of every country, including Georgia. As per the expert, changes should be tailored according to the local context.
Additionally, public procurement international expert Eriks Mezalis discussed the pros and cons of the new EU procurement directives. Eriks Mezalis pointed out the new directives restrictive character as its most evident disadvantage. More specifically, the new directives do not allow individual countries to choose which procurement procedures to adopt in their national legislations, making all procedures mandatory to apply. This approach neglects the local context and the problems that could be caused by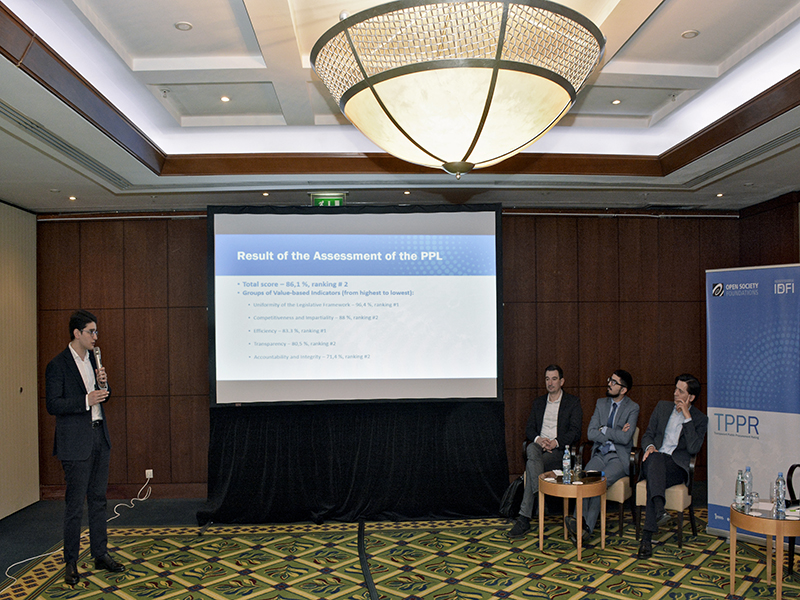 adopting all procedures.
The third session was dedicated to open data and its importance in public procurement. According to the experts participating in the panel, open data is an integral part of any modern public procurement system. As pointed out by public procurement international expert Tato Urjumelashvili, open data is a fundamental part of public procurement, which ensures the transparency and efficiency of the system. Representative of the WB, Luis Velez, discussed the Open Contracting Data Standard (OCDS) and the positive experience the World Bank had in different countries in terms of using OCDS to publish procurement related data in open formats.
During the third panel, representative of a Hungarian civil society organization - K-monitor, Sandor Lederer, presented the Red Flag system of monitoring public procurements and how open data is used to monitor risky procurements. In addition, representative of the State Audit Office, Marika Natsvlishvili, presented the new portal of the SAO - Budget Monitor, which enables easy monitoring of state expenses based on open data.