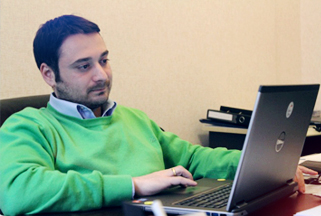 On December 12th, 2014 Giorgi Kldiashvili, Director of the Institute for Development of Freedom of Information (IDFI) was arrested by the Department of Central Criminal Police of the Ministry of Internal Affairs (MIA) of Georgia when he was transporting home his registered collection firearm (Luger P08, issued in 1921) after it was repaired at official arms shop. He was arrested on charges of illicit carrying of firearms, despite of the fact that the firearm was dismantled, and placed in the trunk without bullets. The firearm was in Giorgi Kldiashvili's ownership, however he did not have permit on transportation issued by the Service Agency of the Ministry of Internal Affairs.

According to initial position of the MIA, the action of Giorgi Kldiashvili represented administrative offence and therefore, he would have to pay a fine. However, later that day, Giorgi Kldiashvili was accused of illicit carrying of firearms, a crime envisaged by article 236 (2) of the Criminal Code of Georgia, punishable by a fine or imprisonment ranging from three to five years. After three hours of interrogation, Giorgi Kldiashvili was arrested and taken to the detention centre i.e. "Moduli" building for two days.

It should be noted that the law-enforcing agencies have justified arrest of Giorgi Kldiashvili by an assumption that he would avoid prosecution. However, Giorgi Kldiashvili voluntarily participated in the investigative process, presented himself in the "Moduli" building and was interrogated as the witness of the case. According to Giorgi Kldiashvili, while arresting the representatives of the MIA mentioned activities of his organization and the civic campaign that he is part of. They alluded to the campaign "This Affects You*" and asked him why he referred to illegal surveillance.

During the court hearing on the case the prosecutor failed to present any arguments which would prove the threat of Giorgi Kldiashvili avoiding prosecution. Hence the court concluded that the process of arresting Giorgi Kldiashvili was conducted in violation of article 171 of the Criminal Procedure Code of Georgia. Because of the above mentioned the court released Giorgi Kldiashvili from the courtroom on GEL 1,500 bail. Due to ethical considerations Giorgi Kldiashvili has decided to suspend his functions as the Director of the Institute until the process of investigation is finalized and the court decision is announced.

Following the detention of Giorgi Kldiashvili civil society representatives including Coalition for an Independent and Transparent Judiciary and more than 30 Non-governmental organizations such as Open Society – Georgia Foundation (OSGF), Georgian Young Lawyers' Association (GYLA), Transparency International – Georgia (TI-Georgia) etc. made statements calling on the authorities to (1) Investigate the legality of the actions undertaken by the Ministry of Internal Affairs and hold all those acting in violation of the requirements of law responsible; (2) Close all criminal proceedings against Giorgi Kldiashvili, based on the fact that the action committed by Giorgi Kldiashvili is not regulated by the criminal legislation of Georgia; (3) Refrain from making abusive statements regarding NGOs by high officials, addressing them as traitors and actors taking subversive measures.

It is significant to mention that a statement was also made by the Public Defender of Georgia addressing the Chief Prosecutor of Georgia with a proposal to consider termination of a criminal case against Giorgi Kldiashvili. The Public Defender of Georgia once more stressed that Giorgi Kldiashvili committed an offense envisaged by the article 181 of the Code of Administrative Offenses of Georgia and not a criminal act provided in the Criminal Code of Georgia – illegal carrying of a firearm.

It is noteworthy that as a result of the reaction from civil society the Prosecutor's Office offered to use diversion, which would imply that this is a criminal rather than administrative offence. Giorgi Kldiashvili refused to accept the diversion, since the violations of Mr. Kldiashvili were of administrative nature. Currently, investigation continues and the next court hearing is scheduled for January 15th, 2015. Giorgi Kldiashvili will be represented by the legal team of Georgian Young Lawyers' Association (GYLA).

Based on the abovementioned IDFI states that:

1. As also confirmed by the court decision at the hearing of the case on December 17th, 2014, Giorgi Kldiashvili was illegally arrested at the detention centre ("Moduli" building) for two days.

2. It is unacceptable for law-enforcement agencies to refer to civic activism of Giorgi Kldiashvili, who is a founder of IDFI, coordinator of Media Advocacy Coalition, Co-Chairman of Open Government Georgia's Forum and among other things is also actively participating in "This Affects You" campaign.

3. IDFI believes that transportation of firearm in Giorgi Kldiashvili's ownership without permission was a violation of administrative rather than criminal character. Hence, we call on the Prosecutor's Office to terminate criminal prosecution against Giorgi Kldiashvili.

4. The aforesaid, namely: (1) illegal arrest of Giorgi Kldiashvili for two days, (2) launch of criminal rather than administrative prosecution and (3) allusion to civic activism of Giorgi Kldiashvili and his organization, - unambiguously implies that the Ministry of Internal Affairs as well as the Prosecutor's office of Georgia aimed at unduly influencing and intimidating Giorgi Kldiashvili. This ongoing trend of law enforcement activities can be seen as an attempt to influence the activities of civil society group of which, IDFI is a member of. IDFI will closely follow and report about proceedings related to Giorgi Kldiashvili's case.
* This Affects You - They Are Still Listening" is a campaign launched by NGOs aimed at advocating legislative changes to control illegal surveillance by the government.