News | Economics and Social Policy | FIGHTING CORRUPTION | Publications | Analysis
The Georgian legislation awards medals and orders to individuals for defending the homeland, acts of heroism and courage during battles for the protection and unification of the country, and exceptional personal contribution to state building. The decision to award medals and orders is made by the Georgian President. State awards can be given to any Georgian citizen, or foreign citizens and persons without citizenship with the President's decision.
Georgia has the following state orders and medals that are accompanied with one-time monetary awards: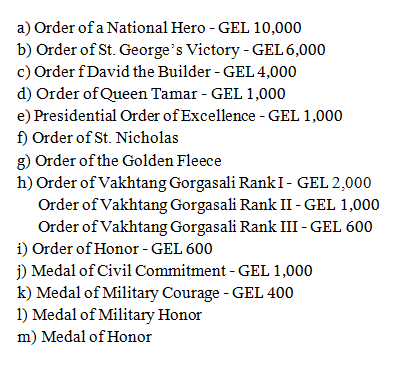 On January 21, 2016, IDFI requested information on state awards (orders and medals) issued by Georgian Presidents in 2003-2015 from the President's Administration. According to the provided data, the Georgian Presidents had issued a total of 11,595 state awards in 2003-2015, including 5,525 Orders of Honor, 2,541 Medals of Honor, and 1,160 Medals of Military Courage.
During this period, the largest number of state wards was issued during the last years of Mikheil Saakashvili's presidency, 2,681 in 2012 and 1926 in 2013. Many state awards of high importance that were rarely being issued previously were issued extensively in 2013. For example, in 2013 the President awarded 11 Orders of a National Hero, 30 Orders of St. George's Victory, 2 Orders of David the Builder, 39 Orders of Queen Tamar, 157 Presidential Orders of Excellence, 20 Orders of St. Nicholas and 56 Orders of Vakhtang Gorgasali – Rank I.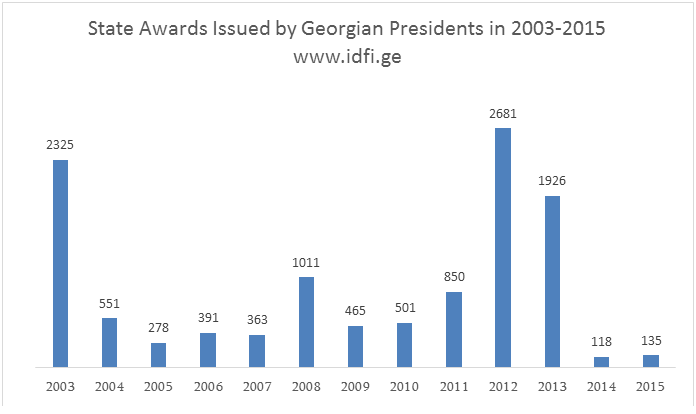 IDFI was also able to obtain the complete list of individuals that received state wards in 2003-2015.
The title of a National Hero is the most honorable governmental title in Georgia, which is awarded to a person for distinct, heroic actions. Along with a title of a National Hero, the person is awarded with an order.
The National Hero Award has been awarded to the following individuals in 2003-2015:

2004 - 2 persons - Zhiuli Shartava and Zaza Damenia
2010 - 2 persons - John McCain and Lech Kaczynski
2013 - 11 persons - Kaikhosro (Kakutsa) Cholokashvili, Zurab Iarajuli, Giorgi Antsukhelidze, Ambrosi Khelaia, Ekvtime Takaishvili, Merab Kostava, Zviad Gamsakhurdia, Grigol Peradze, Giorgi Mazniashvili, Mikheil (Mikhako) Tsereteli, Giorgi Kvinitadze.
2015 - 1 person - Mariam (Maro) Maqashvili
Order of St. George's Victory
The Order of St. George's is awarded to individuals who have significantly contributed to victorious battles.
The following individuals were awarded the order in 2003-2015:

2005 - 1 person - George Bush (Junior)
2006 - 1 person - John McCain
2007 - 4 persons - Irakli Kutateladze, Zurab Noghaideli, Valdas Adamkus, Lech Kaczynski
2008 - 11 persons - Erekle Kodua, Vladimer Gurgenidze, Vakhtang Kikabidze, Giorgi Mebonia, Zurab Pochkhua, Mamuka Gvasalia, Onise Kistauri, Avtandil Lomidze, Nikoloz Dzebniauri, Shalva Janashvili, Giorgi Margiani
2009 - 10 persons – Valdis Zatlers, Viktor Yushchenko, Vytautas Landsbergis, Ronald Asmus, John Francis Teft, Petras Vaitiekunas, Joseph Biden, Eldar Shengelaia, Devi Tchankotadze, Davit Nairashvili
2010 - 6 persons – Davit Akhalaia, Davit Chkhartishvili, Richard Holbrooke, Vano Khukhunaishvili, Toomas Hendik Ilves, Mart Laar
2011 - 7 persons - Joseph Lieberman, Krzysztof Lisek, Vaclav Havel, Nicolas Sarkozy, Aleksandre Lomaia, Henri de Raincourt, Matyas Eorsi
2012 - 4 persons - Andris Berzins, Ramaz Nikolaishvili, Ivane Merabishvili, Giorgi Karbelashvili
2013 - 30 persons, including: Davit Bakradze, Aleksandre Khetaguri, Andro Barnovi, Kakha Bendukidze, Giorgi Papuashvili, Konstantine Kublashvili, Niaz Diasamidze, Davit Bezhuashvili, Ilham Aliyev, Gela Charkviani
2014 - 25 persons, including: Zurab Zhvania and Aza Adamia
2015 - 1 person – Davit Sergeenko
Order of David the Builder
Order of David the Builder is awarded to regular citizens, military and clerical personnel for the immense contribution to their country; for fighting for the independence of Georgia and its revival, for significantly contributing to the social consolidation and democracy development.
In 2003-2015, this order was awarded on twice, to Giorgi Ugulava and Levan Varshalomidze.
The Order of Queen Tamar is awarded to women for significant contribution to the country and the nation, and outstanding state and / or public accomplishments.
In 2003-2015, the order was awarded to:

2011 - 1 person - Lamara Chkonia
2013 - 39 persons, including: Eka Kvesitadze, Maia Asatiani, Nana Zhorzholiani, Inga Grigolia, Nino Shubladze, Khatia Buniatashvili.
2015 - 1 person - Irine Enuqidze.
The Presidential Order of Excellence
The Presidential Order of Excellence is awarded to individuals from the culture, education, science, arts, sports and other areas with outstanding achievements in their fields and contribution to the country in general.
In 2003-2015, this order was awarded to:
2010 - 55 persons, including: the Patriarch of Georgia Ilia II, Guram Dochanashvili, Iliko Sukhishvili, Davit Darchiashvili, Roland Akhalaia, Mamuka Khazaradze, Nino Ananiashvili, Nani Bregvadze, Paata Burchuladze, Iulon Gagoshidze, Vladimer Gurgenidze, Niaz Diasamidze, Irakli Ezugbaia, Nikoloz Vacheishvili, Ekaterine Zghuladze, Ramaz Nikolaishvili, Nino Sukhishvili, Ilia Sukhishvili, Jemal Tchkuaseli.
2011 - 35 persons, including: Igor Kokoskov, Giorgi Nizharadze, Gela Charkviani, James Richard Dixon, Nino Katamadze, Tamar Kovziridze, Sergi Kapanadze, Raphael Glucksmann, Kakha Baindurashvili, Giorgi Vashadze, Davit Sakvarelidze, Viktor Yushchenko.
2012 - 43 persons, including: Zaza Korinteli, Giorgi Ushikishvili, Davit Gogichaishvili, Donald Trump, Temur Iakobishvili, Levan Varshalomidze, Tsezar Chocheli.
2013 - 154 persons, including: Akaki Bobokhidze, Vitali Klitschko, Zaal Udumashvili, Akaki Gogichaishvili, Giorgi Liponava, Pavle Kublashvili, Nika Tabatadze, Davit Kikalishvili, Zurab Chiaberashvili, Eldar Shengelaia, Natia Bandzeladze, Irma Nadirashvili, Zaal Samadashvili, Nika Gvaramia, Davit Kirkitadze, Bayar Shahin, Alexander Lukashenko, Viktor Yanukovych, Serzh Sargsyan, Almazbek Atambayev, Islam Karimov, Mehriban Aliyeva, Donald Tusk, Manana Manjgaladze, Zurab Darchiashvili, Iakob Zakareishvili, Giorgi Tughushi, Shota Malashkhia, Giorgi Karbelashvili, Giorgi Kandelaki, Aleksadre Kvitashvili.
2014 - 4 persons – Lavrenti Managadze, Sheikh-ul-Islam Gaji Allahshukur Pasha-Zade, Jamlet Khukhashvili, Roman Shakarishvili.
2015 - 5 persons - Givi Margvelashvili, Nona Gaprindashvili, Mikhail Yakobus Lentz, Avtandil Kvezereli-Kopadze, Nodar Tsintsadze.
Order of Vakhtang Gorgasali – Rank I
The Order of Vakhtang Gorgasali is awarded to military personnel that have displayed courage and heroism in the fight for protection and unity of the homeland, have skillfully lead military units to success, and planned and carried out military operations.
There are three ranks of the Order of Vakhtang Gorgasali. Rank I is awarded to individuals who have had special contribution to and have displayed devotion and self-sacrifice for the nation and the homeland.
The order has been awarded to:

2003 - Joni Pirtskhalaishvili and the Patriarch of Georgia Ilia II
2004 - Mamia Alasania
2005 - 25 persons, including: Davit Zurabishvili, Temur Iremashvili, Merab Nikabadze.
2006 – Irakli Kadagidze
2007 - 7 persons
2008 - 43 persons, including: Tengiz Gunava, Giorgi Grigalashvili, Roman Shamatava.
2009 - 45 persons, including: Giorgi Antsukhelidze, Irakli Kipshidze, Levan Tabidze, Soso Ghviniashvili.
2010 - 39 persons, including: Zaza Chaia, Tengiz Gunava, Kokhta Kodua, Levan Kardava, Giorgi Kalandadze.
2011 - 25 persons
2012 - 14 persons
2013 - 57 persons, including: Giorgi Bokeria, Nikoloz Rurua, Giorgi Targamadze, Giorgi Baramidze, Ramaz Nikolaishvili, Grigol Vashadze, Gela Bezhuashvili, Leonid Kuchma, Teimuraz Janashia.
2014 - 37 persons
2015 - 1 person
Some of the state awards issues by President Mikheil Saakashvili raise questions. For example, some of the individuals that were awarded with Orders of Vakhtang Gorgasali in 2010 have either been convicted or currently face charges of particularly serious crimes. These individuals include Levan Kardava, head of the Main Office of the Constitutional Security Department, and Kokhta Kodua, then deputy head of the Samegrelo-Zemo Svaneti Main Regional Division. In 2014 Levan Kardava was sentenced to 11 years in prison for premeditated murder, while Kokhta Kodua was sentenced to 9 years in prison for the torture and inhuman treatment of detainees.
According to Georgian legislation on state awards, the President is authorized to revoke such an award from an individual on the basis of a criminal offense or behavior that is of insult to the award. For example, on April 23, 2004, president Mikheil Saakasvili ordered Roman Dumbadze, who was accused of treason, be stripped of his state awards.
According to the President's Administration, President Giorgi Margvelashvili has not revoked any state awards in 2013-2015.