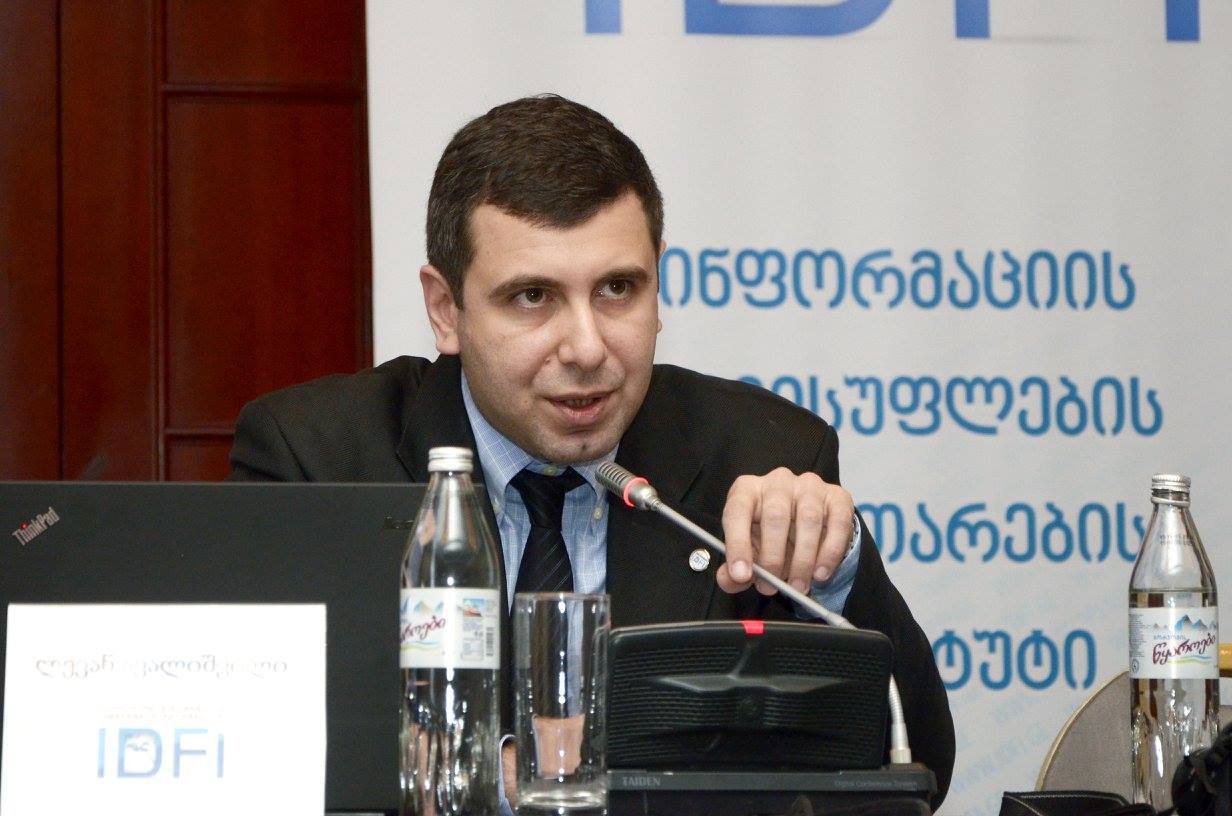 On 15, 18, 22 and 25 December, the Institute for Development of Freedom of Information (IDFI) organized series of lectures "Good Governance in Georgia", led by Levan Avalishvili – Chairman of the Board of IDFI, at Georgian Institute of Public Affairs (GIPA). The course was held within the framework of the project "Strategic Plan Georgia 2020 – Strengthening Public Involvement". The project is implemented by IDFI in cooperation with University of Bremen and with the financial support of Federal Foreign Office of Germany.
The aim of the series of lectures is to discuss the current state and latest trends in development of good governance, reforms and initiatives regarding public administration in Georgia, mechanisms and challenges of promoting good governance, based on the analysis of international best practice.
On the first day of the courses, Levan Avalishvili discussed the policy and practice of access to public information in Georgia. Together with the students, he elaborated on the guarantees of freedom of information, including the guarantees provided by the Georgian Constitution, as well as the General Administrative Code of Georgia. During the first day Avalishvili also talked about forms of requesting public information and how to formulate public information requests. The students also had the opportunity to have an insight on the statistics about access to public information in Georgia in the period of 2010-2015.
On the second day of the series of lectures, Levan Avalishvili discussed Electronic Governance and the importance of information technologies in this regard. Avalishvili pointed out the general directions in which the practical introduction and development of e-governance takes place. The Chairman of the Board of IDFI also discussed the stages of introducing e-governance, E-Government Development Index and Georgia's progress in this particular area. The students had the opportunity to elaborate on the levels of development of e-governance, its characteristics, as well as different strategies in the process of development of e-governance.
On the third and fourth days of the series, Levan Avalishvili explained the concept of Good Governance and its integral elements. Citizen participation in the decision-making process was highlighted during the lecture. 5 dimensions of Liberal Democracy and Whistleblower protection was also discussed as important aspects of developing good governance.
After four-day lecturing course, the participant students were awarded with joint certificates from IDFI, University of Bremen and GIPA. Furthermore, the participant students have the opportunity to write a blog article around the theme of the course and to win Kindle and scientific literature translated to Georgian. The prizes will be awarded to the authors of the best works.
View the Album.