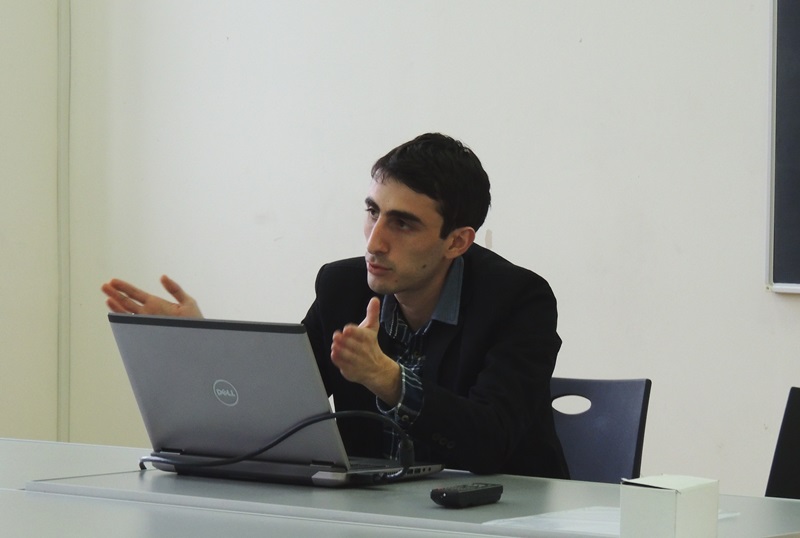 On December 1st representatives of Institute for Development of Freedom of Information (IDFI) held the next meeting regarding the access to the Open Data at Tbilisi State University within the scopes of the project: "Open Data: Source of Changes and Innovations".

The meeting was intended for Students. Also representatives of Donor Organizations of IDFI, public, private and civil sector, media and other interested citizens attended the meeting.

The meeting was opened by Giorgi Kldiashvili, Director of IDFI. He spoke about Open Data and it's importance. Also, Kldiashvili discussed some practical examples from organization's activities in the direction of the mentioned issue.

The Analyst of IDFI, Goga Tushurashvili introduced data gathered from public entities to attendees and discussed accessibility and the ways of usage of this information for business-startups.

Goga Tushurashvili also spoke about the current situation in Georgia regarding the access to the Open Data and Presented the applications (The map of Currency Exchange Bureaus existing in Georgia and Active Notary on Georgia's Territory) created by IDFI for using public databases.
Also, the general overview of International Practice of publication of Open Data was discussed framework of the meeting. Specifically, they discussed the Open Data Portal of US and UK and the applications created from databases published on portal. The mentioned portals were compared with Open Data Portal of Georgia.
Giorgi Kldiashvili spoke about priorities of Open Data Portal - data.gov.ge and mentioned that it gives opportunity to every user, representative of private sector or other interested person to access the data and use it to create applications, business projects and e-services.

According to the results of survey, created by the IDFI, attendees discussed the importance of availability of revealed various types of information. At the end of the meeting was conducted the discussion. Representatives of IDFI answered the questions of students.

Open Data Portal - dat.gov.ge was created several month ago. Data bases, owned by public entities are periodically published on the website in various, convenient formats for citizens.

The team of IDFI monitors accountability, proactive disclosure, efficiency and public information availability at public entities within the framework of the project.
View Photo Album