News | FIGHTING CORRUPTION | Article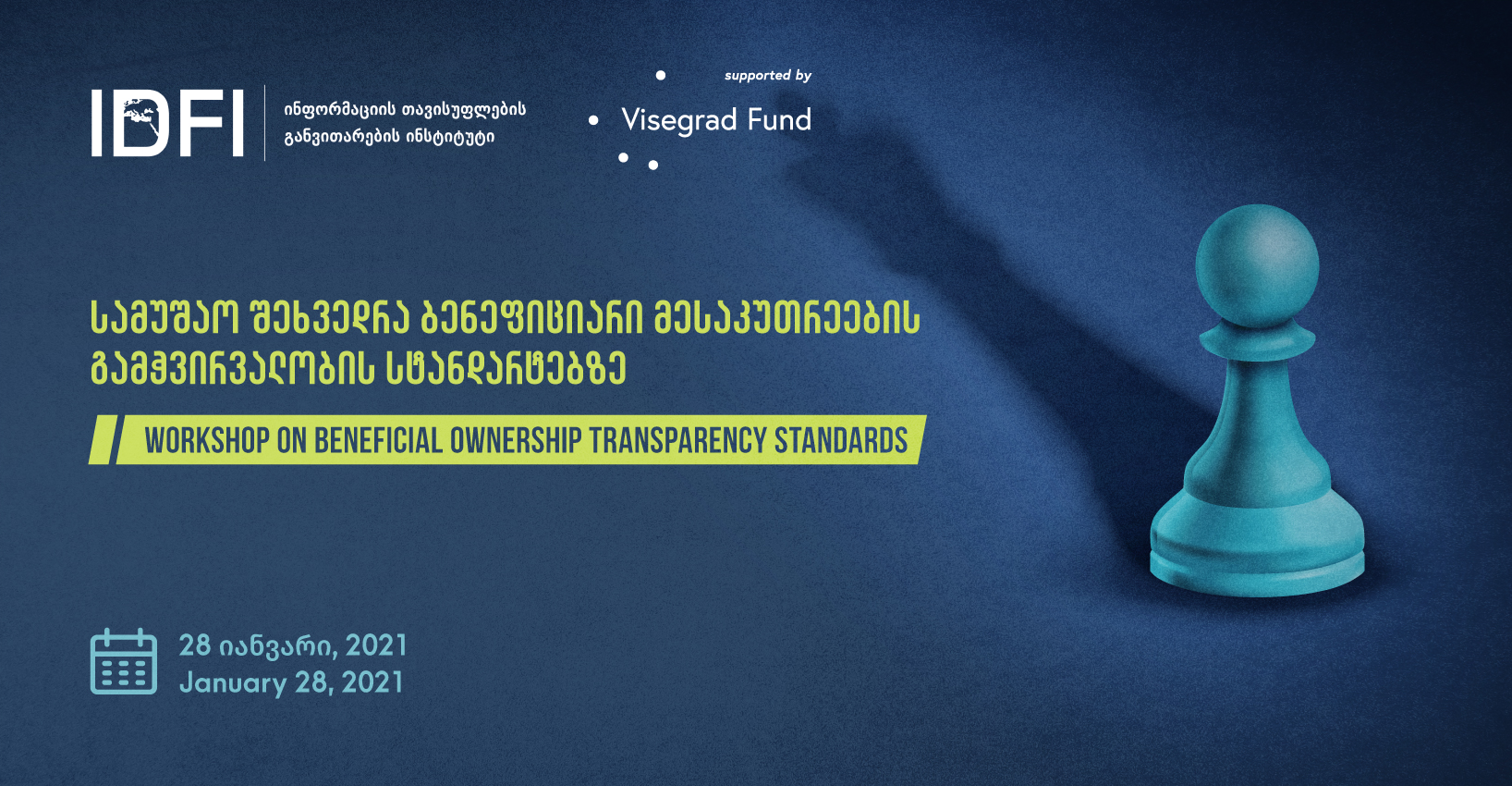 On January 28, 2021, the Institute for Development of Freedom of Information (IDFI) held an online workshop on Beneficial Ownership Transparency Standards.
The workshop aimed to discuss international standards, principles of beneficial ownership and major challenges of Georgia in this regard. The workshop was attended by the specialists of the issue, the representatives of civil society, the private and public sectors, as well as international organizations.
Levan Avalishvili, Programs Director of the Institute for Development of Freedom of Information (IDFI) opened the meeting. "The concealment of beneficial ownership is particularly affiliated with the high-level corruption and money laundering, while establishing a beneficial ownership registry remains a vital tool to tackle the real cause. The workshop is just the beginning of a large-scale advocacy campaign that IDFI is launching about this important issue" – Levan Avalishvili has pointed out in his speech.
David Maisuradze, Open Governance Direction Head of IDFI presented the policy paper entitled, "The Concealed Beneficiaries Behind the Fictional Characters". Apart from a definition, essence, and principles of beneficial ownership, the paper attempts to demonstrate the problems associated with beneficial ownership and their causes, and also overviews the international standards. In addition, the policy paper includes recommendations for Georgia and other countries willing to create a registry of beneficial ownership in order to advance transparency and accountability standards in this regard. David Maisuradze also talked about IDFI's future plans, including the joint regional study, which will overview and compare legislation and practice of the Czech Republic, Slovakia, Hungary, and Poland regarding beneficial ownership transparency. The representatives of civil society organizations expressed their views about the methodology and research approach, herewith, their willingness for potential cooperation in the future.
Global tendencies regarding beneficial ownership transparency were discussed by Michael Barron (Michael Barron Consulting) and Tim Law (Engaged Consulting), the Directors of leading consulting companies in the UK. British examples of registers of beneficial ownership, as well as the international standards required for joining the Extractive Industries Transparency Initiative (EITI), turned out to be particularly appreciated by the audience.
The event was held in frames of the project – Empowered Civil Society and Enhanced Beneficial Ownership Transparency Standards for Good Governance – financially supported by the International Visegrad Fund. One of the aims of the project is to enhance the availability of public data on offshore companies.