News | INTERNET AND INNOVATIONS | Publications | Article
Compared to 2017, Georgia took 9 steps forward in Global Innovation Index in 2018. Instead of the 68th, it took the 59th position and gained highest - 35.05 score over the recent years.
Introduction
Innovations have a very important role in economic wellness. As one of the main sources of economic growth in developed countries, innovations are very often a main factor of economic development. It has got a special role in business sector development as well. It helps high competitiveness of the market and therefore supports business and economic development. Different researches highlight that, in the countries where innovations are well developed, living standards are higher. That gives innovations the role of indicator of developed economy.
According to the World Bank, as a main source of economic growth innovations have always had a crucial role in many countries' economic and social development. As it raises productivity, creates competitive environment and improves quality of living standards, innovation is a chance of developing countries to follow and catch up developed world and improve living standards with sustainable development.
Because of its importance, the level of innovation in the countries is being measured with Global Innovation Index for the last 11 years. Research is published every year by Cornell University, INSEAD and the World Intellectual Property Organization (WIPO).
Importance and Meaning of Global Innovation Index
Global Innovation Index (GII) aims to capture the multi-dimensional facets of innovation and provide the tools that can assist in tailoring policies to promote long-term output growth, improved productivity, and job growth. GII includes 80 indicators that are integrated in the following 7 groups:
- Institutions (political environment, regulatory environment, business environment);
- Human capital and research (education, tertiary education, research and development);
- Infrastructure (information and communication technologies, general infrastructure, ecological sustainability);
- Market sophistication (credit, investment, trade, competition and market scale);
- Business sophistication (knowledge workers, innovation linkages, knowledge absorption);
- Knowledge and technology outputs (knowledge creation, knowledge impact, knowledge diffusion);
- Creative outputs (intangible assets, creative goods and services, online creativity).
GII defines ranking of 126 countries. It also defines most innovative regions according to the countries' results. It should be highlighted that countries with strong economy and diverse industry always hold leading positions in the ranking. According to the 11th edition of GII, Switzerland holds the first position with 68,4 score (from 100). It keeps the leadership over the last 8 years. Next 5 places are held by Netherlands, Sweden, Great Britain and Singapore.
It is worth mentioning that in last three years the following ten countries keep their leading positions with slight changes, where Switzerland has always been a leader.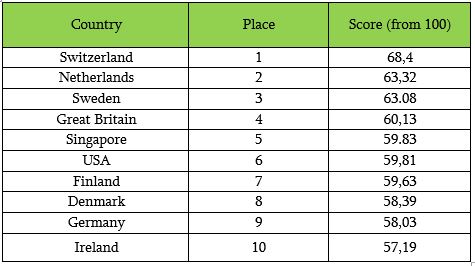 GII makes analyses according to the different types of incomes (high, upper-middle, lower-middle and low incomes) and presents rankings of the countries with the same types of incomes. According to the authors, the progress of China is promising for the countries with middle-income economics. In this context, China's rise in the GII rankings over the last few years has been spectacular. Since 2016 China has featured in the top 25 group and has consistently moved upward in the rankings to the 17th this year. The only middle income economy that continues to edge closer to the top 25 is Malaysia (35th).
Georgia's results in GII 2018 and its overview
According to the GII 2018 Georgia moved forward by 9 steps and holds 59th position with 35.05 score. In the region and neighborhood, Georgia drops behind Ukraine holding the 43rd position (with 38,52 score), Russia holding the 46th position (with 37,9 score), Moldova holding the 48th position (with 37,63 score) and Turkey holding the 50th position (with 37,42 score).
GII also presents sub-indexes for innovation input and innovation output. According to the innovation input sub index, Georgia holds the 62nd position with 25,65 score, and the 53rd position with 44.44 score in innovation output sub index.
Georgia was nominated among the 20 states that outperform on innovation relative to their level of development. Together with Georgia the following states are in that group: Moldova, Vietnam, India, Kenya, Armenia, Ukraine, Mongolia, Malawi, Republic of Mozambique, Rwanda, Thailand, Montenegro, Bulgaria, Madagascar, Serbia, Republic of Costa Rica, South Africa, Tunisia and Colombia.
Georgia holds 6th place in 30 countries with lower-middle income economics after Ukraine, Vietnam, Moldova, Mongolia and India, while Tunisia, Armenia, Philippines and Morocco hold behind it. It should be highlighted that in 30 countries with lower-middle income economics, according to the innovation input sub index, Georgia holds the first position and the 7th position with innovation output index.
In GII 2018 the 59th position of Georgia was caused by the ranking of the components illustrated on the chart below: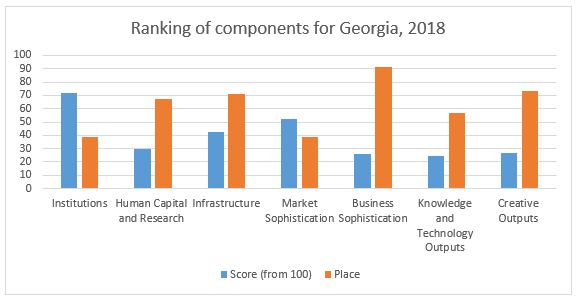 According to the above mentioned data, it is visible that Institutions are more or less strength of Georgia (holding the 39th position with 71,7 score) that covers political, business and regulatory environment. The same can be said about the Market Sophistication (holding the 39th position with 52,2 score) that includes credit, investment, trade, competition and market scale.
As for weaknesses, Business Sophistication (holding the 91st position with 25,7 score) that covers knowledge workers, innovation linkages, knowledge absorption and Creative Outputs (the 73rd position with 26,8 score) that includes intangible assets, creative goods and services, online creativity, hinder progress. It is worth mentioning that Georgia improved situation in Human Capital and Research and compared to 2017 took step forward to the 67th position with 30 scores from the 89th position with 24 scores.
As it has already mentioned before, Georgia improved its position by 9 steps and gained the biggest score (35,05) over the recent years. The diagram bellow illustrates last 5 years' data for Georgia:
In 2017 Georgia stopped recent sustainable progress in ranking. Compared to 2016, Georgia moved back in 2017 from the 64th (with 33.86 score) to the 68th position (with 34,39 score). Supposedly, moving back is not caused by the slower development processes of GII components but by having slower developing temp than the other countries. [1]
If we compare data of Georgia and other countries in region and neighborhood [2], we will see that in 2018 Georgia has got better results than Armenia and in general it has better situation than Azerbaijan and Belarus. But Georgia remains behind Turkey with nine, Moldova with eleven, Russia with thirteen and Ukraine with sixteen positions.
The chart below shows the ranking for the countries in the region and neighborhood for the last 5 years: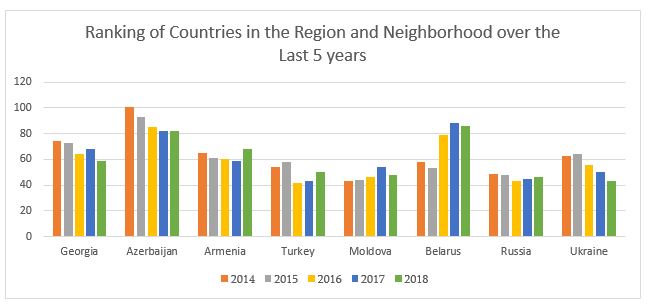 Conclusion
Improving Georgia's position in GII ranking is welcoming. However, it should be mentioned that Georgia faces important challenges, that needs complex and comprehensive approach. Georgia is mentioned as a country having a law innovation culture in the strategy for Georgia prepared by European Bank for Reconstruction and Development (EBRD). According to the document the main reason of having law innovation culture is that law and medium sized enterprises do not invest in research and development in Georgia. This hinders innovations and therefore displays unattractive results.
According to GII 2018, Georgia has got low scores in the components that play important role in innovative development. The research shows the weaknesses that are in need of fast development. Namely: Political stability and safety (holding the 81st position with 58 score), expenditure on education, % GDP (holding the 86th position with 38 score) university/industry research collaboration (holding the 105th position with 29 score) etc. Compared to 2017, the situation in Creative Outputs has been deteriorated and Georgia moved back to the 73rd position with 27 score from the 69th position with 29 score.
In order to plan proper activities that will improve situation and make contributions in sustainable economic development, it is important for GII results to be perceived and analyzed properly by competent authorities of Georgia.
Full version of GII 2018 is available here.
[1] In 2017 Georgia gained 0.53 scores more than in 2016
[2] Data is compared with EaP and neighboring countries