News | Economics and Social Policy | Publications | Article
Author: Hakim Alasgar
According to the Doing Business 2017 report, Georgia is ranked 16th among 190 nations. In the previous year's report (2016), Georgia held the 24th position among 189 countries (see. Figure #1).
Georgia has improved its positions in many categories, particularly in terms of institutional structure and regulatory environment. However, major weaknesses remain, such as lack of support for research and education by the government and the private sector, and limited use of innovation in business.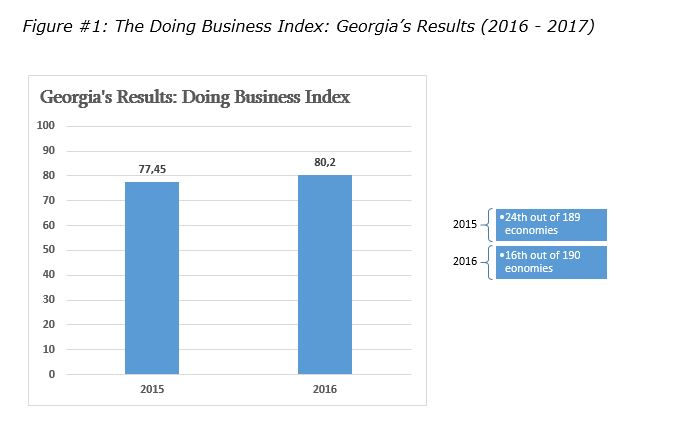 About the Doing Business Index
Doing Business 2017 is the 14th in a series of annual reports published by the World Bank Group investigating the regulations that enhance business activity and those that constrain it. Doing Business presents quantitative indicators on business regulation and the protection of property rights that can be compared across 190 economies.

Data in Doing Business 2017 is current valid as of June 1 2016.
This year's report includes, for the first time, a gender dimension in three indicators: Starting a Business, Registering Property and Enforcing Contracts. Europe and Central Asia is the only region where there are no barriers against women in the areas measured by the report. For example, in every economy in the region, including Georgia, women can start a business in the same way as men.
The report also includes an expansion to the Paying Taxes indicator, which now covers post-filing processes, such as tax audits and VAT refunds. Georgia performs well in these areas. For example, it takes about 2 hours to comply with a corporate income tax audit, compared to about 9 hours on average for the rest of the region.
Doing Business measures aspects of regulation affecting 11 areas of the life of a business. The indicators are used to analyse economic outcomes and identify what reforms of business regulation have worked, where and why. Ten of these areas are included in this year's ranking on the ease of doing business: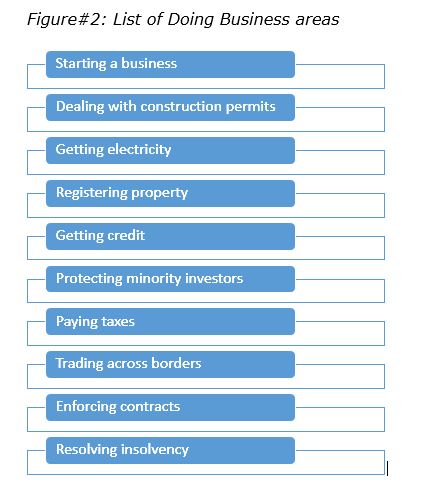 Doing Business also measures features of labour market regulation, but does not include it in the ranking.
Georgia's Results

Georgia received the highest score on the ease of starting a business (96.13), (see. Figure #3). The country has the worst result in resolving insolvency, with a score of 40.02 (out of 100) and 106th place in the global ranking. Georgia also performed poorly (score of 86.15 and 54th place) in trading across the border. According to the 2016 report, Georgia's position was 62 for this indicator. The WB notes that in 2012, Georgia simplified business start-ups by eliminating the requirement to visit a bank to pay registration fees.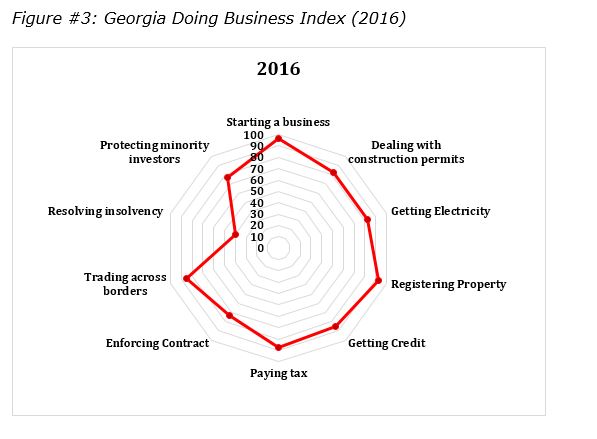 A comparison with the 2015 report reveals that Georgia has worsened its results in precisely those components, where it had the lowest scores to begin with (see Figure #4). However, despite little deterioration, in most categories Georgia gained significant improvement. According to the report, in 2015 Georgia made dealing with construction permits easier by reducing the time needed for issuing building permits and now stands at 8th position in the ranking.
Georgia is in the 39th position on ease of getting electricity. Last year Georgia held 65th position in this category. The report underlines that in 2013 Georgia made getting electricity easier by simplifying the process of connecting new customers to the distribution network and reducing connection fees and in 2016 the government increased the reliability of power supply by rolling out an electricity network remote monitoring system for the monitoring of outages and introducing penalties on the Utility for excessive outages.
In the category of registering property, the WB report says that globally, Georgia stands at 3rd place in the ranking of 190 economies on the ease of registering property, preceding its neighbour countries in the region.
In the category of paying taxes, Georgia is in the 22nd position, increased from 35 in the DB 2015 report. DB 2017 highlights that Georgia made paying taxes easier by abolishing an additional annex to corporate income tax returns and by improving the efficiency of the online system used for filing VAT returns.
According to the 2016 report, Georgia made export and import documentary compliance faster by improving its electronic document processing system, as well as introducing an advanced electronic document submission option.
Georgia stands at 16 in the ranking of 190 economies on the ease of enforcing contracts, slightly improving its position. According to DB 2016, Georgia made enforcing contracts easier by introducing an electronic filing system for court users.
The report says that well-functioning insolvency systems can facilitate access to finance, save more viable businesses and sustainably grow the economy. Georgia stands at 106 in the ranking, without having made any progress in this field, as last year, it was in the 101st position.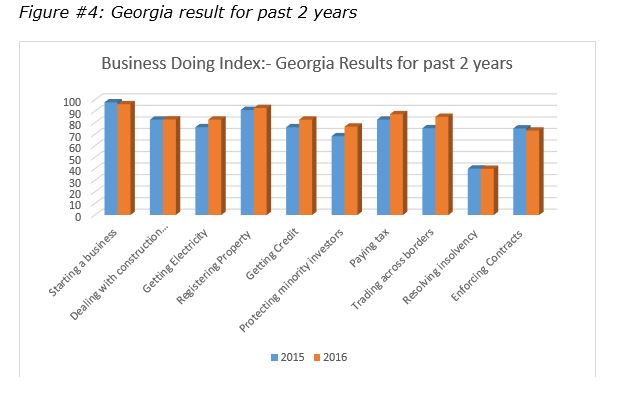 A Comparison of Georgia and Baltic States (Estonia, Latvia and Lithuania)
Georgia and the Baltic States had a similar ranking in DP 2017 report. Georgia holds 3rd place compared to the three Baltic States and is behind Estonia (12) and Latvia (14). (see. Figure #5).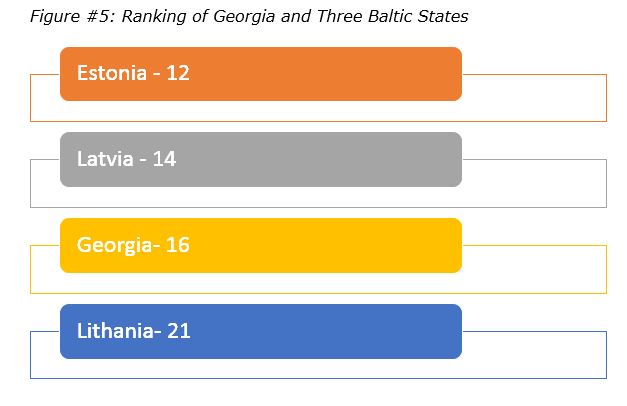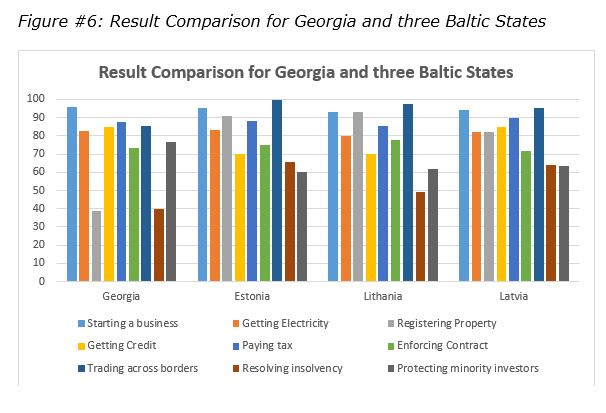 In terms of staring business category, Georgia is ahead of all three Baltic States with 96.13 points.
In the category of trading across borders Estonia got highest rank with 99.92 points, while Lithuania got 97.70, Latvia - 95.26 and Georgia - 85.15. Georgia got lowest score on the category of resolving insolvency and stays far behind from Baltic States.
As a conclusion, Georgia's upward movement is commendable. Over the course of the last year, Georgia implemented five reforms in the following areas: Getting Electricity, Registering Property, Protecting Minority Investors, Trading Across Borders, and Paying Taxes. In order to get better performance in the next year report, Georgia needs to make better reforms especially on the resolving insolvency and trade across borders related issues which its ranking 106th and 54th respectively.
In the area of trading across borders, the reforms can cover span a wide range—from building or improving hard or soft infrastructure for trade to joining customs unions, digitizing documentation and introducing risk-based inspection systems. In another word, introduced or improved electronic data interchange system, improved customs administration, improved procedures at ports, reduced number of trade documents, introduced or improved risk-based inspections, introduced or improved single window, implemented border cooperation agreements can help Georgia to get better performance in the coming years reports.
For example, Latvia and Lithuania improved their electronic declaration systems to comply with EU requirements on paperless customs that entered into force in 2009.
In the area of resolving insolvency, WB suggest set of good practices how to improve this area in the ranking. One of them is streamlining insolvency proceedings, which is aiming to establish time limits for proceedings can enhance the efficiency of the insolvency process. Long proceedings reduce creditors' chances of recovering outstanding debt and can create unnecessary uncertainty for all parties involved. Well-organized insolvency proceedings increase debt recovery by creditors by making it more difficult for the shareholders of a company to sell its assets at an unreasonably low price to a second company they own.
The next suggestion is establishing effective reorganisation proceedings. Slovenia provides a good example of successful reforms aimed at improving reorganisation proceedings—and has achieved some of the biggest improvements in the past several years as measured by Doing Business. The government of Slovenia adopted two amendments to the Financial Operations, Insolvency Proceedings and Compulsory Dissolution Act in 2013. These amendments established new restructuring procedures and introduced several mechanisms aimed at facilitating restructuring, such as debt-equity swaps, control of business operations by buyers of new shares and priority of restructuring plans proposed by major creditors.
Another good practice is about Strengthening creditors' rights where research has shown that if creditors are not protected or allowed to participate in insolvency proceedings, they will have less incentive to lend in the future. That tendency leads to a less developed credit market. Several recent insolvency reforms actions have addressed to solve this concern. For example, Cyprus enacted a new Insolvency Act in April 2015, tolerating creditors greater participation during the insolvency proceedings by granting individual creditors the right to object to the decision accepting or rejecting its own claims and claims of other creditors. Kazakhstan also provided additional protections to creditors in the process of voting of reorganisation plan.
Overall, the country continues to be among the top reformers, accelerating inclusive and sustainable economic growth and fostering resilience to global shocks. This can be significant indicator for investors to invest in Georgia. The analysis of the results shows that over the past two years Georgia has improved in many categories and this has improved Georgia's position.
The full report and accompanying datasets are available at www.doingbusiness.org