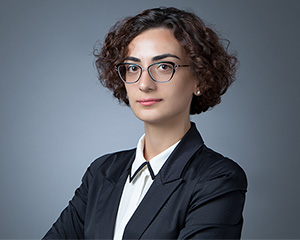 t.chkhitunidze@idfi.ge
+995 32 2921514
Tamar Chkhitunidze
Research Coordinator
Since July 2019, Tamar Chkhitunidze has been the member of the team of IDFI as the Research Coordinator of the project "Promoting Prosecutorial Independence through Monitoring and Engagement" (PrIME). Before that, Tamar was employed at the Analytical Department of the Ministry of Justice of Georgia, where prior to her appointment as a Senior Specialist, she worked as an intern. Until then, Tamar was doing internship at the Supreme Court of Georgia and US Embassy Tbilisi. During her studing within the Erasmus Mundus Exchange Program in Lithuania, she has completed an internship at the Embassy of Georgia to the Republic of Lithuania.

Tamar has graduated with honors from the faculty of law at Ivane Javakhishvili Tbilisi State University with the Degree of Bachelor of Law and has been awarded state scholarship during her studies. She also has Master's Degree in international law from the same university.

Tamar has participated in number of projects and training courses. She is a prize-winner of international moot court competition as well as various student conferences. Tamar is fluent in English, has good level of Russian and basic of German language.
Tamar Chkhitunidze ('s) publications