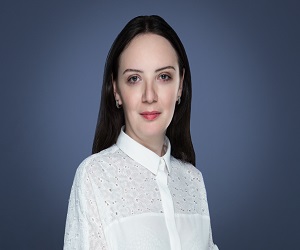 m.talakhadze@idfi.ge
+99532 2921514
Maya Talakhadze
Lawyer/Analyst
Maya joined IDFI in June, 2018 on the position of lawyer/analyst. Maya has worked in different governmental structures and non-commercial legal entity in Georgia. Namely: Ministry of Environment and Natural Resources Protection, LEPL Georgia's Innovation and Technology Agency under Ministry of Economy and Sustainable Development, LEPL Public Service Development Agency under Ministry of Justice, LEPL National Center for Diseases Control and Public Health under Ministry of Health, and Association for the Protection of Landowners' Rights.
She has many years' experience in lawmaking and legislative activities, and working with donors and international organizations.

In 2017, Maya was a fellow at the Legislative Council of California, US, as part of the Professional Fellowship Program. For three month in 2018, she worked at the Office of the Prosecutor in International Criminal Court. Maya has taken part in various international trainings and conferences.
She graduated Ivane Javakhishvii Tbilisi State University where she got Bachelor's and Master's degrees in law. After that she obtained a Master's degree with the specialization of Public International Law and Human Rights at Riga Graduate School of Law in Riga, Latvia. Maya speaks Georgian, English, German, French and Russian languages.
Maya Talakhadze ('s) publications